UK Youth top Tour Series standings after Stoke-on-Trent win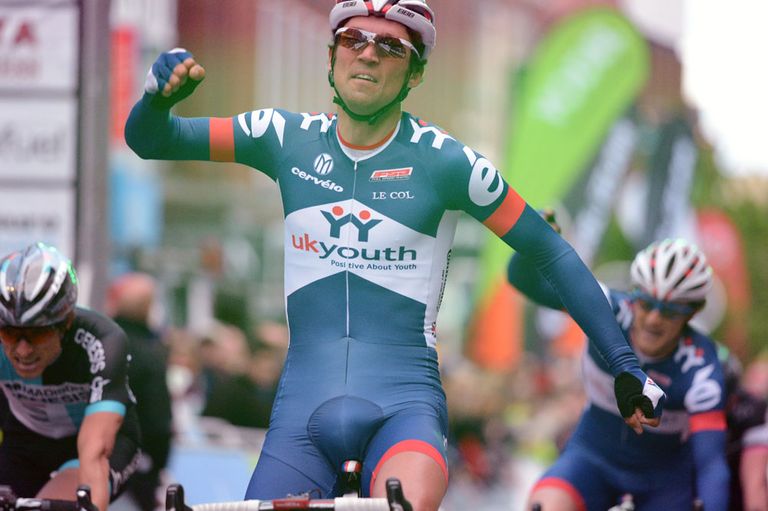 Yanto Barker's second individual win in three rounds helped UK Youth take victory in round three of the Pearl Izumi Tour Series in Stoke-on-Trent and leapfrog Raleigh at the top of the overall standings.
Barker, who also won the series opener in Kirkcaldy last Tuesday, held off Dean Downing (Madison Genesis) and team-mate Tobyn Horton for the win. 
Rutland-Melton CiCLE Classic winner Ian Wilkinson crossed the line in seventh to ensure David Povall's team were the night's big winners in front of their owner and title sponsor's president Nigel Mansell.
Raleigh went into the race with a 100 per cent record in this year's series, but were badly affected by crashes. They finished fifth on the night, behind Metaltek-Knights of Old who (thanks largelly to Dale Appleby's eight and Gruff Lewis' 11th-placed finishes) continue to be this year's surprise package.
Madison Genesis also continued their strong start to the series by finishing second, with 2011 champions Rapha-Condor-JLT third. This means that only four points separate the top four teams, with UK Youth leading by virtue of countback.
One of best individual performances of the night came in the opening round of the women's Johnson Health Tech GP Series, as Natalie Creswick (MuleBar Girl-Sigma Sport) soloed to a impressive victory.
Creswick attacked early on, and won by almost a minute over a small group. Hannah Barnes (MG-Maxifuel) finished second, with CW writer and Creswick's team-mate Louise Mahe taking third.
The women's action continues in Colchester next Thursday, while the men are back racing in Aberystwyth on Friday.
Results

Pearl Izumi Tour Series 2013 round three: Stoke-on-Trent

1. UK Youth 10pts

2. Madison Genesis 9pts
3. Rapha-Condor-JLT 8pts
4. Metaltek-Knights of Old 7pts
5. Raleigh 6pts
6. Node4-Giordana 5pts
7. Hope Factory Racing 4pts
8. IG-Sigma Sport 3pts
9. MG-Maxifuel 2pts
10. Spin Rotor-Primal C-Originals 1pt


Individual result

1. Yanto Barker (UK Youth)
2. Dean Downing (Madison Genesis)
3. Tobyn Horton (UK Youth)
4. Andy Tennant (Madison Genesis)
5. Kristian House (Rapha-Condor-JLT)
6. Felix English (Rapha-Condor-JLT)
7. Ian Wilkinson (UK Youth)
8. Dale Appleby (Metaltek-Knights of Old)
9. James McCallum (Rapha-Condor-JLT)
10. Ed Clancy (Rapha-Condor-JLT)
Pearl Izumi Tour Series 2013 standings after round three

1. UK Youth 26pts
2. Raleigh 26pts
3. Madison Genesis 24pts
4. Rapha-Condor-JLT 22pts
5. Node4-Giordana 20pts
6. Metaltek-Knights of Old 14pts
7. Hope Factory Racing 11pts
8. MG-Maxifuel 10pts
9. IG-Sigma Sport 8pts
10. Spin Rotor-Primal-C-Originals 3pts
IG Sprint Competition

1. Tom Scully (Raleigh)
Costa Express Fastest Lap Competition

1. Yanto Barker (UK Youth)
Johnson Health Tech GP Series 2013 round one: Stoke-on-Trent

Individual result

1. Natalie Creswick (MuleBar Girl-Sigma Sport)
2. Hannah Barnes (MG-Maxifuel)
3. Louise Mahe (MuleBar Girl-Sigma Sport)
4. Jo Tindley (Matrix Fitness Race Academy)
5. Sarah Byrne (Champion Systems-Maxgear-Base)
6. Gabby Day (Matrix Fitness Race Academy)
7. Charline Joiner (MG-Maxifuel)
8. Hannah Walker (Matrix Fitness Race Academy)
9. Alice Barnes (Scott Contessa Epic)
10. Hayley Jones (Node4-Giordana)
Johnson Health Tech GP Series 2013 standings after round one

1. Natalie Creswick (MuleBar Girl-Sigma Sport) 20pts
2. Hannah Barnes (MG-Maxifuel) 19pts
3. Louise Mahe (MuleBar Girl-Sigma Sport) 18pts
4. Jo Tindley (Matrix Fitness Race Academy) 17pts
5. Sarah Byrne (Champion Systems-Maxgear-Base) 16pts
6. Gabby Day (Matrix Fitness Race Academy) 15pts
7. Charline Joiner (MG-Maxifuel) 14pts
8. Hannah Walker (Matrix Fitness Race Academy) 13pts
9. Alice Barnes (Scott Contessa Epic) 12pts
10. Hayley Jones (Node4-Giordana) 11pts
Team standings after round one

1. MuleBar Girl-Sigma Sport 38pts
2. MG-Maxifuel 38pts
3. Matrix Fitness Race Academy 38pts
4. Breast Cancer Care Cycling Team 17pts
5. Hope Factory Racing 6pts
Round one team winner: Matrix Fitness Race Academy



Round one combativity winner: Natalie Creswick (MuleBar Girl-Sigma Sport)



Round one sprints winner: Hannah Barnes (MG-Maxifuel)
Helen Wyman on the front of the Johnson Health Tech GP
Louise Mahe, Hannah Barnes and Jo Tindley
Sarah Creswick wins
Mule Bar team winners
Race start in Stoke-on-Trent
Escape group
Chris Opie, Dean Downing and Graham Briggs
Yanto Barker wins
Nigel Mansell and UK Youth
Related links
Gallery: Tour Series, Stoke-on-Trent, by Andy Jones
Gallery: Johnson Health Tech GP, by Andy Jones
Raleigh continue perfect Tour Series start in Durham
Raleigh take the honours in Tour Series opener
Tour Series round one photo gallery by Andy Jones
Pearl Izumi Tour Series 2013: Cycling Weekly's coverage index