Uncovered: Team GB's secret Olympic track bike that costs £55,000
British Cycling created the new frame in-house through 3D printing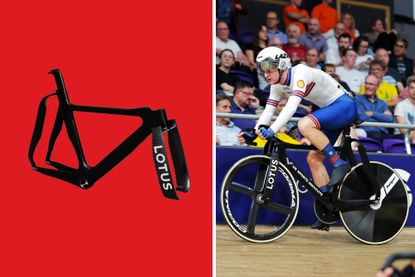 (Image credit: UKSI / Will Palmer SWPix)
British Cycling has secretly developed a new track bike frame that could be used at next year's Paris Olympics, Cycling Weekly can reveal.
The frame, which goes under the moniker UKSI-BC1, was designed and produced by in-house experts, together with the performance innovation team from the UK Sports Institute (UKSI).
It is not part of the governing body's partnership with Hope, the manufacturer who recently unveiled an updated HBT frame for Team GB for the Paris Olympics.
A listing on the UKSI website reads: "The UKSI-BC1 utilises the latest techniques of additive manufacture to bring 3D printing technology to a high performance track bike. Developed and tested to meet ISO standards for fatigue and strength as a minimum."
The design is one of only a handful to ever be produced through 3D printing and includes a Lotus A1000M fork.
It is available commercially at a price of £55,000 + VAT, more than double the cost of the latest Hope x Lotus HBT, which is valued at £25,000.
The frame has only appeared once in competition, when Will Tidball rode it to victory in the scratch race at the UCI World Championships in August. As a result of its use, it has been officially registered and homologated for the 2024 Olympics.
When asked by Cycling Weekly, British Cycling refused to reveal how many frames have been produced or what material it contains.
The design is almost identical to that of the new Hope x Lotus HBT, with the difference likely to be the material, thought to be either titanium or Scalmalloy.
The secret project marks the first time that British Cycling has produced a frame away from Hope since partnering with the brand in 2019, ahead of the Tokyo Olympics.
A spokesperson from Hope told Cycling Weekly: "British Cycling came to us to be involved with the Hope Lotus bike due to our expertise with carbon, and as that new frame is 3D printed, we weren't involved."
They added that Hope is unable to 3D print products "to that scale", with the manufacturer specialising in carbon and aluminium.
Earlier this year, Cycling Weekly also revealed a new line of skinsuits debuted by Team GB for homologation before the Olympics. These included the Project 1.0, designed by Kalas in partnership with aero experts Vorteq, and a never-before-seen, thick-collared suit worn by Tidball.
Thank you for reading 20 articles this month* Join now for unlimited access
Enjoy your first month for just £1 / $1 / €1
*Read 5 free articles per month without a subscription
Join now for unlimited access
Try first month for just £1 / $1 / €1