Vuelta 2012 route leaves time triallists out in the cold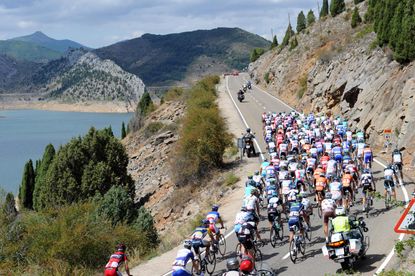 If the Tour de France looks set to favour the time triallists this summer, seven mountain top finishes and three steep uphill finishes in the 2012 Vuelta mean the Spanish race will be very much much a climbers' affair.
"It's one for Joaquin Rodriguez," was how last year's winner, Juan Jose Cobo, described the route, revealed on Wednesday in Pamplona, "there are lots of explosive stages and steep finishes. It'll be a very nervous, stressful race throughout, and I'll definitely be checking the stages a lot more thoroughly than I did in 2011."
"The stages are short, but there aren't any dull moments," five-times Tour winner Miguel Indurain added. "It would have been very tough for a time triallist like me to win this one - too many summit finishes!"
Five-times Tour winner Indurain was the unquestioned star of the 2012 Vuelta presentation, which starts with an 16.2 kilometre team time trial through the streets of Pamplona on August 18.
Born just a few kilometres away from Pamplona in the dormitory town of Villava, Indurain's best Vuelta result came in 1991, when he finished second overall behind a surprise winner Melcior Mauri.
Then in 1996 - obliged to race by his team - he abandoned the Vuelta at the foot of the Covadonga Lakes in his last ever official competition. He remains, too, the Vuelta's youngest ever leader, after holding the (then) yellow jersey for four days in 1986 following a strong prologue.
"The team time trial is quite technical in the opening section, but after that it's on broad open boulevards and it won't be too hard," Indurain commented. "The big question could be the heat - it might be 40 degrees in Pamplona in August."
Although time differences between the favourites will be minimal in Pamplona, just two days later the Vuelta heads towards its first summit finish, the eight kilometre Arrate climb often used as the decisive challenge in the Tour of the Basque Country. Another summit finish, to Valdezcaray, follows 24 hours later and should provide a second major sort-out.
"It's the classic scenario where we won't know who's going to win the race overall, but we'll have a clear idea of who's going to lose it," commented Igor Anton - himself a victim of the first big ascent of the 2011 race, to Sierra Nevada.
For almost a week, there will be more tantalizing hints of who could be in the running, at the steep uphill finish at El Fuerte de Rapitan on stage six to the second category summit finish of La Collada de la Gallina on stage eight in Andorra.
But that will only be a taster of what is come. Following three arduous days through the hills of Galicia, including the race's only individual time trial, three days in the mountains of northern Spain look certain to decide the Vuelta overall.
The three summit finishes start with a trek through the sierras of Castille and Leon and conclude with the previously unvisited Ancares climb. The Lagos de Covadonga ascent, the next day, is much better known. Home to some of the last wolves in Europe, it will be preceded by the Fito, which Samuel Sanchez described as "a really nasty second cat climb."
"It isn't too long, but it has some very steep ramps and a fast descent, and straight after that you're onto the false flat that leads into Covadonga. They didn't have it there last time [in 2010] and it makes a huge difference."
The climb that will make the biggest difference of all though, comes on stage 16. Cuitu Negro is an extension of the better-known Pajares climb in Asturias, and is a mere 23 kilometres long. But it is its steep, previously untarmacked final section, which includes segments at 25 per cent and averages 17 per cent in its final 500 metres, that is really tough.
"When the race finished on Pajares the last time [in 2005] I can remember looking up at the Cuitu ski station and thinking 'thank goodness we don't have to go up there'," Sanchez commented. "This time, though, we do. It'll be the hardest stage of the race by far."
The weakest feature, perhaps, is - similar to 2011 - an overly straightforward final week. That said, the mist-enshrouded Bola de Mundo summit finish in the sierras of Madrid, which ends with three kilometres of roughly cemented pathway barely a car-width wide, proved a dramatic showdown to the race in 2010, and could well do so again this year.
Other notable features include the 1,200 kilometre transfer from Barcelona to Galicia and the complete lack of stages anywhere south of Madrid at all. But after last year's exceptionally hot weather, the organisers' decision to remain in the north of Spain may well be welcomed by the riders -and with such a difficult route in 2012, even more so.
Week one
Saturday 18 August. Stage one: Pamplona - Pamplona, team time trial 16.2km. Flat.
Sunday 19 August. Stage 2: Pamplona - Viana 180km. Flat.
Monday 20 August. Stage 3. Oion - Arrate (Eibar). 153km. Summit finish.
Tuesday 21 August. Stage 4: Baracaldo - Valdezcaray. 155km. Summit finish.
Wednesday 22 August. Stage 5: Logroño - Logroño. 172km. Flat.
Thursday 23 August. Stage 6: Tarazona - El Fuerte del Rapitán (Jaca). 174.8km. Uphill finish.
Friday 24 August. Stage 7: Huesca - Motorland (Alcañiz). 160km. Flat.
Saturday 25 August. Stage 8: Lleida - Santuario Canolich (Collada de la Gallina). 175km. Summit finish.
Sunday 26 August. Stage 9. Andorra - Barcelona. 194km. Hilly.
Week two
Monday 27 August. Rest day and Transfer Barcelona - Ponteareas. 1,200 km approx.
Tuesday 28 August. Stage 10: Ponteareas - Sanxenxo. 166.4km. Hilly.
Wednesday 29 August. Stage 11: Cambados - Pontevedra. 40km. Individual time trial. Hilly.
Thursday 30 August. Stage 12: Vilagarcía - Mirador de Ezaro (A Coruña). 184.6km. Steep uphill finish.
Friday 31 August. Stage 12: Santiago de Compostela - Ferrol. 172.7km. Flat.
Saturday 1 September. Stage 14: Palas de Rei - Los Ancares. 152km. Summit finish.
Sunday 2 September. Stage 15: La Robla - Lagos de Covadonga. 186.7km. Summit finish
Monday 3 September. Stage 16: Gijón - Cuitu Negro. 185km. Summit finish.
Week three
Tuesday 4 September. Rest day
Wednesday 5 September. Stage 17: Santander - Fuente Dé. 177km. Uphill finish.
Thursday 6 September. Stage 18: Aguilar de Campoo - Valladolid. 186.4km. Flat.
Friday 7 September. Stage 19: Peñafiel - La Lastrilla. 169km. Flat.
Saturday 8 September. Stage 20: La Faisanera Golf - Bola del Mundo. 169.5km. Summit finish.
Sunday 9 September. Stage 21: Cercedilla - Madrid. 111.9km. Flat.
Related links
Vuelta a Espana 2012 route announced
Thank you for reading 20 articles this month* Join now for unlimited access
Enjoy your first month for just £1 / $1 / €1
*Read 5 free articles per month without a subscription
Join now for unlimited access
Try first month for just £1 / $1 / €1