Where the Brits will win in 2012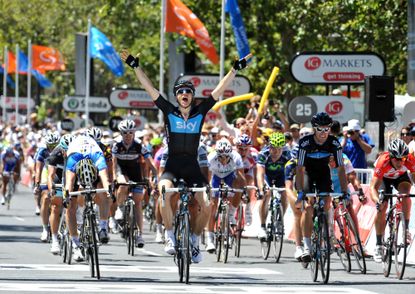 With a particularly successful 2011 behind it - Grand Tour podiums, World Championship golds, Dauphiné titles and so on - Britain could be about to embark on an even more fertile 12 months.
As the balance sheets of bookmakers testify, prediction in sporting matters is less than easy, but with 2012 an Olympic year, races that suit our top riders and more young talent emerging than ever before, the wins are bound to be there.
Early season
Having said there'll be plenty of wins over the season, the early months look like they might be lean pickings for the Brits, but that's partly down to the smaller amount of racing that goes on. Don't expect a first British victory at the first major road event of the year, the Tour Down Under. Sky are taking Geraint Thomas and Alex Dowsett to what is largely a sprinters' benefit.
On a brighter note, the Tours of Oman and Qatar in early February could deliver Cavendish's first victory of the year and the Tour of the Algarve, from February 15 to 19, is just the kind of smaller race where someone like Ben Swift could do well - Steve Cummings picked up a win there in 2011.
Early February's Majorca Challenge, which is a series of consecutive one-day races, will provide a first European outing for new-look Endura, where they will compete against a Team Sky squad that will include new boy Luke Rowe.
Endura will be looking to make an early impression as they attempt to step up a level in 2012 and will then ride the the Tour du Haut Var (February 18-19). Smaller British team Rapha-Condor-Sharp may have their work cut out against WorldTour opposition at the Tour of India in the last week of January, but Kristian House picked up early victories in 2011 and could do again.
The early season builds towards spring with the year's first two semi-classics - Het Nieuwsblad and Kuurne-Brussels-Kuurne, in late February. Don't rule out Ian Stannard if he manages to infiltrate a good break.
Spring
There are potential wins left, right and centre during the spring, and at every level. As far as the top British riders go, Paris-Nice provides an early chance for Bradley Wiggins, although without a lengthy time trial he may not challenge for the overall win.
Classics-wise, Cav will be looking to grab his second Milan-San Remo, is targeting Ghent-Wevelgem and has found the Scheldeprijs a rich picking-ground in the past. The Three Days of De Panne provides an opportunity for fast men against the clock in its time trial, and Ian Stannard may be allowed to go for it in the Tour of Flanders or Ghent-Wevelgem, where he excelled in 2011. Andrew Fenn will most likely be performing team duties in the spring for new team Omega Pharma-Quick Step.
The Tour of Normandy from March 19 to 25 will be packed with competitive British representatives including Endura, Rapha-Condor-Sharp and a British Cycling Academy team. The Cinturón Tour of Majorca from March 29 to April 1, likewise, will boast plenty of potential British winners, and, with many top riders in Belgium, the Tour of Catalunya in late March could provide an opening. Chris Froome may find either that race or the Tour of Murcia in early March to be to his liking, and the latter's time trial stage could be one for Alex Dowsett.
Emma Pooley has excelled at the Trofeo Alfredo Binda in the past and could get her first win of the season there on March 25. Meanwhile, the Junior Paris-Roubaix is run on April 8, and usually provides a noteworthy British performance. The Tour of Picardie and the Tour of California in early May also invite a less senior Team Sky rider to make an impact.
Summer
The Giro, Dauphiné and Tour are the big three for the summer. Cavendish will be going for the points jersey in Italy and it's likely most of his team-mates will ride in support of him, although new Belarusian signing Kanstantin Siutsou may be given some freedom in the GC or for stages.
Wiggins will use the Dauphiné in his Tour build-up and the nature of the race's time trial may determine how much of a chance he has. He'd be doing well to win it twice in a row, but he is bound to be approaching peak form then and is capable of rivalling any of the world's best riders when he's there.
The Tour has the potential to be earth-shatteringly successful for Britain (see Cavendish and Wiggins boxes). Although, with Geraint Thomas concentrating on the Olympics and others with strict Sky team duties, there are unlikely to be any surprise British stage wins.
While the big boys are concentrating on France, the Ster Elektrotoer (June 13-17), Tour of Poland (July 10-16), Route du Sud (June 14-17), Tour de Wallonie (July 21-25), Eneco Tour (August 6-12), or Tour of Austria (July 1-8) could provide opportunities for B-teamers.
The Ras in Ireland is always a particular target for Britain's domestic teams, and An Post Brits Mark McNally and Jonny Bellis could make an impact in their team's home race. The smaller British teams will also be in action on the Continent in races such as the Boucles de la Mayenne (June 14-17) and Ronde de l'Oise (June 7-10).
The Tour of Chongming Island (May 13) and Giro Donne (June 29-July 8) will most likely bring a few wins for Emma Pooley and Lizzie Armitstead. The men's U23 Paris-Roubaix is on May 27 and could provide a performance or two from the Academy.
Olympics
When it comes to the Olympics, Britain's cyclists these days are objects of sporting jingoism and national pride. Following the success of Beijing, they will enter the home Games with a greater weight of expectation on their shoulders than any other group of sportspeople. The question is: can they deliver again?
GB performance director Dave Brailsford and others have been careful to manage expectations while simultaneously pointing out that we're there or thereabouts in a number of disciplines.
The most likely gold medallists are the women's team pursuit squad. They have dominated the discipline, coming out on top against key rivals the USA and New Zealand consistently over the past 12 months. Few others are likely to find it so easy. The sprinting heavyweights of old - Victoria Pendleton and Sir Chris Hoy - have been consistently bettered by Australian and French opposition respectively, but know how to up their game for big occasions.
Having seen considerable progress from the Australians and Russians, Britain's men's team pursuit quartet has been working very hard in recent weeks to move their times to an even faster pace. In the men's team sprint, Britain are still struggling to find a suitable man one, while the women's sprint duo of Pendleton and Jess Varnish haven't looked faster than the Australians. Laura Trott has produced some excellent performances in the women's omnium and Ed Clancy is always a world-class competitor in the men's event.
Another very good prospect for Olympic gold will be Shanaze Reade in the BMX. When she crashed out in Beijing, it broke a spell of almost absolute dominance, which she has since picked up again.
On the road, Cavendish will be the favourite for gold but, with teams of only five riders, it will be a more open contest than last year's Worlds. Britain will look to other sprinters' teams to help them control the race and Cavendish could be in trouble if a threatening attack sticks on the Box Hill loop.
Either Lizzie Armitstead or Nicole Cooke could be a contender in the women's road race, but they'll have to settle their differences first. Coming straight off the Tour, Bradley Wiggins will be hoping to medal in the time trial, although Tony Martin and Fabian Cancellara will provide tough competition. The flat nature of the course does not suit Emma Pooley but - as in Copenhagen where she took silver - she should certainly not be written off.
The Paralympics has provided rich pickings for Britain in the past and offers plenty of opportunity for British success again. Among the top contenders for gold will be Sarah Storey, Darren Kenny, Terry Byrne, Jody Cundy, Jon-Allan Butterworth, Lora Turnam and Neil Fachie.
Late season
The late season will naturally sit somewhat in the shadow of the Olympics. The likes of Cavendish and Wiggins will, hopefully, have picked off their main targets and may well be more busy with the media than with racing.
For everyone else, the Vuelta, Paris-Tours and the Worlds provide a late shot at glory. Chris Froome may well be looking for a repeat of his 2011 performance in Spain, and could Peter Kennaugh step up to the plate? Paris-Tours could be Cavendish's if he chooses to target it. The Worlds road race course is too selective for the Manxman, although Emma Pooley may prosper in both the road race and time trial and, as they showed in 2011, the youngsters are more than capable.
On the domestic front, it will all go a bit quiet as the teams build from the Tour Series back to the Tour of Britain. The Vuelta Ciclista a Léon from 7 to 11 August could be worth keeping an eye on for performances from the likes of Rapha-Condor-Sharp and Endura, and the Tour de l'Avenir will give the likes of Jon Mould and Mark Christian from the Academy the chance to make an impact during the last week of August.
Then there's the Tour of Britain from September 9 to 16. Could this be the first year since the race was revived in 2004 that a Brit wins it? Could it be the first year a domestic team takes a stage?
Who will hit the big time?
There are a number of Brits lined up for potential breakthrough rides in 2012, with Team Sky a particular point of focus. Peter Kennaugh will be looking for another Grand Tour outing after his decent 2011 Giro.
Ian Stannard will get the chance to go for it in one or two of the Classics and will want to seize the opportunity. Luke Rowe is Team Sky's fresh-faced neo-pro and will try to prove himself a reliable performer.
Ben Swift proved himself a serial winner in smaller stage races in 2011 and will push for a Grand Tour or genuine top-level victory. Another British sprinter, Adam Blythe, will want to bag some top 10s in some big races, too.
The domestic breakthrough boy of 2011, Scott Thwaites, may find things harder in 2011 as a more recognised and marked threat. Riding for An Post in 2012, the Academy's Jon Mould and Mark Christian will want to show their pedigree to WorldTour team managers.
Bigger and better for Cavendish
With 2011 having been the big year for Cavendish, you might forgive him for taking a more self-assured and relaxed approach to next season, but the reality is that, with his biggest ever season just behind him, 2012 looks even bigger.
Cavendish has shown in the past that he can win all year round, but he focuses ever more intensely on his targets. The Tour green jersey and the Olympics will be the top priorities, purely because of the prestige of the honours available and, disastrous injuries aside, Cav will be favourite for both.
The Tour this year should favour him more than last year's, with fewer uphill finishes and less danger of the grupetto missing the time cuts on noticeably shortened stages. There are at least seven stages he could potentially win, and five seems a reasonable haul based on performances in recent years.
The Giro's points jersey could be a possibility and, with flat stages distributed throughout the race, he will be tempted to see it through if he looks in with a chance. Milan-San Remo will, as always, be high on the priorities list, but he'll also be looking to add a new title to the palmarès - Ghent-Wevelgem.
With too selective a Worlds course in the Netherlands, and a handful of titles already in the bag, he might not race as much or as hard in the late season.
Grand Tour win for Wiggins?
Bradley Wiggins typically talks things down to take pressure off himself. Before the 2011 Vuelta, he never said he was trying to win it. It was all about 2012's Tour and Olympics, he told the press, and he wanted to see whether he could do a Grand Tour GC effort followed by a world-beating TT.
His pressure-relieving tactics seemed to work, with third in Spain and silver in Copenhagen, and it clearly showed that he could do it in 2012. The Tour's GC and the Olympics time trial are firmly in Wiggins's sights.
The Tour in 2012 should suit Wiggins. With 96 kilometres of time trialling and only three climbs over 2,000 metres, the route might allow his steady, rhythm-tapping climbing to keep him close enough to the more dynamic climbers come the penultimate day's race against the clock. The route doesn't suit pure climbers, which will encourage them to ride aggressively in the mountains.
Wiggins will have to limit his losses there and claw back time in the TT. Defending champion Evans may be a key rival, as a rider who, like Wiggins, time trials well and prefers a steady tempo on the climbs.
Wiggins will steer clear of the Giro this year, and he'll opt for the Dauphiné as his big warm-up once more, where he could well podium again. There are also a few smaller stage races with time trials, which suit Wiggins's abilities and could provide some good placings.
There are question- marks over how team plans could affect Wiggins, particularly at the Tour. Sky will have lured Cavendish with a promise of lead-outs, but Wiggins will also be hoping for support in the mountains. How will this balancing act play out?
Track hopes
It'll be heads down and all eyes on the Olympics for Britain's top track stars, but one significant test on the way will be the London World Cup round on February 19.
In the Olympic velodrome in Stratford, it will be treated as a dress rehearsal and a key milestone in building towards the Games. Riding in front of a home crowd and with possible Worlds and subsequent Olympic selection on the cards, everyone will be looking to be on top of their game.
The other key senior dates in the calendar are the Worlds in Melbourne on April 8 and the Beijing World Cup round on February 19. The Worlds will be the final major outing prior to the Olympics and Britain will hit it hard. The same cannot be said for Beijing, where only those desperate for qualification points or in need of more race experience will be sent.
The juniors and U23 track riders will get their run-outs at the European U23 and Junior Track Champs in July. These events bring a haul of medals, and with the likes of John Paul in attendance, 2012 shouldn't be any different.
Mighty in the mountains
Despite our lack of high peaks, Britain is home to several of the world's top mountain bike downhillers. Gee and Rachel Atherton, Steve Peat and Tracy Moseley are all former elite world champions in regular contention at the World Cup. And in claiming the rainbow stripes last year, Danny Hart has staked his claim at the very top level.
Of the seven downhill World Cup rounds this year, Fort William is the only UK-based one on June 9-10. Moseley will be hoping to defending her World Cup overall title in 2012, while Manon Carpenter steps up to elite this year after winning the junior world title in 2011.
Britain doesn't present such a strong front in the cross-country game, although Annie Last has continued to progress in the under-23 ranks, and Liam Killeen, despite his inconsistent form, can pull out rides at big events like the Olympics and Worlds. The World Champs for all the mountain bike disciplines take place in Austria from August 31 to September 4.
Related links
Another winning year for the Brits: Pro road wins in 2011
Thank you for reading 20 articles this month* Join now for unlimited access
Enjoy your first month for just £1 / $1 / €1
*Read 5 free articles per month without a subscription
Join now for unlimited access
Try first month for just £1 / $1 / €1