Why IPC Media want Boris to shift his Barclays Hire bike station from their front door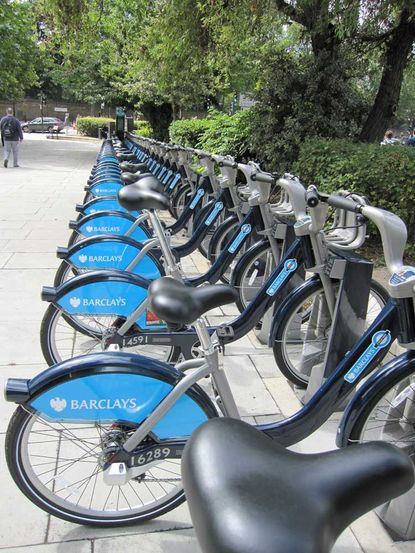 Let's nip this one in the bud!
Before anyone dares to construe that IPC Media - publishers of Cycling Weekly, Cycle Sport and three other cycling titles - could be anything but supporters of Boris's bikes!
This was the recent web story that IPC have objected to the expansion of a Barclays Bike Hire docking station at Bankside, in front of their swell HQ, the Blue Fin building on Southwark Street.
This was the first of several hundred docking stations to be installed for the opening of the scheme in July.
Naturally, CW, located in another IPC pile 12 miles south in Croydon, were straight onto the story, asking Jenny Noon, IPC Facilities Director what was going on? Sensing morale outrage on our behalf - wrongly of course, the hairs did stand up on our necks, but we remain strictly impartial - she promptly declared IPC's love of Boris Bikes.
"We support the Barclays Hire Scheme. Love it," she proclaimed. "We don't want anyone to think we are against it because of this objection." So what's it all about, then?
Earlier this summer, IPC were notified of the proposal to install a 45-metre long cycle hire Docking Point on Southwark Street, to accommodate 56 bikes. Noon responded by pointing out that this was equivalent to the length of four London buses and out of proportion to the rest of the amenities in the surrounding area.
"A bit heavy handed," she called it. She pointed out there were already five banks of five seats, sets of four cycle racks and about a dozen trees there. IPC's own cycle parking facilities accommodate 120 cycles, but they are scattered about, and unobtrusive.
In the event, 33 docking stations were installed, fewer than first mooted. Nonetheless, IPC felt this still formed an impenetrable barrier outside their front door.
And now, there is a plan is to add another 27 docking stations. That makes 60, four more than originally proposed. So, even more impenetrable, unless you are an Olympic hurdler. She pointed out that one member of staff is visually impaired and her guide dog has difficulty navigating around the area.
"The extra docking stations, that really is a bit too much. That really is a impenetrable barrier right across the front of the building, for people leaving the Blue Fin and wanting to cross the road, or being dropped off upon arrival."
Also, she reminded CW, Southwark Street is a Red Route, meaning no stopping, to facilitate the flow of traffic. And therefore, in her view, an unsafe place to set off from on a bike. Safer to begin from a side road.
Noon has written to Transport for London's planning people to suggest the extra docking stations be placed in a nearby side street, Sumner Street. And why not have gaps in the line?
But she's not hopeful. She surmises that locating a docking station on Sumner Street may require additional planning permission.
She reckons it is probably easier technically and therefore cheaper to tap into existing terminal facilities in front of Blue Fin.
"So it's a lazy option or cost-effective option - depending how you look at it," she says. Finally, there's another irritating problem confronting the foot soldiers of Blue Fin. Namely, gents in suits on Boris Bikes, wobbling along the pavement for several yards, mobile phones glued to their ears!
IPC await a response.
Thank you for reading 20 articles this month* Join now for unlimited access
Enjoy your first month for just £1 / $1 / €1
*Read 5 free articles per month without a subscription
Join now for unlimited access
Try first month for just £1 / $1 / €1