Wiggins on Dauphine: 'I've come here to race'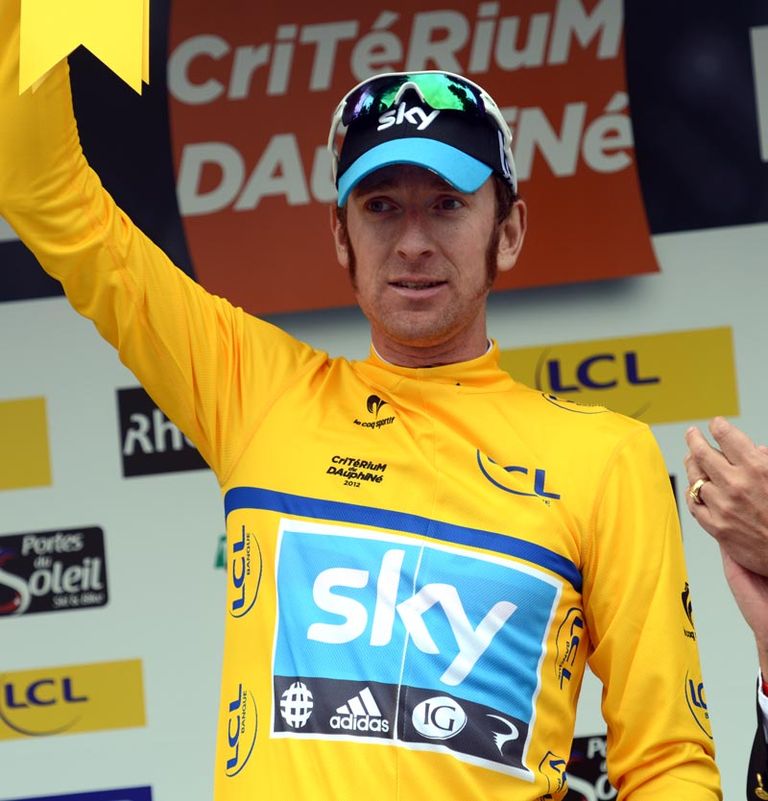 Bradley Wiggins earned himself another leader's jersey today in the Critérium du Dauphiné. This one, at the end of 187km of racing, was stuffed in the back of his team Sky, British Champion jersey when he came to the press conference.
So far, he's been awarded the leader's jersey 12 times this season. It's a burden he thinks about as he aims to win this race and, next month, the Tour de France.
He told Cycling Weekly yesterday - and underlined it today in the press conference - that he'd prefer not to take the leader's jersey so early. With the jersey, comes the responsibility to control the race, guaranteed anti-doping controls, podium presentations, press conferences and late arrivals at the team's hotel.
"It's hard not to compete in this race really," Wiggins said today. "You either sit up, in which case you might as well go training at altitude in the mountains. I don't really enjoy training, it's the worst part of being a cyclist, I'd rather come to a bike race, go flat for one hour time trial or a day like today, but then it's inevitable you're in the GC and you get a result. If I didn't do that, I'd have to go do something else on my own with no one watching. It's very difficult to explain to the mass media, unless they've ridden a bike or trained at the endurance level."
Wiggins leads the race by one second over Cadel Evans (BMC Racing), winner of today's stage. He moved into the yellow jersey thanks to placing second in the prologue TT and distancing overnight leader Luke Durbridge (Orica-GreenEdge).
The race hits the higher mountains later in the week and delivers a long, 53.5km TT on Thursday. If Wiggins wins the title, it'd add to last year's win, and overall wins so far this year in the Paris-Nice and the Tour of Romandy stage races.
He seems to enjoy the attention and the leaders' jerseys, even if it takes extra time out of his day. As he said, he's just focused on himself, and not his rivals, ahead of the Tour de France.
"I don't think so," he said, when asked if it's too much too soon ahead of the Tour. "I can never win, whatever I do. If I didn't take the jersey or didn't perform here, then I'd be the biggest piece of s**t in the world. If I win here then I peak too soon - it's been a bloody long peak, I'll tell you. At the end of the day, I can never win. What ever I do in cycling, I'll never win."
Wiggins, however, won over the journalists in the press conference and appears on track for another Dauphiné victory.
Critérium du Dauphiné 2012: Latest news
Wiggins happy with second in Dauphiné prologue
Critérium du Dauphiné 2012: The Big Preview - includes team list, TV guide, recent winners and more
Wiggins back to defend Critérium du Dauphiné title
Critérium du Dauphiné 2012: Stage reports
Prologue: Wiggins second behind Durbridge
Critérium du Dauphiné 2012: Photo galleries
Prologue photo gallery