Wiggle exchanges man's old car for new bike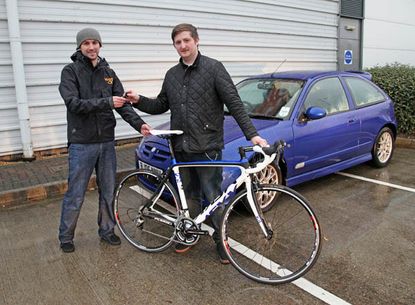 If you don't ask, you don't get. What started out as a cheeky tweet turned into a dream come true for Jonny Heneghan.
Heneghan challenged retailer Wiggle to take his ageing MG car in exchange for a new Mekk Poggio Ultegra-equipped carbon road bike. So they did.
The Manchester man travelled down to Wiggle's headquarters in Portsmouth at the weekend to make the swap. Heneghan wants to use the bike to commute to work instead of using his old car, but due to saving up for his forthcoming wedding simply didn't have the spare cash to buy the bike and keep the car.
Heneghan saw that someone had managed to get a free holiday via posting a similar message on Facebook, and thought he'd try his luck.
"My fiancé's Brother and I just thought 'let's tweet a bike shop and see if they're game!'," said Heneghan.
"I decided I wanted the Mekk and with Wiggle being one of the biggest bike retailers and a supplier of Mekk bikes they were the logical choice!"
Needless to say, Wiggle have received several other tweets asking for a similar swap, although some individuals have offered the family cat and even their mother-in-law for exchange rather than a rusting banger.
"Jonny's request struck a chord with us here at Wiggle," said Wiggle's Social Media Executive, Daniel Loots.
"Many of us here have swapped our cars for bikes to try and cut our commuting costs and keep fit, it's much better than sitting in traffic wasting petrol and it's great to be able to help him do the same! It'll not be a regular occurrence and we don't intend on making a habit of swapping goods. Jonny got lucky."
Jonny with his new bike
Thank you for reading 20 articles this month* Join now for unlimited access
Enjoy your first month for just £1 / $1 / €1
*Read 5 free articles per month without a subscription
Join now for unlimited access
Try first month for just £1 / $1 / €1