Women's riding: cycle chic in Cambridge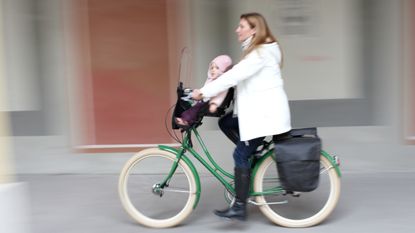 29th April 2010 Words: Keith Bingham Photo: Brooks Saddles & Luggage
Many women are dissuaded from cycling by an aversion to Lycra tights. Recently a number of events have been organised in an attempt to encourage more women to take up cycling for fitness, as a transport method, and to dispel the preconception that cyclists have to wear unattractive kit.
Taking inspiration from the website Copenhagen Cycle Chic, which shows women sporting stylish suits and high heels, a fashion themed event in Cambridge was organised and held in March.
The Ride for Joy — the name hoping to redefine 'joyriding' — illustrated that it's possible to cycle stylishly and attire shouldn't be a deterrent.
Meanwhile, four Pedal It Pink rides have been organised by the Breast Cancer Campaign, challenging women to go the extra mile by riding a 13 or 26-mile ride and raising funds for the charity. London's ride was in March, but Pedal It Pink hits Liverpool on April 18, Edinburgh on May 16 and finally Nottingham in October.
Marie Curie Cancer Care has also joined the cycling campaign with a women's only ride from York to Amsterdam in June, totalling 250 miles.
Website: Copenhagen Cycle Chic (opens in new tab)
Website: Breast Cancer Campaign
This article first appeared in the May 2010 issue of Cycling Active magazine
Thank you for reading 10 articles this month* Join now for unlimited access
Enjoy your first month for just £1 / $1 / €1
*Read 5 free articles per month without a subscription
Join now for unlimited access
Try first month for just £1 / $1 / €1