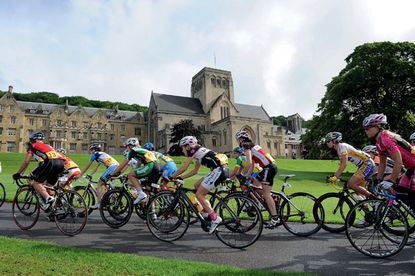 Wiggle-Honda


Management: Rochelle Gilmore, Simon Cope
The ambitious
Wiggle-Honda team may be based in Belgium and Italy, riding mainly
European races, but the British registered, British backed team with a
strong contingent of British riders is big news for women's racing in
this country.
The brainchild of British Cycling head coach Shane Sutton and
rider/manager Rochelle Gilmore, the team is a home for GB's female track
stars during the three long years to the next Olympics in Rio. It may
not be a sky-blue band that's around the jersey, but Gilmore is
nonetheless in close contact with Dave Brailsford and receives backing
from Bradley Wiggins through his foundation.
You probably won't see them riding the National Road Series, but
expect a strong team at the National Road Race Championships, the
Johnson Health Tech GP Series and RideLondon Grand Prix. And with a
three-year commitment from the sponsors, Wiggle-Honda will be around for
a few years yet.



Did you know?
Together, Wiggle-Honda's riders have won 14 world titles and four Olympic gold medals.
Laura
Trott leads the way with four rainbow jerseys and two golds, with
former double world road champion (2010 and 2011) Giorgia Bronzini the
only non-British rider to contribute to that tally.
Riders: Elinor Barker, Beatrice Bartelloni (Ita), Giorgia Bronzini (Ita), Emily Collins (Nzl), Rochelle Gilmore (Aus), Mayuko Hagiwara (Jap), Dani King, Lauren Kitchen (Aus), Amy Roberts, Jo Rowsell, Anna-Bianca Schnitzmeier (Ger), Laura Trott, Linda Villumsen (Nzl)


Breast Cancer Care Cycling Team

Management: Rene Groot



Q&A with Penny Rowson
Most intelligent? Claire Galloway and Anne Ewing - they're both doctors.
Best-dressed? Gabby Shaw.
Funniest? Eli Thorogood, as she's always putting funny pictures on Instagram.
Loudest? Ella Hopkins. She's got a distinctive laugh.
Quietest? I'll say Laura Murray as I don't really know her that well.
Biggest Tweeter? It's between Jane Barr and Kayleigh Brogan. They're having a competition to see who can get the most followers.
Biggest moaner? Don't know, but Ciara Horne is the most positive on the team.
Best tan lines? Sarah Storey because she's been training in Lanzarote and Majorca.
Best music taste? Eileen Roe - she has similar taste to me.
Person you'd like to go on a night out with? Ella Hopkins again. We keep dreaming about going on holiday to Ibiza.
Riders: Jane Barr, Amy Bradley (Aus), Kayleigh Brogan, Anne Ewing, Claire Galloway, Ella Hopkins, Ciara Horne, Julie Leth (Den), Laura Murray, Eileen Roe, Penny Rowson, Gabriella Shaw, Sarah Storey, Elinor Thorogood, Molly Weaver
MG-Maxifuel

Management: Rod Freeman

Did you know?
Charline Joiner was a silver medallist in the team sprint at the 2010 Commonwealth Game and rode for the French US Créteil track squad between 2010 and 2012.



Riders: Toni Abbisgoni (Aus), Hannah Barnes, Rohan Battison, Karla Boddy, Melissa Brand, Hayley Edwards, Katie Godwin, Charline Joiner, Kelly Moore


Matrix-Fitness

Management: Stefan Wyman



Q&A with Harriet Owen
Most intelligent? Emma Grant.
Best-dressed? Corrine Hall - she's got 30 pairs of trainers!
Funniest? Me of course!
Loudest? Without a doubt Jo Tindley.
Quietest? Corrine again, although she's loud when you get to know her.
Biggest Tweeter? The big boss, Stefan Wyman.
Biggest moaner? Hannah Walker, no offence!
Best tan lines? Mel Lowther - the northerners compete over it.
Best music taste? Jessie Walker.
Person you'd like go on a night out with? Definitely Jo - you can't not have fun when you're around her.
Riders: Gabriella Day, Emma Grant, Corrine Hall, Melissa Lowther, Harriet Owen, Jo Tindley, Hannah Walker, Jessie Walker, Helen Wyman
Other teams to look out for
Scott-Contessa-Epic
Riders: Zoe Armstrong, Alice Barnes, Anna Christian, Kim English, Amy Gornall, Beth Hayward, Becca Hunt, Emily Kay, Crystal Lane, Laura Wasley.
Hope Factory Racing
Riders: Adela Carter, Lyndsey Glazier, Adele Martin, Jane Nolan, Annie Simpson
Team CTC
Riders: Lydia Boylan, Nicola Juniper, Helen McKay, Tamina Oliver, Astrid Wingler - read Cycling Weekly's story about team CTC's launch earlier this year here bit.ly/VPB2Se
Champion System-Maxgear-Base
Riders: Janet Birkmyre, Joanne Blakeley, Melissa Bury, Eve Dixon, Nicola Soden, Lauryn Theryn, Frankie White
Herbalife-LeisureLakesBikes
Riders: Lynn Hamel
VC St Raphael
Riders: Marianne Britten, Nikola Butler, Laura Clode, Anna Fischer, Jackie Garner, Ellie Gilham, Caroline Harding, Rusine Heald, Jenny Hudson, Eleanor Jones, Hannah Manley, Nicci Meadows, Adel Tyson-Bloor, Vanessa Whitfield
Where to see the teams - 2013 racing calendar
WOMEN'S NATIONAL ROAD SERIES
April 6-7

Tour of Perth, Perthshire
April 28

Cheshire Classic, Cheshire
June 9

Hillingdon Women's GP, London
June 15-16

CDNW Surf and Turf Two-day, Lancashire
June 30

Curlew Cup, Northumberland
July 3

Otley GP, West Yorkshire
July 13-14

Essex Giro Two-day, Essex
July 24

Sheffield GP, South Yorkshire
July 28

Ryedale GP, North Yorkshire
JOHNSON HEALTH TECH GP SERIES
Dates/venues TBC
Five rounds
SELECTED OTHERS
June 8

IG London Nocturne, London
August 3

RideLondon Grand Prix, London
NATIONAL CHAMPIONSHIPS
June 20

National Time Trial Championships, Glasgow
June 23

National Road Race, Glasgow
>>> Back to 2013 British Team Guide home page >>>
Thank you for reading 20 articles this month* Join now for unlimited access
Enjoy your first month for just £1 / $1 / €1
*Read 5 free articles per month without a subscription
Join now for unlimited access
Try first month for just £1 / $1 / €1