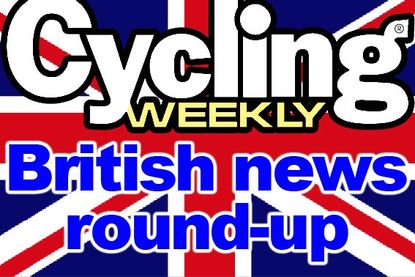 Helen Wyman won the Fidea Jaarmarktcross in Niel, Belgium yesterday, her third win of the season.
Showing renewed confidence after a win in Koppenberg recently, and a bronze medal at the European championships at the weekend, Wyman stayed at the front of the race throughout.
"I made a mistake on the first lap, but on a course like this, mistakes are going to happen,"Wyman said. "It's about who deals with them the best. For me these conditions aren't too hard, but I think it's pretty grim for the pit-crew."
"Winning's a habit, and its one habit I'm not looking to change. I've been on the podium in my last five races, and when the conditions are right, I'm always confident of taking the win."
"But this season I'm much more confident on all courses. Last week was a good ride for me at the European Championships on a totally different type of course.'
Britain's Nikki Harris finished fourth.
Wiggins' new book
Bradley Wiggins latest book is released on November 22. The book, entitled On Tour Bradley Wiggins is lead by pictures, all taken by Scott Mitchell, with Wiggins' comments on each stage. A spread is also devoted to Wiggins' playlist, listened to throughout July.
On Tour Bradley Wiggins is published by Orion Books and will be available in paperback for £14.99.
Track riders raising money for Children in need
Cyclists will take to the Calshott track for 24 hours next weekend to raise money for Children in Need.
Eight teams will take it in turns to ride the short track in team pursuit formation and attempt to cover as great a distance as possible in their alloted hour. Each team gets three run-outs on track.
Team one, the Calshot Cowboys, start the fun and games at 5pm on Friday, November 19. Teams range from eight to 15 riders. Tony Gibb and Paralympian Simon Richardson are two of the star names looking to help raise £10,000 for the BBC charity.
You can sponsor the teams by following the link on www.tmracing.org.uk
Clarke signs for Endura
The Endura team boosted it's 2011 roster by signing Dave Clarke from Pendragon Le Col. Clarke, who won this year's East Yorkshire Classic, said: "I am really excited to join one of the most successful UK teams with a great set-up, talented riders and experienced management. I am relishing the thought of all the up and coming challenges of a great calendar of racing."
"When you are given a chance like this, you have to embrace it, give it your all and reach your full potential. I intend to give this everything. There is some unbelievable talent on the team, but as a unit we have something even greater."
Endura's international signings are to be announced next week while seven of the team's British riders from this year have been retained - Rob Hayles, Ian Wilkinson, Rob Partridge, Callum Wilkinson, Evan Oliphant, James Moss and Scott Thwaites.
Cavendish gets spinning
Mark Cavendish recently tried his hand as a spinning instructor to launch Technogym's new training bikes.
Not only did the fastest man in the world take the session, he took questions and offered some advice to the ten journalists that joined him.
Copeland to Sigma Sport
Tom Copeland returns to race in the UK next year, joining the Sigma Sport team to focus on the Premier Calendar series.
Having spent the last three years racing in Brittany with BIC 2000, Copeland, who was backed by the John Ibbotson Fund in 2008 and 2009, was left high and dry when the team decided they were only going to sign French riders for 2011.
Copeland completes Sigma's roster as the shop-backed squad remains registered as a UCI Continental team for next season.
Manchester track world cup - tickets on sale
Track World Cup tickets went on sale exclusively to British Cycling members today. The fourth round of the UCI's 2010-2011 world cup series takes place in Manchester between February 18 and 20.
But you only have until 6pm tonight to get them! Ring 0161 274 2010 and quote your BC number to get discounted tickets. They go on general release next Monday.
Thank you for reading 20 articles this month* Join now for unlimited access
Enjoy your first month for just £1 / $1 / €1
*Read 5 free articles per month without a subscription
Join now for unlimited access
Try first month for just £1 / $1 / €1