Lapierre asked AI to design FDJ's Tour de France paint job and the results are stunning
The French bike brand used artificial intelligence to create unique designs for Groupama-FDJ's Xelius SL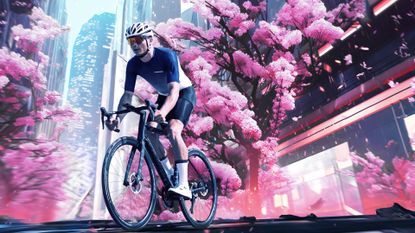 (Image credit: Lapierre)
For better, or for worse, Artificial Intelligence (AI) is becoming an increasingly common part of our everyday lives - and now, thanks to Lapierre and Groupama-FDJ, it's in the Tour de France. It isn't quite as you might expect though, there is no computer telling Jonas Vingegaard how many watts to put out up Alpe D'huez, nor an AI tactician telling Movistar who to send up the road.
The AI influence from Lapierre is purely a special edition livery for the Xelius SL 10.0. The new 'Symbiosis' special edition frame features a gloss black sparkly base colour, and is covered with concentric circles of floral patterns as well as drivetrain-esque chains.
So, how exactly do you use AI to design a bike livery? AI-generated imagery is derived from user prompts, so the collection of three artists, Obvious, created prompts based on the 'man and machine' theme that they wanted to convey. However, it was, Lapierre says, particularly tricky to map this onto such a complex three-dimensional shape as a bike frame.
The finished product is interesting and certainly stands out from many of the other custom kit at the Tour such as Mark Cavendish's custom bike, or Trek's individual Project One bikes.
The closer you look, though, the more stunning the detail. Each blue ring is made up of stunning patterns which are meant to symbolize a bike's drivetrain and have an almost sci-fi look about them.
The pink rings, on the other hand, stray in the opposite direction to tech, featuring floral patterns, giving the bike a natural edge too. This is all laid on top of a gloss-black base colour, which features sparkling silver flecks when caught in the light.
The frameset also features a complex equation down the back of the seat tube, as well as Obvious' logo on the top tube.
Lapierre will be releasing the Xelius SL 10.0 Symbiosis to purchase, though the production version will have black logos instead of white, completing a more stealthy look. The Symbiosis special edition Dura-Ace Di2 build weighs a claimed 6.9kg (no quoted size) finished with carbon bars, and a Dura-Ace c36 wheelset.
It doesn't come cheap, though, with full builds retailing at €9,999. The frameset will alone sets you back €3,799, though this does include a seat post, Lapierre carbon bars, and an alloy stem.
Thank you for reading 20 articles this month* Join now for unlimited access
Enjoy your first month for just £1 / $1 / €1
*Read 5 free articles per month without a subscription
Join now for unlimited access
Try first month for just £1 / $1 / €1