Are Lidl-Trek's bikes the prettiest at the Tour de France?
Each rider of the women's and men's teams will be racing aboard a one-of-a-kind Project One ICON Trek Émonda or Madone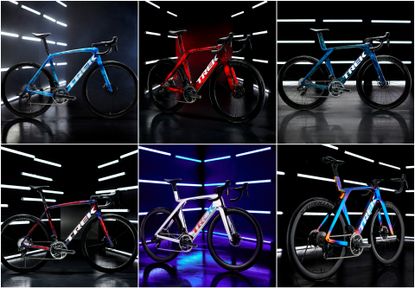 (Image credit: Trek)
When the 2023 Tour de France gets underway on Saturday, July 1, each rider of the Lidl-Trek squad (formerly knowns as Trek-Segafredo) will be rolling through France on a one-of-a-kind Project One Icon bicycle.
Trek today unveiled eight all-new Project One ICON paint schemes, made especially for the bike brand's professional men's and women's road teams but available for consumers worldwide.
Trek says that each paint scheme is handcrafted using individualized paint processes that create organic designs and patterns that cannot be replicated. Therefore, no two Project One ICON frames are exactly the same.
These new paint colors are available, made to order, on Trek's Émonda SLR and Madone SLR framesets.
All Project One ICON bikes are painted in-house at Trek's Wisconsin headquarters by the brand's "most experienced Project One artists."
"These bespoke designs are about more than colors that stand out: they're filled with texture, depth and mood," says Trek.
Trek did not yet say which rider will be aboard what color; I guess we'll just have to tune in to the Tour de France and Tour de France Femmes avec Zwift later in the month to find out.
|Also read: Tour de France 2023 special kits rated
The all-new schemes:
Image 1 of 4
Chroma Ultra-Iridescent (limited edition)
Chroma Ultra-iridescent comes from years of trial, error, and combined artistic brainpower from Project One's most sought-after master painters. It takes a certain level of skill and know-how to create a paint so radiant.
Image 1 of 4
Chroma Diamond Flake (limited edition)
Millions upon millions of microscopic chrome flakes create a stunning scheme worthy of every display. No two diamonds are the same and with this limited-edition colorway, riders will have a dream bike that shines differently in every light.
Image 1 of 7
Real Smoke (Cerulean Mist, Red Smolder, and White Ash)
Real Smoke is a hazy, hand-crafted paint scheme that uses fire as the main ingredient. Each frame catches smoke within its base paint layers for a design that never cools.
Image 1 of 6
Crystalline (Blue Prismatic and Viper Frost)
These one-of-a-kind paint schemes are created organically by fusing together thousands of tiny crystals into lattices that sparkle in any light. Just like the natural phenomena they replicate, Crystalline bikes are like snowflakes — each one as unique as the next.
Image 1 of 2
Team Tie Dye
This unique paint scheme in pro team colors complements the six additional Tie Dye options currently available through Project One that launched earlier this year.
Trek aren't the only bike brands unveiling special bikes at this year's Tour de France - so far we've also seen Lapierre's AI designed Xelius SL for Groupama-FDJ and Mark Cavendish's personalised Wilier Filante SLR.
Thank you for reading 20 articles this month* Join now for unlimited access
Enjoy your first month for just £1 / $1 / €1
*Read 5 free articles per month without a subscription
Join now for unlimited access
Try first month for just £1 / $1 / €1