Bryton takes on Garmin again with new Gardia R300L radar tail light
The Taiwan-based company's new light alerts cyclists of approaching vehicles and undercuts its rivals on price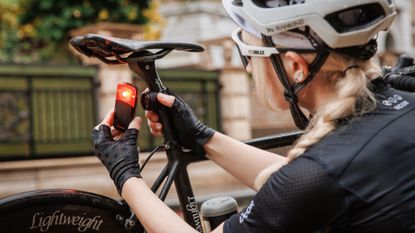 (Image credit: Bryton Inc.)
GPS specialist Bryton has expanded its range of cycling electronics with the release of a bike radar tail light, the Gardia R300L.
The Taiwanese firm's bicycle radar is, of course, not the first with Garmin's Varia range well established. However, as it has done with its GPS cycling computers such as the Rider S800, Bryton will offer the technology at a lower price point than Garmin, with the Gardia R300L retailing at £119.99 .
For comparison, the Garmin Varia RTL515 radar tail light, which we reviewed and highly rated on its release and included in our line-up of the best bike lights, has a RRP of £169.99.
Bryton says that the Gardia aims to deliver double protection for cyclists with the new light providing both a warning to advancing drivers as well as notifying the user of the approaching vehicle.
According to Bryton, the light's radar sensor can detect vehicles from behind up to 190 meters, or 625 feet, away (compared to the Garmin Varia RTL515's quoted 140m). As with the Garmin Varia visual and audible warnings will appear on compatible bike computers or the Gardia smart phone app.
The radar also automatically assigns what Bryton calls a 'threat level' based on the speed of approaching vehicles and changes to a "suitable warning light to alert the vehicles coming from behind". This is similar to the Varia, which also changes light modes as vehicles approach.
The radar also includes a sensor that detects when the cyclist is slowing down, and notifies the vehicle behind with a brake light.
When connected to compatible bike computers (it uses ANT+ ) with built-in light sensors, the Gardia will adjust its light mode accordingly. If it's dark it will automatically switch to the 'night flash' mode, while in light conditions it will utilize the 'day flash' setting to preserve the battery life. If daylight visibility is a priority, the Gardia boasts a dedicated flash pattern that can be seen up to 1.6km, or one mile, away.
All of the various modes can be operated from a compatible computer, or the app, as can the remaining battery time. As for said battery, Bryton says it offers 17 hours of life when used in the day flash mode and "up to 12 hours" in solid mode, both on a single charge. The Gardia uses a USB Type-C port for convenience.
As for fitting the light to your bike, the Gardia comes with what Bryton describes as an "innovative all-in-one mounting system", which is compatible with a range of seat posts including 27.2mm, 30.9mm, 31.6mm D cross-section, and aero cross-section posts.
"This new product can make a huge difference to cyclists' safety in terms of making both cyclists and vehicles aware of each other's presence," says Samuel Wang, CEO of Bryton Inc. "Our goal has always been to offer full support to cyclists who are fully dedicated to riding since day one. Therefore, with each new launch we continue to move closer to providing a comprehensive riding system by expanding our product lines to help strengthen cyclist safety on the road and decrease the overall number of accidents.
For more information on the Gardia R300L visit brytonsport.com
Thank you for reading 10 articles this month* Join now for unlimited access
Enjoy your first month for just £1 / $1 / €1
*Read 5 free articles per month without a subscription
Join now for unlimited access
Try first month for just £1 / $1 / €1
Luke Friend has worked as a writer, editor and copywriter for twenty five years. Across books, magazines and websites, he's covered a broad range of topics for a range of clients including Major League Baseball, the National Trust and the NHS. He has an MA in Professional Writing from Falmouth University and is a qualified bicycle mechanic. He has been a cycling enthusiast from an early age, partly due to watching the Tour de France on TV. He's a keen follower of bike racing to this day as well as a regular road and gravel rider.