Faster and better wet weather grip: Goodyear launches second gen road tire range
After 5 years in development, the American tire company claims the new tires are 35% faster and 19% grippier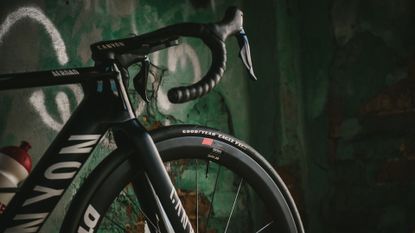 (Image credit: Goodyear Bicycle Tires)
Five years after launching its first generation of road tires, Ohio-based tire company, Goodyear, today unveiled its latest generation of road tires, said to be significantly faster while also grippier in wet weather conditions compared to its previous generation tires.
The company's biggest road tire expansion yet, the second generation collection sees the addition of four new models across the Ultra High-Performance (UHP) and High-Performance (HP) road ranges, including updates to the well-loved Eagle F1 R and Eagle F1 SuperSport R race tires as well as the Eagle and Vector Sport all-rounders.
"After years in development, hundreds of samples, multiple compound updates, casing layups, and thousands of kilometers of real world testing, it gives us great pleasure to finally reveal what we've been working on," said Ben Evans, commercial director of Goodyear Bicycle Tires.
"This new range marks our largest expansion and update since our initial launch in 2018. Thanks to the invaluable feedback of our sponsored professional athletes and test riders along with countless hours of development, this is our best performing range yet with rolling resistance decreased by up to 35% and wet grip increased by up to 19% versus our first-generation Eagle F1 tires."
The Range
Named after Charles Goodyear, the inventor of vulcanized rubber, Goodyear Tire and Rubber Company was founded in 1898 when it launched its first bicycle tire. It has since become one of the five biggest tire companies in the world and has deep roots in the automotive and aviation industries.
This new collection of bicycle tires is manufactured in the recently expanded and dedicated Goodyear Bicycle Tire factory in Taiwan, and aimed at "providing riders with the confidence to push their limits."
Here at Cycling Weekly, we were big fans of some of the previous edition tires, especially the tubeless Goodyear Eagle F1 tire, which was selected for an Editor's Choice award with a score of a full five out of five stars. The tire impressed with its ease of setup — just a regular hand pump!—, speed, light weight and durability.
This already outstanding tire is now said to be even better, and available in both tubeless and tube-type models.
Eagle F1 R
This Ultra High-Performance all-round road race tire was developed at the highest levels of cycling sport — aboard the pro bikes of the Human Powered Health team.
Made of a 120tpi short-ply casing, the improved Eagle F1 tire has 13-17% lower rolling resistance over its predecessor across a variety of pressures, features the all-new R:Shield breaker belt for enhanced puncture protection, and weighs 8% less than the last Eagle F1 Tubeless Complete.
Goodyear says that this is the tire for racers and enthusiasts who want a speedy tire without compromising balanced grip in dry or wet conditions. The tire weighs 280g in a 25mm-wide tubeless model and 205g for the tube-type model.
Available in black and tan walled, sizes 700 x 25,28,30,32, 34* (*tubeless only). Retails for $70 /£60 /€65 tube-type, $80 /£65 /€70 tubeless.
Eagle F1 SuperSport R
This is Goodyear's lightest weight Ultra High-Performance road tire, designed for pure speed on race day for road racing, time trialing and triathlons alike.
The SuperSport has gone on a serious diet, losing up to 36% of rolling resistance compared to its predecessor. The tubeless model weighs in at just 235g (in size 700 x 25mm), making it one of the lightest tubeless road tires on the market. The tube-type model comes in at an impressive 190 grams.
Third party testing shows that the Supersport didn't just get faster, the tire's center and edge wet weather grip also significantly improved. Puncture protection tread was reduced, however, in favor of weight and improved rolling resistance.
Available in black and tan walled, sizes 700 x 25,28,30* (*tubeless only). Retails for $70 /£60 /€65 tube-type, $80 /£65 /€70 tubeless.
Eagle
Benefitting from trickle down technology, the Eagle, is an all-round road tire that offers race-inspired performance in any condition and at a friendlier price.
The 60tpi casing is said to be less prone to cuts and abrasion damage than its higher ply siblings, and the under-tread shield adds even more puncture resistance.
Despite its lack of race pedigree, the tire weighs in at a respectable 280 grams for the tubeless model and 240 grams for the tube-type tire.
Available in black and tan walled, sizes 700 x 25,28,30, 32. Retails for $55 /£45 /€50 tube-type, $62 /£50 /€55 tubeless.
Vector Sport
The Vector Sport is the most robust tire in the line with enhanced puncture protection and multi-condition durability. Made with the endurance riders in mind, the Vector features a
dual R:Shield anti-puncture belt and a 60tpi single ply carcass.
New for 2023 is the Vector's tread design and tread cap thickness for improved grip, puncture resistance and tread life.
Available in black only, sizes 700 x 25,28,30,32. Retails for $57 /£48 /€53 tube-type, $65 /£53 /€58 tubeless.
We've called in the new tires for testing. Be on the lookout for reviews soon!
Thank you for reading 20 articles this month* Join now for unlimited access
Enjoy your first month for just £1 / $1 / €1
*Read 5 free articles per month without a subscription
Join now for unlimited access
Try first month for just £1 / $1 / €1