Hutchinson's gravel tyres go large with new 50mm sizes - and an eye on the e-bike market
The French brand has scaled up its Tundra, Touareg and Overide tyres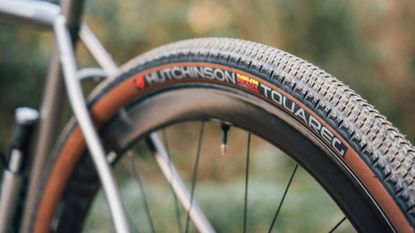 (Image credit: Hutchinson)
Hutchinson is releasing its complete range of gravel tyres in a 700x50mm size, the first time they have been available in this larger width.
The line-up features three tyres - the Tundra, the Touareg and the Overide - all of which are tubeless ready. The French brand pioneered the technology in the 1990s and became the first tubeless tyre to win on the WorldTour stage, with Philippe Gilbert's victory at Omloop Het Volk in 2008.
Hutchinson says it's chosen to go big "in pursuit of increased comfort and unparalleled versatility". This includes positioning the tyres for the growing gravel e-bike market as well as for bikepackers and "gravel adventurers" who require a plush tyre to deal with terrain that was once the preserve of mountain bikers.
The three offerings are designed to cover a range of terrains and riding conditions, with Hutchinson 'scaling up' the tread pattern of the existing models to help deliver "all the same performance benefits as their smaller counterparts".
The Tundra is positioned as a mixed-terrain tyre, with widely spaced knobs that are designed to deliver grip on "slick, rocky technical trails." It's the most aggressive tyre in the range and the heaviest too, with a claimed weight of 680 grams.
Hutchinson describes the Touareg as it's "ever-reliable workhorse". This translates to a tread pattern that features a series of knobs - larger and flatter in the middle for lower rolling resistance on hard packed and tarmac surfaces, and taller on the shoulders for improved grip in the wet. Hutchinson suggests that the Tundra and the Touareg also make an ideal pairing in the winter, with the Tundra providing additional grip on the front.
The Overide, Hutchinson says, is designed for dry conditions and is well suited to gravel routes that also take in a fair amount of paved surfaces. It features a low-profile central strip alongside taller knobs on the shoulder. As you might expect from a "go everywhere" gravel tyre, the mellow tread pattern makes for a lighter tyre in comparison, with the Overide weighing a claimed 610 grams.
All three of the tyres are made in France with Hutchinson's bi-compound material and include a Hardskin protection for improved puncture resistance, a TPI count of 127 and tan sidewalls.
The Tundra, the Touareg and the Overide retail at £49.99 per tyre.
For more information visit cycling.hutchinson.com
Thank you for reading 20 articles this month* Join now for unlimited access
Enjoy your first month for just £1 / $1 / €1
*Read 5 free articles per month without a subscription
Join now for unlimited access
Try first month for just £1 / $1 / €1