Is this 'smart bike' from Mini the future for electrified cycle commuting?
Angell X Mini e-bike collaboration shows off smart features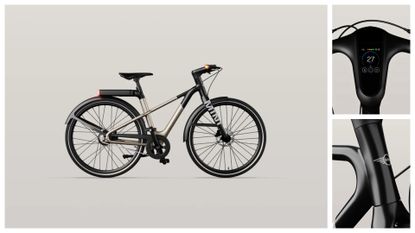 (Image credit: Angell Mobility)
French smart bike company, Angell Mobility has partnered up with British automotive marque Mini to create a line of special edition smart e-bikes. The company is manufacturing 1,959 bikes in each of the new colourways, 'Ocean Wave Green', and 'Vibrant Silver'.
The Angell Mini E-bike 1 boasts a whole host of smart features including built in indicators, a high definition touch screen, and an alarm system.
With the inclusion of all these features that both increase safety and usability, it has gotten us thinking - is this the future of mainstream e-bikes?
The heart of Angell's sleek design is a large tubular-shaped aluminium frame, which is mated to a carbon fork. Alongside offering a clean aesthetic, this design also allows for a claimed weight of 17.5kg, complete with the battery, of which the capacity isn't stated.
The bike is available in just two sizes, S, which features a lower standover height, and M which is aimed at 'taller riders'. Together, the frame sizes are said to cater for riders between 160cm and 190cm. Angell has also fitted the Mini E-bike 1 with a 250-watt motor, which is located in the rear hub of the 650 wheelset.
But the real tricks of the Mini E-bike 1 lie in its integrated technology - which all starts in the handlebars, which by the way are fitted with Brookes grips.
The Mini E-bike One features a 2.4" display which is built into the bike's stem, which not only allows for the usual statistic tracking but also facilitates geo-location unlocking through the bike's companion app. In the event that someone tries to steal your new €3490 e-bike, the Angell will let off an audio and visual alarm in an attempt to deter thieves.
As well as locking features, the mobile app also provides information on pollution levels, and ride history and can provide directions too.
The Mini E-bike 1 is also fitted with grips that feature both indicators and vibration functionality. When approaching a turn, the grips can be set to vibrate and signal to let both you and other road users know your next move.
As mentioned before the battery capacity is not quoted, but is removable from its unusual horizontal mounting point on the rear carrier - mounted here to give the rear tail lights the best possible visibility.
It is fair to say 'smart bikes' as a category, are yet to strike real success, most likely due to their complicated nature, particularly in the event of maintenance.
That said though, the likes of Bosch have been making a steady progression in terms of the features offered on its e-bike head units - and it seems likely that the next level of integration won't be far around the corner.
But it does require a level of cohesion between bike brands and motor suppliers in order to come up with compatible solutions, something that isn't always easy to pull off well.
For more information on the Angell X Mini E-bike 1, check out the Angell Mobility website.
Thank you for reading 20 articles this month* Join now for unlimited access
Enjoy your first month for just £1 / $1 / €1
*Read 5 free articles per month without a subscription
Join now for unlimited access
Try first month for just £1 / $1 / €1