'It's not about the looks, it's about speed' - Uno-X launch Redeemer 'spaceship' helmet
The new lid will be available in autumn 2023, with a hefty price tag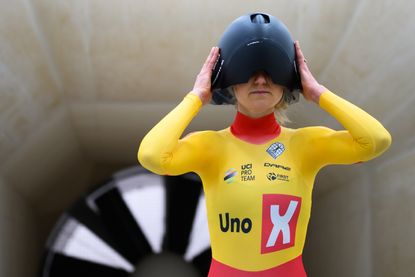 (Image credit: Sweet Protection/Uno-X)
It has been likened to a giant bumblebee and Star Wars villain Darth Vader, but now Uno-X's new helmet has a name.
The Redeemer 2Vi, first spotted at last month's Volta ao Algarve, was officially unveiled on Tuesday by the Norwegian team and their helmet supplier Sweet Protection, who lifted the lid on the secrets of its design.
"There's a lot of excitement around this project because it looks like this or that," said Uno-X commercial manager Erik Nordby at the product's launch event. "The Eurosport commentators today said that spaceships landed on their heads [in the team time trial at Paris-Nice]."
The new helmet, garishly large but surprisingly light at 490 grams, is the result of hundreds of hours of computer and wind tunnel testing. Its shape was designed to line up with the wearer's shoulders and back, helping to smooth airflow over these areas. According to the manufacturers, the Redeemer sets "a new benchmark in aerodynamics".
Kyle Forster, the project's lead aerodynamicist, explained that the helmet comes with "a few little nifty tricks" that give it an "overall optimised shape".
One of these is its Laminar Flow Bypass Duct, which channels wind out through its flared sides. Expanding on this feature's role, Forster said: "What happens is, the pressure on the front of the helmet, in its central area, is reduced, because we're allowing some airflow to bleed through. It's essentially as if we had a much smaller helmet in this region."
So how does this translate into drag savings? Well, Uno-X are reluctant to say.
The team's performance coach, Casper von Folsach, explained: "I think many people are tired of hearing how many watts you save from this, that and the other, because it's so dependent on the protocol, where you test, at what speed you test, at what yaw angles [you test], test facilities and so on.
"What I will say, however, is that from the testing and benchmarking against other helmets is that, as the guy overseeing equipment, and in this case TT helmets for our team, I can say without a doubt that this is the helmet that I would prefer our team to be riding."
While Uno-X will wear the Redeemer in time trials this season, including at the Tour de France, the product won't be available commercially until the autumn. Currently, the manufacturers expect it to come with a €450 (£400) price tag.
People may poke fun at it, but if the helmet is as effective as Sweet Protection and Uno-X say it is, the jokes will soon stop. "It wasn't about the looks," said the team's commercial manager Nordby. "Obviously within the design parameters, we tried to make it as good-looking as we can, but it was about speed, about creating something fast. That was the focus and this is what we ended up with."
Thank you for reading 10 articles this month* Join now for unlimited access
Enjoy your first month for just £1 / $1 / €1
*Read 5 free articles per month without a subscription
Join now for unlimited access
Try first month for just £1 / $1 / €1
Tom is one of Cycling Weekly's news and features writers. In 2020, he started The TT Podcast, covering both the men's and women's pelotons and featuring a number of British riders.
An enthusiastic cyclist himself, Tom likes it most when the road goes uphill and actively seeks out double-figure gradients on his rides.
He's also fluent in French and Spanish and holds a master's degree in International Journalism.