Look updates its 795 RS Blade and 796 Monoblade RS race and TT bikes
Created in conjunction with Team Cofidis the redesigned bikes feature a new carbon layup that's lighter and stiffer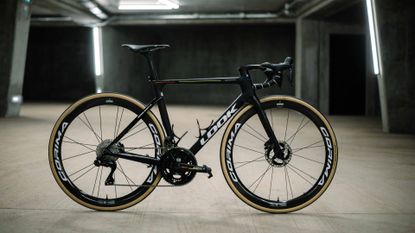 (Image credit: Look Cycle)
Look has released new iterations of its WorldTour race bikes, the 795 Blade RS and the 796 Monoblade RS.
The 795 Blade is designed as an all-rounder while the 796 Monoblade is a time trial machine. Both bikes have been used by Team Cofidis during the 2022 and 2023 seasons, providing Look's Research and Development team with invaluable feedback before taking the updated models to the public.
Look says both bikes are "natural progressions" of the outgoing models, with updates to the carbon layup using construction techniques and technology that helped the French brand's T20 track bike strike gold at the Olympics.
"We are thrilled to unveil the new 795 Blade RS and 796 Monoblade RS, products of our close collaboration with the Cofidis World Tour Team," says Pierre Jean Martin, CTO at Look Cycle. "With their exceptional aerodynamics, lightweight design, and state-of-the-art technology, these bikes represent our commitment to pushing the boundaries of what is possible in cycling."
So how do these bikes differ from their predecessors?
Look 795 Blade RS
Let's start with the 795 Blade. The updated frameset features the aforementioned all-new carbon composition that has integrated 25% Ultra High Modulus carbon in specific sections of the frame. There are new aero sections too, including the seat stays, seat post, seat post clamp, top tube and forks. It all adds up to a frameset that weighs 1,325g in a size small.
Improved aerodynamics continue into the fully carbon cockpit. However, it has not only been designed to reduce drag, with fully integrated cabling, but to aid versatility too, with the separate bar and stem allowing for easy customisation. The result of the new layup, design tweaks and optimised cockpit, Look says, is a bike that's 7% stiffer and 10% more aerodynamic than the previous model.
As you'd expect from a bike that's being raced at the highest level, the 795 Blade's geometry is designed to help deliver an aerodynamically beneficial position and a responsive ride.
"This bike is fast, and not only does it go fast, but it also maintains a constant speed, which is crucial," says Cofidis rider Simon Gescke. "Furthermore, it performs flawlessly on any terrain, thanks to its extreme precision in handling and perfect aerodynamics".
Claimed weights for a complete bike in a size medium, fitted with a Shimano Dura-Ace Di2 groupset, power meter pedals, bottle cages and CORIMA MCC EVO 32 tubular wheels is an impressive 7.0kg.
Complete bikes start at $9,000 / £8490 for a Shimano Ultegra Di2 equipped model, with the top-tier spec retailing at $14,600 / £12990. The frameset is available for $5,900 / £5390.
Look 796 Monoblade RS
Likewise the updated 796 Monoblade benefits from the new layup that includes the addition of Ultra High Modulus carbon. Unsurprisingly it too results in a bike that Look describes as "lighter and stiffer."
However, the claimed improvements in performance aren't down to material choices alone. The bike features a host of updated aerodynamics sections. The frameset benefits from integrated cable routing (the bike is electronic groupset specific), redesigned seat stays and a new Aeropost seat post with reversible sliding head and integrated sliding seat post clamp.
The 796 Monoblade is also equipped with a new Aeroflat 400mm base bar and Aergo aero extension, with a rotating 0-20 degree adjustment. Team Cofidis' Benjamin Thomas was instrumental in the bike's early testing and clearly approves of the updates.
"I had the opportunity to work with LOOK Cycle's R&D department and test the 796 Monoblade RS early in the offseason," he says. "My recent victory in the 4-day Dunkerque TT attests to it: this bike is exceptionally lightweight and fast for a time trial bike. What excited me the most was its rigidity, responsiveness in accelerations, and meticulously developed aerodynamics for high-speed riding. The handlebar setup has been optimized to provide a smooth and effortless riding experience, truly making it a perfect time trial bike."
Other significant changes include mounts for disc brakes and T47 85.5mm bottom bracket.
Available as a frameset only, the 796 Monoblade retails at $7,800 / £6990.
For more information on the 795 Blade RS and the 796 Monoblade visit lookcycle.com
Thank you for reading 20 articles this month* Join now for unlimited access
Enjoy your first month for just £1 / $1 / €1
*Read 5 free articles per month without a subscription
Join now for unlimited access
Try first month for just £1 / $1 / €1