Is this Look prototype the 795 RS and where will it fit in its race bike line-up?
WorldTour team Cofidis are currently riding the prototype that cuts an aero all-rounder silhouette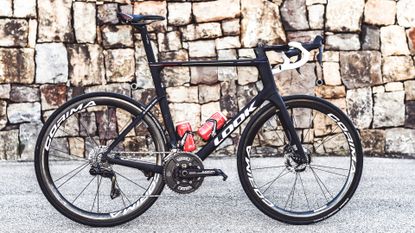 (Image credit: Cofidis)
With the 2023 racing season upon us, the move of new and yet unnamed race bikes from hiding into plain sight continues. Aptly, it's Look that is the latest supplier providing an unobstructed view, in the case of a Cofdis prototype that the storied French marque described on its Instagram account as the team's 'secret weapon'.
While the 'secret' now appears to be out of the bag, there's still plenty to speculate on. For a start the bike goes unnamed. At least officially. French website matosvelo.fr managed to zoom in on an image to show a slightly blurred label on the down tube that appeared to read 'Look 795 RS' above a UCI logo.
Look says Cofidis are currently riding UCI-approved prototypes, with the bike in question one of "several future bike platforms", they've cooked up with Cofidis to "help them on their quest for victories at the highest level".
So what can we decipher from the images released?
Look is marking its return to the WorldTour stage with a thoroughly contemporary offering alongside the world's best road bikes of 2023. The aero all-rounder has become a category in its own right in the last year or two and this prototype would appear to be another addition.
The tubes are aero-optimized, without going as deep as a dedicated aero machine, such as Look's existing 795 Blade or a slew of other watt busters that populate the current professional peloton. That still means a relatively deep head tube though, with a sculpted profile when viewed head on. There's also an aero d-shaped seatpost, that continues into a seat tube that hugs the rear wheel, as well as bladed seatstays.
And the stays are dropped; again a familiar sight on a modern race bike but not featured on either of Look's current top-tier offerings, the aforementioned 795 Blade and the 785 Huez, a lightweight bike for when the road points up.
The cockpit is one-piece, with fully integrated cables, naturally. Close up shots also show flattened, aerodynamic tops with what appears to be a shallow drop as well as a central, out-front computer mount.
It's hard to tell from the pictures available just how wide the tire clearances are, but it would be hard to imagine that the prototype isn't equipped to handle 30 or 32mm, given current trends across disc brake equipped race bikes.
Certainly the new Look has many attributes that suggest an all-rounder; a race bike that can be used across various stages with differing parcours.
Perhaps as interesting as the bike itself is where it will fit into the Cofidis team line-up of bikes. Both the 795 Blade and the 785 Huez sit firmly in their respective camps, one aero, the other climbing.
Given that neither bike has received an upgrade for several years, could Look be following Specialized's lead by condensing its race offerings? In Spesh's case this meant the Venge was hung on the wall for prosperity, while the Tarmac received an aero overhaul, leaving us with the Tarmac SL7, currently used by the likes of Bora-Hansgrohe and Soudal-Quick Step.
The Look prototype fits the bill, and could see the Blade go the same way as the Venge. This would leave the Cofidis riders with a two-bike road quiver, with the Huez used for mountain stages and perhaps the hillier Ardennes one-day races.
However, the new bike could also be used alongside the current offerings, which will perhaps receive an upgrade this year. Look's mention of 'several future bike platforms' indicates this could well be the case. This would give Cofidis three road bikes to choose from. It's rare that pro teams carry this many choices, but it's not unprecedented. Jumbo-Visma will head into the 2023 season with its own trifecta, the Cerveleo R5, the S5 and the Soloist, all updated within the last year or so.
The other option would be for Look to drop the 785 Huez. This seems unlikely though, despite many riders using aero all-rounders for mountain stages. While the pros are often traveling fast enough uphill, and with a sufficient enough number of riders around them, for aero tubing and drafting to matter, this is rarely, if the case for amateurs. For us mere mortals, a lightweight climbing bike still holds plenty of attraction, with more traditional tube shapes that can deliver a comfortable ride.
Given that Look is in the business of selling bikes as well as providing them to professional outfits, it would seem to make sense to keep the Huez, albeit with an upgrade.
Thank you for reading 10 articles this month* Join now for unlimited access
Enjoy your first month for just £1 / $1 / €1
*Read 5 free articles per month without a subscription
Join now for unlimited access
Try first month for just £1 / $1 / €1
Luke Friend has worked as a writer, editor and copywriter for twenty five years. Across books, magazines and websites, he's covered a broad range of topics for a range of clients including Major League Baseball, the National Trust and the NHS. He has an MA in Professional Writing from Falmouth University and is a qualified bicycle mechanic. He has been a cycling enthusiast from an early age, partly due to watching the Tour de France on TV. He's a keen follower of bike racing to this day as well as a regular road and gravel rider.