New Bosch update allows users to lock their e-bike using a smartphone or the bike's head unit
Meant to be used alongside a physical lock, the lock feature acts as an extra level of protection against potential theft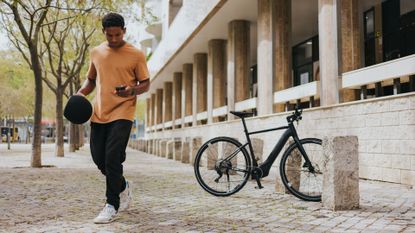 (Image credit: Bosch)
Bosch has updated its eBike Flow app, enabling its consumers to use their smartphone or the head unit of their e-bike to lock and unlock their bike digitally.
Meant as a supplementary security layer to be used alongside a physical bike lock, the eBike Lock feature deactivates the e-bike's motor when the e-bike is powered off, adding an extra level of protection against potential theft.
"eBike Lock is a theft protection feature created to provide another level of security for e-bikes with the Bosch smart system," says Bosch.
Conveniently, the software update allows the user to create multiple 'digital keys' so multiple household members can access and secure the e-bike.
The update also incorporates the Kiox 300 and Kiox 500 head units as additional keys. Consumers can now configure their e-bike displays through the eBike Flow app, providing an alternative means of securing the bike.
In the app, users can define their preferred key – either the smartphone, Kiox display, or both. The digital lock feature will automatically engage and disengage by removing the display from, or inserting it into, its mount.
Another new feature of the eBike Flow app prevents the eBike from being automatically unlocked as soon as the bike is within Bluetooth range of the smartphone. For this purpose, Bosch recommends that all users disable the 'Automatic unlock' function in the eBike Flow app. They can later enable the motor support of their eBike by pressing and holding the "Hold to unlock" button on the Home Screen of the eBike Flow app.
In addition to the safety features, Bosch has also increased the customization abilities of its Kiox displays. Users can now arrange the contents and sequence of the display screens of the head unit to suit their needs, with up to 13 unique screens and 30 different items. These items range from speed and distance to cadence, a climb's gradient and, importantly, the bike's battery life.
The latest software update is now available for download through the eBike Flow app, which is accessible for free on various app stores.
Thank you for reading 20 articles this month* Join now for unlimited access
Enjoy your first month for just £1 / $1 / €1
*Read 5 free articles per month without a subscription
Join now for unlimited access
Try first month for just £1 / $1 / €1