Only 176 people will get to own Bianchi's expensively official Tour de France bike
The Oltre RC Tour de France 'hyperbike' is limited to just 176 bikes and costs a small fortune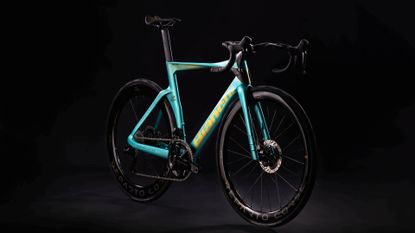 (Image credit: Bianchi)
Bianchi has unveiled the official bike of this year's Tour de France - the Oltre RC Tour de France Limited Edition.
The aero 'hyperbike' grabbed plenty of headlines on its release in 2022 in large part due to the Air Deflector technology that was borrowed from Formula 1 racing but deemed illegal by the UCI, which prevents the use of fairings. When Bianchi returned to the WorldTour this year as supplier to the French outfit Arkéa-Samsic they did so on Oltre RCs sans wings.
This special edition model - available exclusively from the Bianchi website and limited to just 176 bikes to mirror the number of riders in this year's race - is likely to garner its fair share of column inches too, some seventy years after the Italian marque produced the world's first celebrational Tour de France model to honour Fausto Coppi's first victory in the 1952 edition of le tour.
The Air Deflectors are present here alongside an exclusive colour scheme created especially for this 'Bike of the Grand Boucle'. It takes the celeste colour that's typically associated with Bianchi, mixes it with a little yellow, and adds metallic and iridescent effects. The result?
"It is a modern version of the traditional Celeste Bianchi, harmoniously merging with the iridescent yellow-gold, the iconic symbol of the Tour de France," says Bianchi.
Each of the 176 frames are hand-painted in Italy and feature a Grande Boucle logo positioned on the right side of the seat tube for good measure.
Unsurprisingly given the its exclusive nature, the bike is adorned in some of the best components money can buy. The groupset is Shimano's flagship Dura-Ace Di2 while the wheels are Reparto Corse RC50 on the front and RC65 on the rear, both featuring Bianchi's SPB Tech system "for absolute smoothness and speed". There's also the distinctive proprietary aero cockpit, which turned a few heads on release.
Other notable parts include a RC139 Carbon saddle, which weighs a paltry 145 grams and is customised with yellow accents and the Tour de France symbol.
But the details don't end there. Each bike comes in a special box; inside the box is a yellow jersey, a welcome letter signed by Bianchi's CEO, a book showcasing images and stories detailing all the aspects of the Oltre RC Tour de France Limited Edition, and an ownership card bearing the name and a number from 1 to 176.
Owners of one of the 176 bikes will also receive two wheel bags and a saddle cover, all bearing Bianchi's Reparto Corse signature.
As for the cost? The Oltre RC Tour de France Limited Edition has a price tag of €15,500 + VAT.
The bike is available exclusively from bianchi.com.
Thank you for reading 20 articles this month* Join now for unlimited access
Enjoy your first month for just £1 / $1 / €1
*Read 5 free articles per month without a subscription
Join now for unlimited access
Try first month for just £1 / $1 / €1