Pirelli claims updated P Zero Race TLR tire is 24 per cent faster than before
The tire giant also claims that aramid fibres used improve puncture resistance. Wider tyres on the way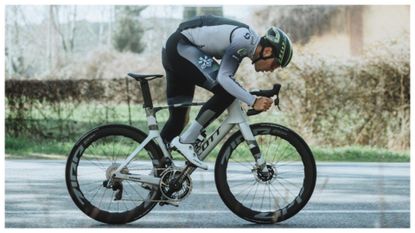 (Image credit: Pirelli/Chris Auld)
Pirelli has launched a new version of its P Zero Race TLR road bike tires, with the claim that the new tubeless clinchers are the fastest in its range and a whopping 24 per cent faster than the outgoing model. The Italian brand also boasts of improved resistance to punctures.
We've been fans of every iteration the P Zero Race range since its launch, with the most recent P Zero 4S scoring a very healthy four-and-a-half stars in our review and P Zeros make regular appearances in our guides to the best road bike tires.
With that in mind we're looking forward to getting our hands on a set of the TLRs and seeing if these changes to the brand's tubeless road bike tires match its claims. The information from Pirelli is that key to to the improvements is its new Speedcore technology.
While the tread remains the same as the outgoing model - using the SmartEVO compound which uses three different polymers which the brand claims provides better grip and rolling resistance in any weather condition - Speedcore is used in the casing.
Here aramid fibres are used in place of a traditional cotton or nylon casing. Pirelli says that the 'aramid fibres bind evenly with the other chemical elements in the rubber, arranging themselves homogeneously in the structure', which makes for better puncture resistance and lower rolling resistance while maintaining suppleness.
This is a slightly different system to the aramid TechBelt used in the previous P Zero Race but one which Pirelli claims doesn't affect either the weight or the grip.
The new P Zero Race TLR will be available in 26mm, 28mm and 30mm widths with black and 'classic' tan sidewalls, as well as 32mm in black. On-trend wider 35mm and 40mm models will be added later this year.
Pirelli P Zero Race TLR tire prices
P Zero Race TLR (26mm) £77.99, $99,90, €84,90; (28mm) £78.99, $99,90, €84,90; 30mm £79.99, $99,90, €84,90 |
P Zero Race TLR Classic 26mm £79.99, $ 99,90, € 84,90; 28mm £80.99, $99,90, €84,90; 30mm £81.99, $99,90, €84,90
Thank you for reading 10 articles this month* Join now for unlimited access
Enjoy your first month for just £1 / $1 / €1
*Read 5 free articles per month without a subscription
Join now for unlimited access
Try first month for just £1 / $1 / €1
Rob has been Content Director of Cycling Weekly - and stablemates Bikeperfect, Cyclingnews.com and MBR - since May 2021. Before that he spent two years in similar role at Bikeradar, which followed 12-years as Editor-in-chief of Cycling Plus magazine and eight years at Runner's World. In his time as a cycling journalist he's ridden from London to Paris at least twice, London to Bristol once, completed the Fred Whitton Challenge, L'Etape du Tour and Maratona dles Dolomites. He's also jumped into the broom-wagon at La Marmotte and Oetzaler Radmarathon.