'Plastic isn't always the bad guy': Outdoor clothing brand Rab on tackling greenwashing within the cycling industry
An open 'Material Facts Programme' and honesty about the real impact of packaging are two ways in which Rab is hoping to make a difference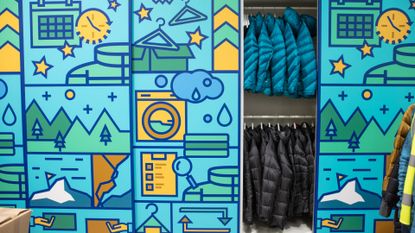 (Image credit: Rab / Jade Sellick )
Get The Leadout Newsletter
The latest race content, interviews, features, reviews and expert buying guides, direct to your inbox!
Thank you for signing up to The Pick. You will receive a verification email shortly.
There was a problem. Please refresh the page and try again.
The news that outdoor clothing expert Rab had made its first foray into cycling - with its Cinder gravel clothing line - may have struck you as just another brand launching just another range of kit into an arguably saturated market. But a trip to the UK headquarters in Derbyshire revealed some lofty intentions when it comes to improving sustainability in one of cycling's most greenwashing heavy product groups.
Midlands based brand Rab doesn't shy away from its growth as a business - which has been significant globally - achieving its FY23 milestone of £100m turnover well before the year end. But the 40-year-old marque is adamant that it's keeping its core sustainability values at front of mind.
And apparently - as I learned when visiting its HQ - that's not all about cutting down on plastic packaging.
Why plastic isn't always the bad guy
Outdoor clothing brand Rab was founded 40 years ago, by Sheffield resident and mountaineer Rab Carrington. His initial sleeping bag and jacket venture grew quickly, with production moving from a makeshift attic set up, to a factory floor, eventually serving a worldwide customer base.
Now owned by Equip Outdoor Technologies - which also owns Lowe Alpine - much of Rab's manufacturing takes place overseas. That means travel, which means packaging: a subject that could become problematic for a brand that claims - according to Trade Marketing Manager, Angus Shepherd - that "sustainability is a non-negotiable".
We start our factory tour with the pick and pack warehouse with Shepherd going straight for the jugular. "Let's talk about plastic," he says.
Shepherd has clearly seen me eyeing up the packaging that cocoons many of the products on the shelf. One of the first claims made by many clothing brands looking to tick the 'sustainability box' is the use of recyclable or biodegradable packaging, so Rab looks to be bucking a trend here.
"We've done a lot of work as part of the European Outdoor Group (EOG) and the Single Use Plastic Project on researching plastic use. Surprisingly, advice for now is that plastic still works out the most sustainable way to package our products," Shepherd says. "We only freight by water, and when we tested removing plastic all together, we discovered that there was significantly more wastage in spoiled goods."
"All our poly bags have a minimum of 50% recycled content, we're are pushing our suppliers to increase this to 70%," Rab's Head of Corporate Communications and CSR (Corporate Social Responsibility) Debbie Read informs me.
"These bags have been designed specifically for recycling," Read continues "so are as contaminant free as possible, and by removing them at the warehouses, we prevent them just ending up in landfill or being burned, as poly bags aren't easy to recycle at home. We then repack anything in 100% recycled paper packaging.
"Recycling the bags here means we get paid to turn it into high-quality pellets, selling it back to industry to make new polybags. We treat our plastic as a resource not as a waste product".
"Of course, we're still working to eliminate plastic," Shepherd reassures me. "If we can go without we will."
"A really obvious action to reduce plastic," continues Shepherd, "is by rolling and folding clothing so it fits into smaller bags, we also use minimal printing, tape or labels to reduce contamination, too, making recycling as easy as possible.
"It's important to realise that plastic isn't always the bad guy," warns Read.
"We originally used organic cotton storage pouches for our sleeping bags," Read informs me, "as the use of plastic feels so counterintuitive. But the water intensive process of growing cotton, picking it, shipping it and manufacturing it, swapping to polyester that currently contains 70% recycled yarn is a much more environmentally sustainable option," she confirms.
Material Facts - a new consumer labelling system
I've been very consciously trying to make sustainable choices as a cyclist for some time. It's safe to say that, in an industry where greenwashing is rife, it's a complicated endevour. It's hard work, takes vigilance, questioning, and learning.
The endless struggle to wade through claims and labels is something Rab has identified, too.
"We measure all our sustainability footprints, not just our Co2," states Read. "We're not the kind of people to just offset things. We want positive impacts, and we're constantly working with our technical partners to push them to improve or reduce their impact too.
"Our frustration is that there's no regulation on this," she confesses. "There are brands out there who are misleading customers, intentionally or not, and there's no way of policing it."
She uses the example of PFCs - or 'perfluorinated compounds', also referred to as 'fluorocarbons'. These man-made chemicals are used across many industries, in outdoor clothing they're often utilised in durable-water-repellant (DWR) finishes. However, they're leaking their way into water systems, and some are more toxic than others.
"It's infuriating seeing products marketed as 100% fluorocarbon-free when you know it's impossible to be absolutely PFCs free if you are using specific items on apparel. Even if it's on a zip, trim or waterproof membrane, every single element has to be accounted for," Read tells me.
In a bid to simplify a world full of claims and labels, Rab has introduced its Material Facts Programme.
This labelling system aims to help the consumer make informed decisions by giving them the raw data on how products are made, from which materials and where.
According to Rab, starting from Autumn/Winter 2023, the new labelling system will 'break down the product's sustainability credentials by component, presented in a concise, easy-to-understand format'.
The added extra is that Rab has made this an 'open programme' in order to share the system with the industry, hoping to encourage others to follow suit. As Rab says, it's similar to the approach used by the food industry for nutrition information, which allows the consumer to make educated choices and decisions.
"It's not meant to be about shaming. We're just fed up with how labelling is currently so different, and there are no laws that regulate the use of words such as 'eco' or 'recycled,'" asserts Shepherd.
I nod knowingly, having already reported on the abstract use of terminology; it's baffling for even the most diligent purchaser.
The Material Facts labelling system aims to address the vagaries of brand labelling, capturing the exact percentage (in weight) of recycled materials, fluorocarbon status and production location.
The Cinder range
While it's unlikely we'll see any 'made in Great Britain' labels on the Cinder range of cycling apparel, manufacturing of sleeping bags and expedition suits still takes place in Derby, having moved the operation only 40 miles down the road from its Sheffield roots.
As well as housing a service centre - where damaged kit is restored - Rab's Derby HQ is also the location for the product design teams, which is where we headed next.
"The main thing has been to create a small range, where we can have total control on the fit, as well as how and where products are made," Rab's Senior Apparel Product Developer, Donna Bruce, tells me. "We're able to ensure certifiably traced recycled materials are used, as well as limiting the use of fluorocarbons," Bruce explains.
Currently, both the men's and women's versions of the Cinder Kinetic jacket and Cinder Phantom jacket contain fluorocarbons, due to trims or DWR (Durable Water Repellent). According to Rab the Cinder Kinetic Jacket zips contain fluorocarbons and the Cinder Phanton Jacket DWR contains fluorocarbons. All other Rab Cinder items, including the Cinder Kinetic pants and shorts are fluorocarbon free.
Going back to the golden sustainability thread, Read confirms that "Rab's goal is to be net zero by 2030.
"When you first start benchmarking and mapping, there are some big step changes. However, as you get further down the line, it becomes more marginal, or requires significant buy-in from partners.
"We're committed to working towards only using renewable energy for construction. So this means working with the factories overseas for things like changing energy suppliers."
Talking more about the design concepts of Cinder specifically, Tim Fish, Rab Director of Innovation and Creativity, tells me: "We've found there are two ways that people find gravel riding.
"They're either road riders who want a new challenge, or trail people, who just naturally migrated to riding on gravel as they were already running it and hiking it.
"We kept seeing more and more people repurposing existing Rab gear to use on the bike," Fish continues.
"Our hiking and running jackets weren't designed to be ridden in, they're too flappy and too short in the arms and torso for a start.
"Entering into the gravel cycling market was a no-brainer for us" continues Fish. "We already had the authority to be here from a technical standpoint, it was just a matter of matching it to what the riders needed on the bike."
Easier said than done. "We had the fabrics, and we knew what they needed to do, but getting a perfect fit took time," Bruce says.
"We got through over 50 different chamois, before we were able to narrow it down to the Elastic Interface Gravel Performance chamois we eventually selected," she amusingly groans.
"When you already have highly technical fabrics, it's a matter of getting the application right for using on the bike," muses Rab Head of Design, Jaco Bufacchi.
"There is no other sport that is as demanding in terms of quick changing temperature regulation. One minute you are hot and sweating ascending a mountain pass, then next you are battling the freezing wind and rain descending. Being able to meet these needs takes a lot of fabric knowledge for how best to make a rider comfortable for their whole ride."
"We might be new to making bike kit, but we're not new to cycling," says Shepard.
"When riders are coming across the range, you can see the dawning realisation that the Rab jacket they've been pulling on forever post race is the same Rab that can now protect them on the bike as well as off it," he laughs.
My time with Rab comes to a fitting end: with a bike ride. We all casually chat about our shared love of the Peak District, I live on the other side of the Pennines. We all have tales of killer rides, punctuated by killer climbs, and carried out amid killer weather. I get the impression that Rab - and the people behind the brand - really do want to make a change in the consumerism model.
I'll let Read have the last word on the topic: "The provenance of how and where gear and equipment is made is important to people who value and spend as much time as possible outside," she says.
"Rab are these people too. It's not just another company sticking labels on kit, everyone who is part of Rab genuinely cares."
Thank you for reading 20 articles this month* Join now for unlimited access
Enjoy your first month for just £1 / $1 / €1
*Read 5 free articles per month without a subscription
Join now for unlimited access
Try first month for just £1 / $1 / €1
Get The Leadout Newsletter
The latest race content, interviews, features, reviews and expert buying guides, direct to your inbox!
Hannah is Cycling Weekly's longest-serving tech writer, having started with the magazine back in 2011. She has covered all things technical for both print and digital over multiple seasons representing CW at spring Classics, and Grand Tours and all races in between.
Hannah was a successful road and track racer herself, competing in UCI races all over Europe as well as in China, Pakistan and New Zealand.
For fun, she's ridden LEJOG unaided, a lap of Majorca in a day, won a 24-hour mountain bike race and tackled famous mountain passes in the French Alps, Pyrenees, Dolomites and Himalayas.
She lives just outside the Peak District National Park near Manchester UK with her partner, daughter and a small but beautifully formed bike collection.