Shimano at risk of lawsuits over cranks after UK government report
Recalled cranks do not comply with General Product Safety Regulations 2005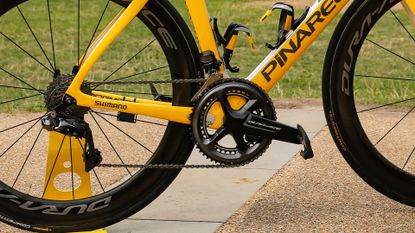 (Image credit: Getty Images)
A UK government report into faulty Shimano cranks could leave the company's inspection programme open to legal challenge from consumers, an expert has told Cycling Weekly.
The Japanese component giant was first made to recall 760,000 cranks in the United States and Canada after concerns were raised by the Consumer Product Safety Commission on the 21st of September 2023.
Since then, Shimano has launched a global 'free inspection program' available for the 2.8 million cranks that were sold between 2013 and 2019, but crucially no 'stop ride' notice has been issued outside North America.
Now a UK government report has found the cranks don't meet current safety regulations.
On the 4th of October 2023, the UK government released a product safety report titled 'Shimano Hollowtech 11 speed Crank Arms for bicycles'. The two-page document says the cranks present a "medium" risk of sustaining injuries.
Crucially it states that "the affected products do not meet the requirements of the General Product Safety Regulations 2005".
Summarising the ruling, expert in consumer law at Leigh Day Solicitors, Thomas Jervis, told Cycling Weekly: "In other words that they are not 'safe'."
Jervis added: "This could result in a situation where Shimano could be sued by a consumer - although the product would have to have failed and caused personal injuries."
"They should do the right thing by the riders that use their products and sort it out before more people get hurt."
Any legal action against Shimano would need to be taken under the Consumer Protection Act 1987. This law allows the consumer to sue the producer or supplier of a product where it goes wrong causing damages or personal injuries. In the event of that happening, Shimano's acknowledgment of the defective products could be viewed as grounds for a legal challenge.
Jervis said it was notable that the Office of Product and Safety Standards had released a public report. He said: "There's no requirement on the Office of Product and Safety Standards to cover all corrective action programmes.
"The OPSS makes attempts to publicise corrective action programmes rolled out by companies, e.g. if there is a concern that the message is not getting out there. Their involvement might be indicative of the logistical problems in terms of the multitude of supply chains involved with this product."
Jervis went on to say the government publication's conclusion that the cranks were a medium risk and didn't comply with safety legislation "flew in the face" of Shimano's decision to merely inspect rather than replace all the cranks.
CW asked Shimano if it would honor the refund or replacement of cranks that pass inspection, a spokesperson for the brand told us: "Only chainsets that fail an inspection can be seen as an affected product (so not all chainsets).
"Our focus is to get the chainsets that are found to be unsafe out of the market. While we estimate that less than 1% will be affected, if a chainset does fail an inspection it will require the application of the corrective measure under the General Product Safety Regulations."
When asked about the legal jeopardy a spokesperson for Shimano declined to comment but did say: "We encourage all riders using any of our products to maintain their bicycle and riding equipment diligently, and to pay attention to any changes in the sound and feel of how your bike is riding."
Thank you for reading 20 articles this month* Join now for unlimited access
Enjoy your first month for just £1 / $1 / €1
*Read 5 free articles per month without a subscription
Join now for unlimited access
Try first month for just £1 / $1 / €1