Specialized says it's killed off endurance and all-weather tires with its new S-Works Mondo
Created as an 'endurance race' model, the 700c Mondo is offered in 28, 32 and 35mm widths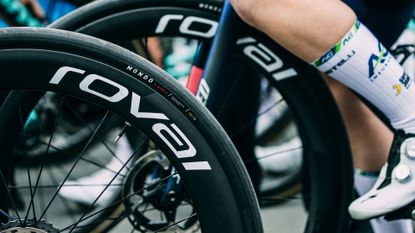 (Image credit: Specialized)
Specialized has released a new tubeless tire, the S-Works Mondo which it boldly says means the "concept of a simple 'endurance tyre' or 'all-weather tyre' is dead."
Created as an 'endurance race' model and offered in three widths - 28, 32 and 35mm - Specialized says the Mondo is a "go-anywhere, do-anything" tire that will sit between the racier Turbo and the durable Roubaix in its road tire line-up.
"We designed the S-Works Mondo to suit the needs of a lot of today's road riders," says Specialized Road Tire Product Manager, Oliver Kiesel. "The goal was to create a tire that felt fast and light, like a racing tire, but at the same time is robust, comfortable, and just fun to ride. The tire is made for everyone to ride on any road—pavement, light gravel or the toughest pavé—with maximum confidence and efficiency."
Certainly the distinction between road and gravel is one that a growing number of cyclists choose no longer to make, aided in no small part by adaptable bikes with disc brakes and wide tire clearances - a combination seen on many of the best road bikes. The Mondo appears to be a response to this continued blurring of lines.
To meet the stated goal of fast, light, robust and comfortable, Specialized has used a blend of compounds alongside a 120 TPI casing. The Mondo features T2 Gripton on the centre of the tire, which Specialized says is a compound that's durable but with low rolling resistance. In contrast the tire shoulders use its T5 compound for "immense wet and dry grip".
Specialized say it's the same dual compound used in its Turbo race tire. The T2 is said to be 17% faster than the T5 in its rolling resistance tests, while the T5 compound delivers 10% more grip than the T2. Combined it's designed to make for a "lively and ultrafast" tire that delivers a "planted feeling for cornering speed."
Puncture resistance also comes courtesy of a two-prong attack, with the Mondo using Specialized's latest Blackbelt material under the tread (which is claimed to be 12% more effective that the previous version) and it's Grid Race protection on the sidewall. The new Grid Race protection is a "dual-layer of cross-woven polyamide panels" that are designed to be both supple and strong, which allows the Mondo to be ridden at low tire pressures without compromise.
The reason for using two materials? Specialized says that each part of the tire plays a differing role in its performance and by combining Blackbelt and Grid Race it can deliver a tire that provides puncture resistance without sacrificing suppleness and comfort - a combination sought by the best road bike tires.
Given that the S-Works Mondo is created as an 'endurance race' tire, it needs to be suitably light - and Specialized claim that it's 5% lighter than "the nearest endurance competition". The Mondo has a claimed weight of between 310 and 360g per tire depending on the width.
However, a tubeless tire also needs to deliver great air retention - if it's too light it's unlikely to hold air sufficiently. Specialized believes it's found the right balance between performance and weight, stating that the Mondo can be ridden for "10+ hours with stable pressure".
To help make the Mondo straightforward to fit as well as safe for use with hookless rims, the casing is fitted with a foldable 2Bliss Ready bead. It's woven from a nanofibre that Specialized says is "strong enough for pressures on hooked rims" but "balanced so installation is still easy."
It all adds up to a tire that appears able to make good on its claims of durability, all-weather traction and reliable puncture protection. The Mondo was used by WorldTour teams during this year's cobbled Classics and helped endurance rider Jack Thompson set a world record by climbing a million metres in a single year and Russell Finsterwald win the Belgian Waffle Race in San Diego.
"The S-Works Mondo proved to be the perfect tire for a course like the Belgian Waffle Ride," said Finsterwald. "I opted to run the 35 mm Mondo as I thought it was the perfect tire to handle a 50/50 mix of pavement and dirt. The added volume allowed me to run a lower pressure than I would with a 32, I got great traction and stability off-road without compromising speed once back on tarmac, and I know how tough and durable it is."
The S-Works Mondo is available now and is priced at $80 / £55 per tire.
For more information visit specialized.com
Thank you for reading 10 articles this month* Join now for unlimited access
Enjoy your first month for just £1 / $1 / €1
*Read 5 free articles per month without a subscription
Join now for unlimited access
Try first month for just £1 / $1 / €1
Luke Friend has worked as a writer, editor and copywriter for twenty five years. Across books, magazines and websites, he's covered a broad range of topics for a range of clients including Major League Baseball, the National Trust and the NHS. He has an MA in Professional Writing from Falmouth University and is a qualified bicycle mechanic. He has been a cycling enthusiast from an early age, partly due to watching the Tour de France on TV. He's a keen follower of bike racing to this day as well as a regular road and gravel rider.