Strava aquires FATMAP mountain adventure mapping platform
3D mapping technology will be enabled in all Strava services giving its subscribers the 'full FATMAP offering'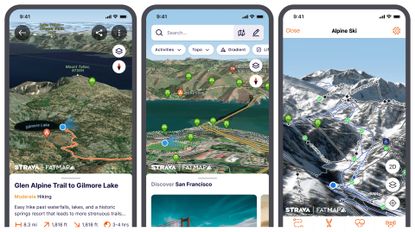 (Image credit: Strava)
Strava has announced its acquisition of FATMAP, a 3D mapping app it describes as for "discovering, planning, navigating and memorializing outdoor adventures."
FATMAP, which Strava subscribers will now have full access to, includes terrain overlays that better detail a route's topography, with the 3D mapping technology now enabled in all of Strava's services. It says it will help users "to holistically discover and plan an outdoor experience with curated local guides, points of interest and safety information."
The synergy between FATMAP and Strava, which saw nearly 10 million routes "saved and recommended" in 2022, is not lost on its co-founder and current CEO Michael Horvath.
"We have a shared vision with FATMAP to inspire more people to move by empowering them to discover and experience the joy of the outdoors," he says. "For us, the opportunity to reimagine the purpose of maps and how they inspire exploration is an outsized advantage for a differentiated outdoor experience."
An integral part of both FATMAP's appeal and its growth is the ability for users to share their adventures, even when offline. This has particular relevance for routes that are off the beaten track, where safety is paramount and sharing previous experience can help to highlight potential dangers. FATMAP's community includes skiers, hikers and trail runners as well as road, mountain and gravel bikers. Strava believes that when paired with its eight billion plus activities, the combination "will enable a universal map for human-powered experiences whether moving on the slopes, trails, city streets or suburban neighborhoods".
Based in Europe, FATMAP was founded in 2013 by Misha Gopaul and David Cowell. It's now grown to a team of nearly 50, all of whom will join Strava's workforce across the continent including offices in Chamonix, Berlin and Vilnius. Gopaul will shift from his current role as FATMAP CEO to serve as a Strava vice president of product, reporting to Steve Lloyd, Strava's chief product and technology officer.
"We started FATMAP with a mission to make outdoor experiences more accessible," GoPaul says. "Where other map platforms have been designed for navigating streets and cities, we wanted to build a map designed specifically to help people explore. Joining forces with Strava opens up new exciting possibilities and will accelerate our progress to enable millions more people to explore the world's wild places, safely and sustainably."
The acquisition of FATMAP comes on the heels of Strava buying Recover Athletics in the summer of 2022. Recover Athletics is a prehab and injury prevention app for active individuals and like FATMAP increases the breadth of the Strava platform to support 50 different activity types, with subscriber benefits including ski area mapping, pre-hab content, safety tracking, route recommendations, an online route builder, global and personal heatmaps, and segment leaderboards.
Perhaps unsurprisingly these service upgrades will come at a cost, with Strava saying it has "enacted a price change to reflect the increased benefits".
For more information visit www.strava.com.
Thank you for reading 20 articles this month* Join now for unlimited access
Enjoy your first month for just £1 / $1 / €1
*Read 5 free articles per month without a subscription
Join now for unlimited access
Try first month for just £1 / $1 / €1