Tech roundup: A ski helmet for cycling, FREE Ortlieb repairs, and a new clothing collection from Bianchi Milano
We take a look at the cycling week in tech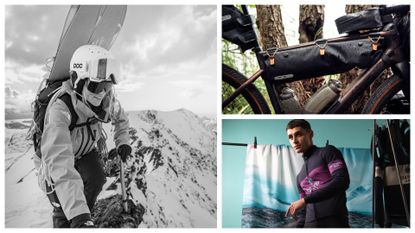 (Image credit: POC, Bianchi Milano, Ortlieb)
It's finally Friday, and that of course means it is time for our Friday tech roundup, where we look at the biggest new releases and developments in the world of cycling.
This week in tech, we have a helmet designed for skiing, cycling, and mountaineering. Amongst that, Ortlieb has an interesting take on Black Friday deals with a free repair program and new collections of premium cycling kits released from Bianchi Milano. Let's jump straight in!
Poc's ski/cycling crossover
Cycling and Skiing aren't two sports you would normally expect to see crossing over, but that hasn't stopped POC. The Swedish helmet brand has released the new POC Calyx, which the brand says can be used for cycling, mountaineering, and snow sports.
To achieve this, POC has developed the new Calyx to pass certifications for all of the above listed, meaning it passes EN 1077, EN 1078, EN 12492, CPSC 1203, ASTM F2040 - so it could arguably be safer than an average cycling helmet too.
In order for this helmet to 'wear multiple hats', POC has also designed the helmet to be somewhat modular too. As such, the goggle clip, foldable ear pads and neck warmer are all designed for simple removal and re-installation depending on the need of the user, particular activity, or season.
The Calyx will be available in Selentine Off-White Matt, Uranium Black Matt and Epidote Green Matt, and retails for $250/£220 for the standard (580g size m), or $400/£380 for the carbon version (480g size m).
Ortlieb offers free repairs
German accessory brand Ortlieb will be offering free repairs (plus the cost of postage) to damaged items outside of their five year warranty period in the UK. Across the pond in the United States, customers can still take advantage of this scheme however instead of free repairs, Ortlieb is offering a 40% repair price reduction.
Ortlieb prides itself on premium build quality and sustainable design which can be repaired, even in the event that products do fail.
"At our factory in Heilsbronn, where the goods are produced, we repair some 18,000 products every year," explains ORTLIEB CEO Martin Esslinger. "Sustainability has always been part of the ORTLIEB DNA and at the same time represents our commitment to our customers, as our approach to the mindful handling of resources is ensuring that our products last as long as possible."
We think this is a great take on Black Friday sales - instead of bringing in more new products to the world, giving customers the opportunity to extend the life of current ones, a common sense approach to sustainability!
Bianchi releases new winter collection
Bianchi Milano has announced the release of new collections for winter riding. Bianchi bike's clothing brand boasts high-quality garments designed and engineered in Italy.
At the top of the range sits the Icon 999 collection, which features a full race cut. The Thermo Jacket is designed to be 100% windproof and is constructed with a three-layer protective shell making it water-resistant. Bianchi Milano also boasts an active membrane that prevents moisture from building up on the inside of the garment.
The Thermo Bib Tight also boasts a snug fit as well as compression qualities which Bianchi Milano describes as another 'nod' to aerodynamics. Chamois wise, the Icon 999 tights feature an elastic interface pad that has been specifically designed for Bianchi Milano.
Currently, we only have Euro pricing available, but it's safe to say that these premium garments won't be winning any budget awards anytime soon, at €319.90 for the Thermo Jacket, and €269.90 for the Thermo Bibtight.
If you are looking for something a little more relaxed, the Remastered collection might be for you - with a slightly looser fit, and lower price tag.
For more information visit the Bianchi Milano website.
This year Black Friday is running from November 24th - 27th. We've rounded up all the best Black Friday bike deals we've found in our main hub page. With deals spanning components, tech and riding kit, you're guaranteed to find a bargain.
Thank you for reading 20 articles this month* Join now for unlimited access
Enjoy your first month for just £1 / $1 / €1
*Read 5 free articles per month without a subscription
Join now for unlimited access
Try first month for just £1 / $1 / €1