Tech roundup: Paul Smith styling and a barely visible battery - two brilliant boutique bikes launch this week
Factor teams up with Sir Paul while 3T launches a sub-11kg e-road bike and Rapha gets adventurous...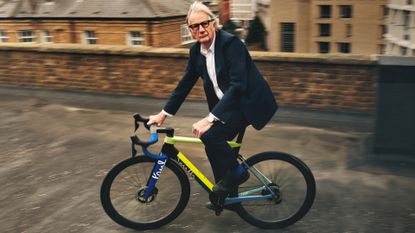 (Image credit: Factor / Paul Smith)
We are back with another tech roundup and this week has seen some quirky high-tech collaborations, along with some fresh thread releases.
We'll be taking a look at big name designer Paul Smith's collaboration with Factor, another super lightweight gravel bike build - this time featuring a motor - and Rapha's expansion to its Explore clothing range.
Let's dive in!
Sir Paul Smith teams up with Factor
If you're going to release a boutique road bike, then getting one of the world's preeminent designers to collaborate seems like a wise move - and there's likely none better suited to the task than Sir Paul Smith.
Sir Paul's love of cycling is well documented. He's mates with Cav, has worked with the likes of Rapha and owns quite the collection of road bikes - and now he can add a Factor Ostro VAM to his quiver.
Released this week, the limited edition Ostro VAM is described as "a true celebration of Paul Smith's love of colour and Factor's engineering expertise". Using his distinctive colour block style and his iconic signature, Smith has chosen to highlight the bike's unique carbon layup as well as "draw a parallel with how patterns are cut and constructed in clothing design".
Naturally the bike is dripping with detail, from the gold foiled PS signature on the Black Inc. handlebars to the embossed logos on the bar tape and bar ends - all of which can be purchased separately.
As for the bike, it can be bought as just a frameset, a frameset with Black Inc Forty Five carbons wheels, or as a complete bike, with both SRAM and Shimano groupset options. We reviewed the updated Ostro VAM recently and you can read our impressions there.
Naturally, this limited edition model doesn't come cheap, with the SRAM Red equipped bike coming in at $11,449 - though you do get a power meter! If you fancy your own dream build, the frameset will set you back $6,049.
It might just have to be the bar tape for me then…
3T release sub-11kg e-bike
It figures that once e-road bikes gained acceptance, the pursuit to make them lighter and lighter would subsequently follow. Italian marque 3T, which isn't shy of dancing to the beat of its own drum, is the latest to release an electric road bike that's hard to distinguish from the 'real thing' both in looks and, to some degree, on the scales.
The Racemax Boost Italia Integrale is based around its 'acoustic' namesake - with the added 'boost' of a Mahle X-20 system that provides 55Nm of power (located in the rear hub) and impressive range thanks to a 236Wh battery that's neatly hidden away in the downtube. The result is a complete bike which has a claimed sub-11kg weight, can assist for over 1,500 vertical meters - and looks just like a regular modern road bike.
Which it largely is. The carbon frameset, made in-house in the Bergamo factory, uses the same geometry as the non-electric Racemax, with a carbon frame that weighs approximately 1,000 grams - just a tad heavier than many of today's aero race bikes. The bike is offered with a 1x drivetrain - perhaps less surprising given 3T's support of single chainring gearing. In this guise (using either SRAM's Rival XPLR or Red AXS groupsets) it can handle tires up to 42mm in width, which puts it comfortably in e-gravel territory.
While the Racemax Boost is expensive - the Rival model costs $8,556 / £6,631 plus VAT and taxes, while the 'superlight' bike with SRAM Red retails at US$12,491/ £9,680 - it's perhaps not quite as costly as you might have guessed?
Rapha expands its Explore collection
Rapha's Explore line is for those who like to tread the path less travelled. It's been worn by the likes of Lachlan Morton on some of his mind-boggling two-wheeled adventures but given its off-the-bike styling, it's also just at home down the pub. The latest additions see a reworked down jacket and two insulating jerseys - ideally designed to be worn as mid layers with any of the Explore jackets.
The updated down jacket is filled with responsibly sourced 750 fill power goose down alongside a water-resistant ripstop outer. It means it's light, warm and easily packable. Elsewhere the two mid layers - one with a zipper, one without - are made with Powertec's Power Grid fleece, which is designed to wick sweat away from the skin while keeping you warm. Both jerseys feature a windblock fabric panel on the chest to protect against the cold.
Thank you for reading 20 articles this month* Join now for unlimited access
Enjoy your first month for just £1 / $1 / €1
*Read 5 free articles per month without a subscription
Join now for unlimited access
Try first month for just £1 / $1 / €1