Tom Boonen in world's first sustainable 3D-printed glasses collaboration
Former world champion becomes poster boy for new eco-friendly eyewear made from castor beans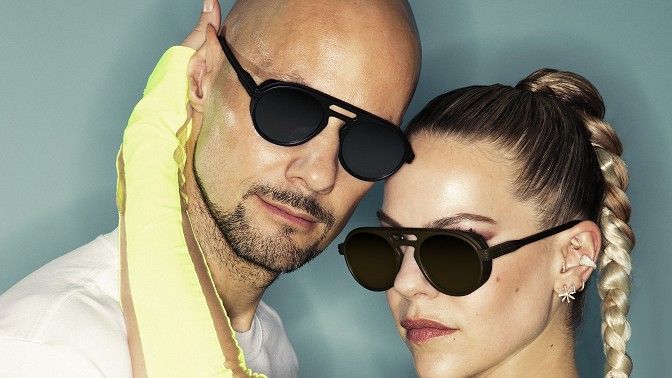 (Image credit: Materialise)
3D printing is starting to make in impact in cycling - sometimes quite literally, as the notorious Australian Olympic handlebar failure (opens in new tab) proved - but here's something 3D printed that former world champion and four-time Paris-Roubaix (opens in new tab) winner Tom Boonen seems perfectly confident to use and endorse and not just because they (hopefully) won't snap.
Materialise, Europe's largest 3D printing company, which hit the headlines briefly in 2015 when it 3D-printed Paula Radcliffe's insoles for her final London Marathon, collaborated with Belgian eyewear brand Odette Lunettes and Boonen, 41, to create the world's first sustainable 3D-printed range of 'athleisure' glasses.
Traditional eyewear manufacturing uses the subtractive milling method - CNC machining is an example of this. According to Materialise, this wastes up to 70% of the original material (usually plastics). These go straight to landfill, joined some time later by the glasses themselves once they go out of fashion.
However, the bio-based Ultrasint PA11 material used for the Odette Lunettes x Tom Boonen glasses is 100% recyclable and is sustainably sourced from a plant that grows on wasteland in Gujarat, India. Its seeds, castor beans, are pressed into oil and polymerised into powder that is used to 3D print - or 'additive manufacture' - the frames.
Aside from the sustainability of the new material, the other general advantage of 3D printing for the eyewear sector is the possibility to print frames in smaller series and on demand, reducing risk of overproduction, which Materialise says can lead to 20-30% of unsold stock that, again, ends up in landfill.
3D printing also allows innovative shapes and structures that are impossible with traditional manufacturing technologies, meaning it's possible to create personalised frames adapted to a customer's unique facial features - in other words, the eyewear version of Paula Radcliffe's insoles.
So far the only 3D printed cycling-specific glasses we've heard of were produced by Adidas last August, but they were limited to 150 units, retailed at $415 and were only available to Adidas's 'Creative Club'. Will we see other eyewear brands adopting the tech from here on?
The Odette Lunettes x Tom Boonen glasses are available in S/M or M/L. They come in three colours: khaki with gold mirrored glasses; blue with blue mirrored glasses; and black with silver mirrored glasses. They will sell for €299 and the glasses are available via www.odettelunettes.com.
Thank you for reading 5 articles this month* Join now for unlimited access
Enjoy your first month for just £1 / $1 / €1
*Read 5 free articles per month without a subscription
Join now for unlimited access
Try first month for just £1 / $1 / €1
Simon Smythe is Cycling Weekly's senior tech writer and has been in various roles at CW since 2003. His first job was as a sub editor following an MA in online journalism.
In his cycling career Simon has mostly focused on time trialling with a national medal, a few open wins and his club's 30-mile record in his palmares. These days he spends a bit more time testing road bikes, or on a tandem doing the school run with his younger son.
What's in the stable? There's a Colnago Master Olympic, a Hotta TT700, an ex-Castorama lo-pro that was ridden in the 1993 Tour de France, a Pinarello Montello, an Independent Fabrication Club Racer, a Mercian Classic fixed winter bike and a renovated Roberts with a modern Campag groupset.
And the vital statistics:
Age: 53
Height: 178cm
Weight: 69kg