Leaked! unreleased Cannondale SuperSix Evo 4 is sleeker with new aero features
EF Education-EasyPost riders have been photographed training on a new, unreleased version of Cannondale's lightweight all-rounder race bike - is it what we think it is?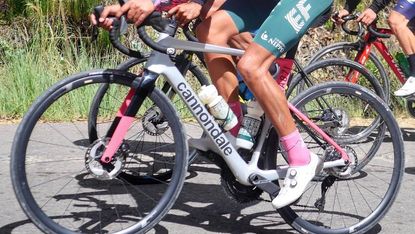 (Image credit: Courtesy)
What appeared to be a new Cannondale race bike was spotted on Twitter just before Christmas. The next generation of the SuperSix Evo was videoed being ridden by new EF Education-EasyPost rider Andrey Amador, still in the kit of his former Ineos Grenadiers team.
Since then more images have been leaked, with the bike also ridden by EF's Colombian Diego Camargo, and we've been able to get a much closer look at the bike - enough to posit that this is indeed the new Cannondale SuperSix Evo 4 and that the team clearly plans to use it from the start of the 2023 racing season.
Most obviously, since it is very similar to the SuperSix Evo 3, this new model has to be its replacement rather than an extra bike at the team's disposal - and as most Cannondale spotters will know, the SuperSix Evo is due a refresh.
Brands tend to refresh models from anywhere between three and five years. The current SuperSix Evo was launched in the summer of 2019 and although that's just three and a half years ago, it fits into that time frame.
We predicted in our January Tech of the Month video a new SuperSix would be launched at the Tour de France, taking it to the whole four years, but clearly both Cannondale and EF have wanted to roll out the bike for the start of a brand new season.
And that's probably why a new signing such as Amador has been given the new bike from the start rather than fitting him to the outgoing version to ride briefly for winter training camps before moving onto the new one.
So, while the current generation and this new model do share a lot of similarities there are still some significant differences.
From the front, the new SuperSix Evo has a much cleaner head tube. It has lost the D-shaped hole in the front down which cables and hoses disappeared. Cannondale has redesigned the routing so that it's now totally internal.
You can see in the above picture of Neilson Powless's 2022 Tour de France SystemSix, which uses the same arrangement, how an aftermarket cockpit such as the Vision Metron 6D left an unsightly and slightly impractical impression.
Additionally, the head tube's shape has been redesigned with a more angular rear.
The other area that has received the most obvious reworking is the seat tube. Whereas before it was much more, well, tube like, now it flattens considerably below the seatstays, most probably in order to increase rear tyre clearance. The previous model was able to fit 30mm tyres, so Cannondale might be upping clearance by a couple of millimetres in line with current trends, though it's unlikely tyres that wide will be raced on the road.
The new seat tube will be paired with a new proprietary seatpost, which will be more bladed than the older D-shaped version.
This is because above the seatstays are deeper and more airfoil shaped than before, as well as probably being narrower.
And on the subject of the seatstays, they look even more dropped than previously, presumably for the sake of saving more watts.
The head tube angle looks surprisingly slack, but that will probably be down to camera angle. Obviously we have no information about the bike's geometry as yet.
And while it's impossible to tell from the images we've seen, we're going to assume the new bike will be using a threaded bottom bracket rather than a pressfit system. This would keep it inline with other recently released Cannondales including the Synapse, released last year.
And what of the 'Lab 71' legend on the side of the frame? 1971 is the year Cannondale was founded, so it could be that Cannondale is bringing in its own version of an S-Works-style branding to denote a high-end carbon-fibre or premium product. Alternatively it could be to indicate that this is a prototype and the branding may not appear on the final consumer version.
That's all we know so far, but with the racing season fast approaching you can bet all will be officially revealed sooner or later.
Thank you for reading 10 articles this month* Join now for unlimited access
Enjoy your first month for just £1 / $1 / €1
*Read 5 free articles per month without a subscription
Join now for unlimited access
Try first month for just £1 / $1 / €1
After discovering his love of cycling in college, Sam has always kept two wheels very close. Having spent over five years working in a couple of local bike shops, it's fair to say he enjoys getting hands on. He also loves to push himself to ride ever longer distances and to explore as many new places as possible.
Sam has been Cycling Weekly's video manager since January 2022. You'll find him on our YouTube channel where he brings you the latest cycling tech news, rides, reviews and all of the most important new launches while taking in some incredible cycling adventures too.
With contributions from