What is the secret new bike tech behind LAB71, Project Black and 795RS? We go codebreaking...
What we know so far about the unreleased bikes and components from Cannondale, Specialized and Look...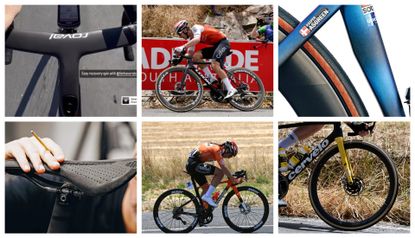 (Image credit: @lottekopecky / Getty / Specialized )
Thanks to the internet and social media channels, not much remains under wraps these days, from politicians' tax dealings to celebrity affairs. The same is true of new race bikes and related components.
Fortunately our seemingly insatiable appetite for yet more unreleased bike tech is whetted often during the early part of the season, with off-season sightings given a clearer perspective now that the racing is officially underway. Even the brands themselves are happy to play along, with covert releases given code names as though they were part of a John le Carré novel.
With the Tour Down Under completed and the Vuelta a San Juan Internacional, among others, in progress, we've had the chance to dig a little deeper, look for new angles, and here's what we've found…
Specialized Project Black
Specialized remains deliberately vague about its development tech project, only saying that it enables its sponsored teams and riders to test "advanced pre-production products in real-world applications", and that after receiving feedback "some of these design elements and products eventually show up in future retail product offerings. We call this Project Black."
The cloak and daggers approach is an intentional marketing ploy, and leaking a few images of unreleased products encourages us to speculate further. Specialized did so in the off-season, with a few products cropping up on the team bikes being used in training camps. Now that the season has begun it's time for them to earn their racing stripes.
S-Works tires with new tread pattern
The sighting of a new S-Works Turbo tire is especially interesting given that Spesh released an updated Turbo line-up a few months ago. So what do we know about this Project Black edition?
It was spotted on the Tarmac SL7s of Soudal-Quick Step's Kasper Asgreen and Yves Lampaert and the two riders are perhaps our first clue to its suggested application.
Both riders are one-day specialists, with Asgreen a De Ronde winner no less, and the tread pattern on the tire suggests that the less-than-perfect surfaces and weather patterns of Northern Europe in spring could be the reason for its creation.
Whereas the recently released Turbo tires have a slick centre to help reduce rolling resistance, these 28mm offerings feature both rectangle knobs on the shoulders for improved cornering as well as micro dots running down the crown.
As for the tire's construction it appears the same as the existing Turbo 2Bliss dual-compound tires, including tan sidewalls complete with silver label.
Could these debut at Omloop Het Nieuwsblad in February?
S-Works Mirror saddle
Next up is a fresh shape for the US brand's 3D-printed Mirror saddle, currently available as the Power and Romin Evo models. The third shape, which again broke cover on the Soudal-Quick Step team bikes, appears longer in profile, with a more rounded rear.
The pressure relief channel too looks longer than on the current Mirror models, seeming to take its cue from Spesh's Phenom mountain bike saddle. The surface perforations, which are a component of the 3-D printed saddles, also look a little different, both smaller and spread further apart. Meanwhile, the honeycomb structure, again a result of the 3-D printing tech, is only visible in the cut-out areas.
Trying to spot the unreleased Mirror saddle at the recent Tour Down Under and San Juan races proved a little tricky, given the riders propensity for sitting down on the very piece of kit we were trying to identify!
Custom Shiv TT aero bars
These were spotted last year on Remco Evenepoel's TT bike but photos released from Soudal-Quick Step's recent bike fitting session with Retül offer more detail.
While the standard Shiv bars are aimed at a wide range of users and feature adjustability to match these demands, professional riders need only be concerned with finding a single optimum position
Once achieved the adjustment can stop, allowing for the creation of a 3D printed bar with custom geometry for each individual rider - highlighted by the different profiles between Julian Alaphilippe and Remco's TT bars, for example. The integrated computer mounts are a particularly nice touch.
We're still awaiting our first TT of the WorldTour calendar so we've yet to see any of the custom aero bars being used in 2023.
Roval integrated aero cockpit
Another Soudal-Quick Step rider, sprinter Fabio Jakobsen, gave us a fleeting glimpse of what appears to be a new, and yet unreleased, Roval handlebar via his Instagram account. The integrated cockpit then appeared on Lotte Kopecky's 'gram, with a clear point-of-view shot showing the product in question in some detail. And this week Jacobsen gained his first win of 2023 at the Vuelta a San Juan Internacional, with the bars still seemingly attached to his Tarmac SL7.
The cockpit in question will likely replace the two-piece Roval Rapide bars and take design cues from the Spesh sister brand's Alpinist lightweight bars, which are also a fully integrated affair. Riders who prefer to stick with traditional bar and stem set-up will do so using PRO components, just as Evenepoel and Michael Mørkøv are doing at the Vuelta a San Juan.
Judging from the images available Jakobsen isn't the only rider who appears to be using the bars in Colombia, with Bora-Hansgrohe's Sam Bennett winning stage one with what looks like an identical cockpit. It's likely the bars will use the same cable routing as the Alpinist but feature increased aero properties. Whether we see them soon as part of a Tarmac SL8 reveal remains to be seen.
Vittoria Corsa Pro Tires
The new tires from Vittoria received their first airing at the Jumbo-Visma winter training camps. The 'Corsa Pro' logo printed on the sidewall was the giveaway that something new was a foot - and one that didn't require Sherlock Holmes-like powers of deduction given that, to date, Vittoria don't have a 'Corsa Pro' in its race tire line-up.
Since then the tires have been spotted on the race bikes of Team DSM as well, and will be presumably been used by all the Vittoria supplied team. Jumbo-Visma's Rohan Dennis used them at the Tour Down Under to great effect, picking up a win on stage two of the race. Here's what we know so far.
They appear to be tubeless given the tubeless valves - a tubeless valve nut is visible on Dennis' Tour Down Under race bike. They also feature tan sidewalls, which makes them the first Vittoria tubeless race tire to do so. Given the colour of the sidewalls, can we assume that they're of the unvulcanised cotton variety, as used on the Italian brand's other top-tier race tires? And will they replace the current Corsa tires in the line-up albeit with improved rolling resistance à la Corsa Speed?
Cannondale SuperSix Evo 4
The cat's out of the bag regarding the updated SuperSix Evo, with its appearance on the UCI's frameset list adding credence to the number of pictures already seen. The Tour Down Under gave yet more exposure to the latest iteration of Cannondale's all-rounder, with three teams using the bike in Australia.
Race images clearly show the frame's aerodynamic enhancements as well as dropped stays, which seem even lower than the outgoing model, and the use of a threaded bottom bracket.
Interestingly, while the bikes used by the EF Education teams featured the Lab71 decal, those ridden by the French Women's Continental team St Michel-Mavic-Auber93 did not.
The UCI list showed that the SuperSix Evo 4 would feature three models, including a Hi-Mod version. While currently the Lab71 'project' is little vague, with the brand describing it on its website as "Cannondale's best, done better", perhaps in the case of the new SuperSix, its inclusion on the frameset denotes that it's the top-tier offering, while St Michel are riding one of the lower tier frames?
Look 795 RS
The Tour Down Under also gave the unreleased and still unnamed Look bike (possibly the 795 RS), ridden by Cofidis, some more air time. In fact, it racked up its first WorldTour victory, as did the man riding the bike, Bryan Coquard. A pro for ten years, the man from Saint-Nazaire had won 48 times previously but none at the sport's highest level.
As for the bike it does appear it will be Cofidis' day-to-day machine. Where does this leave the 795 Blade and the 785 Huez bikes we're not yet sure? Given that the bike looks to be an aero all-rounder - integrated cockpit, deep and sculpted headtube, D-shaped seatpost and dropped stays - could the French team use the latest bike in a similar fashion to the likes of Bora-Hansgrohe and Soudal-Quick Step, who rely heavily on the Tarmac SL7 rather than having dedicated aero and climbing bikes?
Thank you for reading 10 articles this month* Join now for unlimited access
Enjoy your first month for just £1 / $1 / €1
*Read 5 free articles per month without a subscription
Join now for unlimited access
Try first month for just £1 / $1 / €1
Luke Friend has worked as a writer, editor and copywriter for twenty five years. Across books, magazines and websites, he's covered a broad range of topics for a range of clients including Major League Baseball, the National Trust and the NHS. He has an MA in Professional Writing from Falmouth University and is a qualified bicycle mechanic. He has been a cycling enthusiast from an early age, partly due to watching the Tour de France on TV. He's a keen follower of bike racing to this day as well as a regular road and gravel rider.