Unreleased Cannondale SuperSix Evo 4 breaks cover at the Tour Down Under
EF's Alberto Bettiol pictured on the new bike, and UCI frame list confirms there will be three models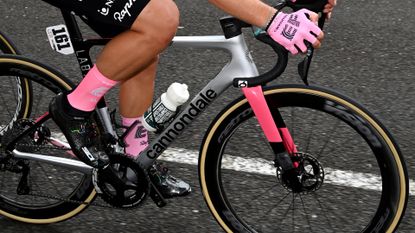 (Image credit: Tim de Waele/Getty Images)
After much speculation, an updated UCI List of Approved Models of Framesets (opens in new tab) has confirmed that the Cannondale SuperSix Evo is, indeed, here.
The update of the US brand's popular all-round race machine will be available in three models: the SuperSix Evo 4, the SuperSix Evo 4 SL and the SuperSix Evo 4 Hi-Mod.
Granted, it's news that's unlikely to make you spill your morning coffee, given that the bike has been making regular appearances of late on pro riders' Instagram accounts and several bike websites including our own (opens in new tab), albeit in yet unnamed form. The Tour Down Under, which got underway this week in Australia, offered up the clearest evidence yet, with both the men's and women's EF Education teams racing on the new bike.
However, deerstalker-wearing bike sleuths can now turn their attention elsewhere; seeing the SuperSix Evo 4 listed in black and white on the UCI's list turns guesswork into hard fact.
Interestingly, the UCI list shows that the Cannondale framesets were approved back in October 2021, but have only been made public now. It's safe to assume that Cannondale wanted to keep them under wraps for as long as possible, but with the 2023 season here, and EF Education riders already racking up the training miles aboard the new bike, the reveal had essentially been made. The list just rubber stamps it.
That's not to say that all intrigue is gone. Cannondale's official launch is still to happen, meaning that there's plenty of details to confirm.
First up is the differences between the three new models. The current SuperSix Evo 3 (opens in new tab) comes in two options, the Evo 3 and the Evo 3 Hi-Mod, with the latter using a lighter and stiffer carbon lay-up. This could mean then that the SuperSix Evo 4 SL will sit as a mid-tier option, perhaps with a new lay-up or other features not used on the 'regular' Evo 4.
An alternative theory is that the SL will be the top-tier frameset, and the one currently being used by the EF team. The eagle-eyed amongst you will have spotted a 'Lab 71' decal on the seat tube of the Evo 4s being ridden in the Tour Down Under. What's Lab 71 you ask?
The Cannondale website says, "Since 1971, Cannondale has been peering over the edge of what is possible in bicycle design, performance, and engineering. It's now time to chase beyond it. Welcome to LAB71: Cannondale's best, done better."
Last year, it released the limited-edition Leichtbau version of the SuperSix Evo 3, which used a new carbon layup to bring the frame weight down to just 750g. Could the SL use the Leichtbau approach, under the Lab71 moniker? We'll have to see.
The design differences between the SuperSix Evo 3 and the SuperSix Evo 4 also needs solving. The photos provide some evidence and appear to show a remodeled fork, with a deeper, more aerodynamic profile, a reshaped canoseat tube, again with a deeper profile, presumably to help reduce drag and lowered seat stays, which should translate to some added comfort. We'd guess that the redesign also includes wider tire clearances and a threaded bottom bracket but, as with all the details, we'll have to wait for the bike's official release for confirmation.
Thank you for reading 10 articles this month* Join now for unlimited access
Enjoy your first month for just £1 / $1 / €1
*Read 5 free articles per month without a subscription
Join now for unlimited access
Try first month for just £1 / $1 / €1
Luke Friend has worked as a writer, editor and copywriter for over twenty years. Across books, magazines and websites, he's covered a broad range of topics for a range of clients including Major League Baseball, the National Trust and the NHS. He has an MA in Professional Writing from Falmouth University and is a qualified bicycle mechanic. He fell in love with cycling at an early age, partly due to watching the Tour de France on TV. He's a passionate follower of bike racing to this day as well an avid road and gravel rider.