Why am I so tired? New AI tool promises to answer this and more from your wrist - tech round up
From a coach on your wrist to no-sealant in your tires: tech news that piqued our interest this week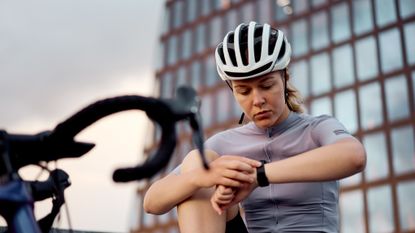 (Image credit: Getty Images)
Our tech round up this week features bespoke coaching powered by Artificial Intelligence, retro garments reimagined, tubeless tires that don't need sealant and another suspension offering for your gravel bike...
Whoop integrates an AI coach into its app
It figures that if artificial intelligence can write novels, pen film scripts and make businesses run more efficiently then it can do a spot of coaching too. WHOOP Coach is a new AI feature for users of the wearable fitness device, available via the WHOOP app.
Using GPT-4, OpenAI's "most advanced generative AI system", WHOOP Coach is designed to provide personalised coaching based on the data shared and by responding to questions posed by the user.
Want to train for a sportive and have a targeted finishing time in mind? Need to better understand why you're feeling tired or how your sleep patterns and scores compare to those around you? Ask WHOOP Coach and all will be revealed - and the more custom behaviours a user tracks in their WHOOP Journal the more they can unlock "highly individualised insights to see how those behaviours affect their physiological metrics", according to the brand.
It all makes the days of sticking a banana in the rear jersey pocket and 'getting in the miles' seem like light years ago. Though we've yet to see if WHOOP Coach will drop as many clangers as ChatGPT. For our in-depth look at AI coaching, check out this feature.
Cold weather Sambas
Once the preserve of five-a-side footballers, terrace casuals and Britpop band members, the Samba continues its evolution from iconic soccer shoe to a sneaker for all occasions - including cycling.
Adidas released the SPD-compatible Velosamba a while back and has now unveiled a cold-weather version ready for the winter commute. The Velosmaba Cold.Rdy features an insulated material - that's the Cold.Rdy bit - as well as manufacturing the trademark three strips from a reflective material for some low-light .
The sole, which features an SPD 'cut out', is said to be flexible enough to make the transition from bike to walking a comfortable one - though when we reviewed the original Velosamba we didn't find this to be the case. The shoe, offered in black only, is available now, priced £130 / $170.
Bianchi does retro modern
Talking of iconic garments, Bianchi has released a capsule collection based around its classic 'Bianchi Milano' type that once adorned the jersey of Italian legend Fausto Coppi. With il campionissimo making said jersey famous, it's become one of cycling's most enduring, and recognisable, symbols.
The centerpiece of the collection is undoubtedly the 'replica' shirt with the polo collar and buttoned front and rear pockets. However, this being 2023 it's made from a breathable wool and polyester blend that's probably half the weight of the all-wool number that Coppi had to haul up and over the Stelvio.
No more sealant? Hutchinson Challenger tubeless tires tread new ground
If you've ever had a sealant mishap while setting up or repairing tubeless tires, Hutchinson's bold claim for its newest all-season ultra-endurance tubeless tire might pique your interest.
The French brand claims that its Airshied technology, which coats the inside of the tire and the beads with a sealing compound, means that there's no need to add traditional sealant. Given that it can be a messy job when done badly, it's an appealing claim.
And the bold statements don't end there. Hutchinson also says the Challenger, which comes in 25mm, 28mm and 32mm widths and features its two-layer Hardsheild protection, is good for 10,000km of use. Apparently, real world testing saw the tire clock up 9,000km without a puncture during the last two editions of the Transcontinental Race - a pretty remarkable feat given the extreme nature of the famed ultra-endurance event and one that should make the daily commute a breeze by comparison. We tested the clincher version earlier this year, which proved plenty durable, so expect the same here.
Affordable suspension for your gravel bike
The industry continues to take divergent paths when it comes to making your ride a little more cushioned. Specialized is sticking with its Future Shock suspension tech, updating it for the recently revamped Roubaix. Giant, on the other hand, chose the less-is-more approach with its updated Defy endurance bike; here compliance is found in the composition of the frame, seatpost and bars rather than by adding any moving parts, which it says increases weight and complexity (but has chosen the suspension route on its Revolt gravel bike). Now State Bicycle Co - better known for its single speed bikes - is getting in on the act, with the release of an All-Road suspension fork.
Suspension forks on all-road and gravel bikes tend to divide opinion. For purists it's akin to drawing a mustache on the Mona Lisa. For 'path-less-travelled' adventurers it's far more acceptable. RockShox released its gravel-focussed Rudy Ultimate fork a while back as part of the SRAM group's XPLR capsule. So what's new with the State offering? Like the Rudy it uses an air spring, offers 40mm of travel but is heavier, to the tune of around 350g, and cheaper, by some $300 or so. Other details include clearance for up to a 58mm wide tire, a flat brake mount and external cable routing.
Thank you for reading 20 articles this month* Join now for unlimited access
Enjoy your first month for just £1 / $1 / €1
*Read 5 free articles per month without a subscription
Join now for unlimited access
Try first month for just £1 / $1 / €1