18-year-old American becomes Ineos Grenadiers first signing for 2024
AJ August will turn pro with British team next season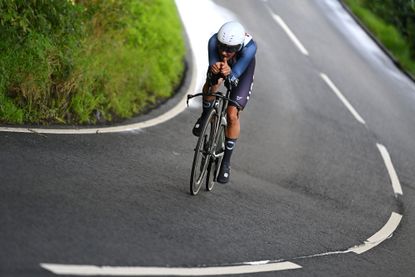 (Image credit: Getty Images)
Ineos Grenadiers have confirmed the signing of young American rider Andrew 'AJ' August on a three-year contract until the end of 2026.
Earlier this week the team confirmed that both Geraint Thomas and Carlos Rodríguez had extended their contracts but August is the first new signing for Ineos ahead of the 2024 season.
The 18-year-old from Rochester, New York has impressed at junior level on both the road and cyclo-cross and will now turn professional with Ineos next season.
August spent time with the team in a training camp at the start of the year. His results in 2023 include a stage win and second overall at the Redlands Bicycle Classic, and a victory in the Ain Bugey Valromey Tour which concluded with a summit finish on the Grand Colombier climb in France's Jura mountains.
August said that the presence of fellow American Magnus Sheffield on the team helped sway his decision to sign his first pro deal with Ineos.
"Magnus has been key – he's someone that I can look to for advice. But regardless of him being in the team, it's still the perfect environment for me," he said.
"I had the opportunity to go on a team camp in January and could immediately see just how professionally it is run. Of course it's a big jump to come to the team straight out of juniors but the team's approach gives me the confidence that it's the right thing to do."
Ahead of the new season, the 18-year-old will attend a further team training camp before goals are drawn up for his first pro season.

"I can't say there's one particular race that I really want to target, but when the time is right I would like to maybe compete in a one-week World Tour stage race and see how I go," August added.
"I've always been a good climber and I've enjoyed competing as a GC rider in the racing that I've done so far. My ambition would be the same in the pro ranks, but of course it will take some time to develop into that type of rider. I'm not afraid to discover and challenge myself in other areas too."
"AJ has really impressed us in the time we've spent with him, so we're thrilled he's agreed to become a Grenadier," deputy team principal Rod Ellingworth said.
"We've been following his progress and results this season and he's clearly demonstrated his talent. We believe that working together we can help him reach his full potential. He's a talented young man and it's obvious he also has a very good head on his shoulders.
"AJ joins an exciting group of extremely talented young riders at the Ineos Grenadiers, which bodes well for pursuing the ambitious goals we've set ourselves."
Thank you for reading 20 articles this month* Join now for unlimited access
Enjoy your first month for just £1 / $1 / €1
*Read 5 free articles per month without a subscription
Join now for unlimited access
Try first month for just £1 / $1 / €1