20 year-old sprints to clean sweep at British Track Champs
Emma Finucane wins two titles on the closing day of the championships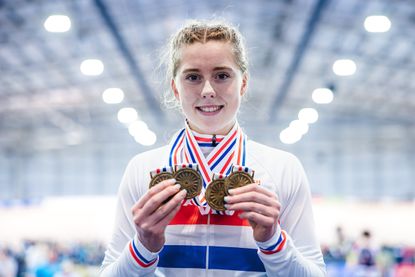 (Image credit: Alex Whitehead / SWpix.com)
Twenty-year-old Emma Finucane kept her unbeaten record at this year's National Track Championships with a convincing win in the 500m time trial and victory in the team sprint.
She becomes the first sprinter, male or female, to rack up an unbeaten record at the championships since Katy Marchant in 2015.
In the 500m time trial the Team Inspired rider was just off the national record with a time of 33.981. She was the only rider to break the 34 second barrier with Sophie Capewell (Inspired) in second and Lauren Bell (Inspired) in third both finishing just outside it.
Then in the team event she joined Katy Marchant, returning from giving birth, and Milly Tanner to rack up her fourth national championship of the weekend.
"I finished and I just got so emotional. I think it's just hit me," Finucane told Cycling Weekly, welling up.
Asked how it feels to take a clean sweep of the women's sprint events, the 20-year-old said: "I don't think it'll sink in. I honestly can't believe it. After the sprint [on Friday], I was super happy and then it kind of just flowed."
"I've learned so much this weekend," she continued. "Usually I go into racing and hope I do well, but I'll have no idea what I've learned. I feel like I've banked so much from this weekend. I'm really, really proud."
Finucane wasn't the only woman leaving Newport with multiple stripy jerseys. Neah Evans (Huub) recovered from disappointment in the scratch to dominate the points race, in which she is the World Champion.
The Scot won nearly every sprint and gained a lap to amass a total of 48 points while second place rider Maddie Leech (Inspired) scored 15. Third was Sophie Lewis with 13.
Evans is now National Champion in both the individual pursuit and the points race.
Evans said: "Going into it you've got this massive target on your back literally with the rainbow stripes, everyone is following you. That definitely adds an extra element to it, which makes it a little more tricky, but I went in with a plan and executed it pretty well.
The World Champion now heads to the European Championships next weekend where she'll be helping Team GB to qualify places for the Olympics in 2024, as well as fighting for European titles.
"It's been a really good weekend because I knew my form was in quite a good place from a lot of road training, but I really haven't actually done a huge amount on the track work. So the top end, I wasn't quite sure where that would be at," she said implying she was happy with how she dealt with the racing's hard efforts.
In a hotly contested men's team pursuit, Saint Piran (Charlie Tanfield, Will Tidball, Will Roberts, Josh Charlton) won the event with a time of 3.55.897.
The lead swung back and forth between the Cornish squad and the British Cycling East Midlands Region team until the closing kilometre when they began to stretch an advantage and in the end they won by a margin of over a second.
Olympian Charlie Tanfield, one of the team's new recruits for 2023, revealed to Cycling Weekly that the four riders had done no prior training together for the race. "We got a feel of what it was like first time round [in the qualifier], and just adjusted accordingly," he said. "It worked pretty well for us, I think."
A key ingredient to the quartet's success, Tanfield added, was the support they have received from their trade team. "This is the first Conti team that I've seen, in all my time I've been cycling, that has really supported us on the track. It's quite rare.
"It's good because they're promoting it, and what we're doing. It's good for track racing and it's good for the team."
In the scratch Joe Holt (Tekkerz) took the title from a group of three that were off the front for the closing 20 laps. As the trio took the bell Holt hit the afterburners and accelerated away from Mattie Brennan (Fensham Howes) and third place Jack Rootkin-Gray (Saint Piran) to win by a clear margin, celebrating as he crossed the line.
In the men's Keirin Hamish Turnbull (Inspired) took a close two-on-two finale against Olympic silver medallist Jack Carlin (Inspired) after the riders behind narrowly avoided a crash when one swung up the track without realising a rival was on his hip.
Graham mounts strong para-cycling campaign
Fin Graham (Para-T) claimed another national title to add to the one he won on Saturday. First he won the men's C1-3 kilo by over half a second with a time of 1.09.085 ahead of self supported rider Sam Ruddock and Ryan Taylor of Ilkeston CC.
But just a few hours later he was pipped into second place in the mixed scratch race. Ryan Taylor (Ilkeston CC) came away with the C1-3 title, while Will Bjergfelt (Saint Piran) took the C4-5 title.
In the men's C4-5 kilo five-time Paralympic gold medalist Jody Cundy (Para-T) showed few signs that he is slowing down at 44 years-old with a time of 1.08.618, which would have been enough to take the gold on its own but when factor for his level of disability gave him an even clearer margin of just under a second to second place Archie Atkinson (Para-T). Martin Hailstone (Addform - Vive-le-Velo) rounded out the podium in third.
Daphne Schrager (Di Mascio) knew she'd won the women's C1-3 500m time trial title before she'd even turned a pedal - as long as she didn't fall off - as she was the only entrant. She set a time of 42.691.
Thank you for reading 20 articles this month* Join now for unlimited access
Enjoy your first month for just £1 / $1 / €1
*Read 5 free articles per month without a subscription
Join now for unlimited access
Try first month for just £1 / $1 / €1