Carmen Small named head DS of EF Education-Cannondale women's team
The former US National Champ and DS at Team Jumbo Visma-Women adds experience to Jonathan Vaughter's new EF Education-Cannondale women's squad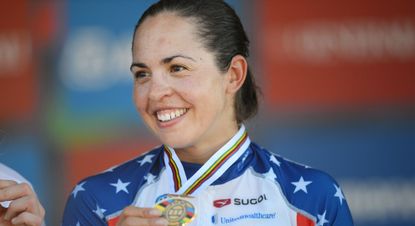 (Image credit: Getty Images)
Two-time American time trial national champion Carmen Small has been named the lead directeur sportif, or DS, of EF Education-Cannondale.
The directeur sportif is essentially the head coach of a cycling team. A DS orchestrates the strategy of each race and the stages making up a race. A DS also manages expectations with sponsors, so their work can go beyond simply coaching and stretch into the realms of securing team partnerships and managing expectations with sponsors, as well.
EF Education-Cannondale is a newly-formed women's pro cycling team that includes nearly all of the roster from the previous EF Education-Tibco-SVB team. Previously the women's team operated separately from the men's EF Education-EasyPost team. Now, the two teams will operate alongside one another.
Small joins team manager and former colleague Esra Tromp in leading the charge as EF Education-Cannondale prepares for its first year of competition in 2024. Tromp was most recently team manager of Team Jumbo-Visma Women.
"Working with Esra, I've only had positive experiences," Small says. "I believe in her. She's an incredible manager. She really knows how to bring out the best in people and how to foster the goodness in a team."
Small has not only led an impressive professional cycling career herself, but was most recently the DS for Team Jumbo-Visma Women, who last month saw team member Fem van Empel claim the title of 2023 European Cyclocross champion.
The seasoned cycling industry veteran says that the chance to be the head DS for a new team is a special one because of the opportunity to define the culture and journey of the team.
"When Esra approached me about this team, it was super interesting because it is a first-year program…I'm not new to the game of new teams but this was nice because while the [team infrastructure is there, EF Education-Cannondale] is a blank slate," Small says. "I love the philosophy of EF Education-Cannondale. They're fun, but also serious…so let's laugh a bit, enjoy what we're doing and then success will come."
Paris-Roubaix winner Alison Jackson will be on the EF Education-Cannondale roster as well as Americans Veronica Ewers, Kristen Faulkner and Coryn Labecki.
The team will begin with a Continental license in 2024 with aspirations to become a World Tour team. Small has made it clear that she loves what she does - and is ready to make EF Education-Cannondale into a top-notch team.
"I really love my job. I love working with the riders. They give me a lot of motivation and energy," Small says. "Whether the team is competing in a development rac or the Tour de France, I do my job exactly the same and I love it exactly the same."
Thank you for reading 20 articles this month* Join now for unlimited access
Enjoy your first month for just £1 / $1 / €1
*Read 5 free articles per month without a subscription
Join now for unlimited access
Try first month for just £1 / $1 / €1