No win for Jonas Vingegaard? Cycling Weekly's bold predictions for the 2023 season
With under a fortnight until the WorldTour kicks off this year, it is time to take a look into our crystal ball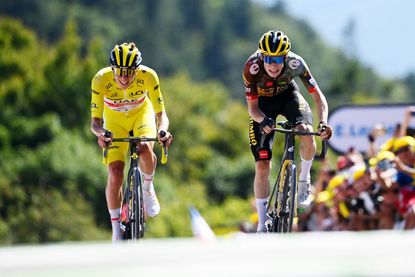 (Image credit: Tim de Waele / Getty)
Now we have got through the Christmas period and into 2023, it really is time to start thinking about the road season. The Tour Down Under is back and starts on the 15 January, so we thought it was time for us at Cycling Weekly took our tarot cards and looked at horoscopes and have rustled together six predictions for the year.
Now, we decided that these predictions had to be bold and a little bit exciting. "Tadej Pogačar will be good" or "DSM will struggle without Lorena Wiebes" would not cut the mustard for this list. Instead, we each picked a couple of things that we reckon will happen, but to the untrained eye might seem wild.
At the end of the year, we will each come back and see how wrong we were. Naming no names, but one VP might be eating his words as soon as Paris-Nice.
Seeing as I, Adam, am the one writing this introduction, I get to add an extra couple of predictions in. Tadej Pogačar will win the Tour of Flanders, and the newly expanded and moved Vuelta Femenina will be excellent. There you go.
Jonas Vingegaard won't win a race - Vern Pitt
I was going to predict that he won't win the Tour de France, but frankly that's expected. That's saying nothing about Vingegaard, it's just that defending a maiden Tour de France win is a rare feat in the last 50 years the list of those that have managed it is short and includes only Tadej Pogačar, Miguel Indurain, Laurent Fignon, Bernard Hinault and Eddy Merckx (stretching the definition of 50 years a touch with that last one).
Most often the pull of parties, sponsors and general merriment puts you on the back foot when you return to riding - just ask Geraint Thomas.
But I'd rather be bold in my predictions and go down in flames than be boring, so if that's a run of the mill reading of the runes I'd rather say he won't win a race in 2023. This isn't because he's not a phenomenal athlete and possibly even a generational talent, it's more because of how he'll be the centre of attention from the moment he hits a start-line.
If there's one thing we know about Vingegaard it is that he's not terribly comfortable with that. He kept all press and public appearances to a bare minimum after his Tour victory and he told almost every Tour de France press conference during the race that he's just a simple family guy at heart.
His life in 2023 could end up being the most uncomfortable it has ever been and all those stress hormones bouncing around his system are not a recipe for wins on the road. Jumbo are no strangers to success so maybe he will be well insulated from that but I suspect he feels that glare of a photographer's flash acutely and 2023 is set to 25,000 gigawatts.
Demi Vollering will win the Tour de France Femmes - Adam Becket
Look, these predictions are supposed to be bold, and there is nothing bolder than predicting against Annemiek van Vleuten. The 40-year-old is heading into her second season in the rainbow bands, is the defending Giro d'Italia Donne, Tour de France Femmes and Vuelta Challenge champion, and will still be thought of as unbeatable.
However, this can't go on forever. 2022 was the year that Tadej Pogačar was toppled from his seemingly immovable perch as Tour de France champion, and things do change. Demi Vollering is best placed to take over from her compatriot.
2022 was a successful year for the SD Worx rider, with a clean sweep at Itzulia Women the highlight - three stage wins and the overall. She also won the Queen of the Mountains jersey at the first Tour de France Femmes, and finished second to Van Vleuten overall, and on the two key stages.
Now, it should be pointed out that the 26-year-old finished 3-48 adrift of the woman 14 years her senior at the end of the race, but on a different course for 2023, with one big climb to Tourmalet, it could be her year. Sure, Van Vleuten remains the rider to beat on the serious climbs, and she has strengthened her team with Floortje Mackaij and Liane Lippert over the close season, but the final day individual time trial could go either way, and SD Worx remain the best squad on the WorldTour.
Vollering is still growing into her cycling career; 2023 will be just her third at Women's WorldTour level, compared with Van Vleuten, who is spending her 12th and final year at the top. Dynasties have to change sometime.
It might all come down to whether the defending champion goes for the Giro-Tour double again. And there's a lot of luck involved. I'm being bold, though, and saying that Vollering will pull on yellow in Pau in July.
Matej Mohorič will win Paris-Roubaix - Tom Thewlis
Looking back on the season just gone, I would have highlighted Matej Mohorič's barnstorming win at Milan-San Remo as a personal favourite. It's rare in a sport like ours to see moments of such daring ingenuity when it has been frequently dominated by robotic sprint wins or Team Sky Grand Tour mountain trains.
Mohorič completely defied that scripted logic to win San Remo using that now infamous dropper seat post. Although if you go further than San Remo, you'll remember that the Slovenian rider on Bahrain Victorious was right in the thick of the action at the sharp end of Paris-Roubaix too.
The Slovenian is an out and out powerhouse, capable of long and sustained efforts which others simply can't live with. We saw that with both of his Tour de France stage wins in 2021, and it was clear for all to see once he had taken flight on the Poggio in March too. Once he's gone, other riders face a gargantuan challenge to reel him back in and he possesses all of the qualities you need to win Roubaix.
Mohorič has already mentioned the cobbled classics as a potential target next year with a particular focus on Roubaix, and with a rider like Fred Wright on his team in support, Bahrain Victorious possesses a classics duo that could be equally as strong as the likes of Wout Van Aert and Dylan van Baarle at Jumbo-Visma.
With that in mind, I'm predicting a Matej Mohorič win at Paris-Roubaix next year. Every time you speak to the Slovenian, it's clear that he is a calculating and deep thinker, always planning new ways to outwit his rivals. While everyone watches Jumbo-Visma's classics stars, I'm expecting a Mohorič attack from the leading group on the cobbles which results in a masterful win in Roubaix next April.
A male British rider will win a Monument - Tom Davidson
Do you remember who the last British man to win a Monument was? The year was 2009 and the world was celebrating the centenary of Milan-San Remo. After almost seven hours in the saddle, the race came down to a photo finish between Australia's Heinrich Haussler and a sprinter with four Tour de France stage wins to his name, Mark Cavendish.
Cavendish won, of course, but for all his ensuing success at Grand Tours, the Monuments went on to elude him. Neither he, nor any other British man, has tasted victory in one since.
This, however, will all change this season. In recent years, British cycling has witnessed a new wave of talent emerge, spearheaded by the likes of Tom Pidcock, Ethan Hayter and Fred Wright. I'm expecting these riders to crank it up a notch this season, with one of them adding a coveted Monument to their palmarès.
Sadly, my clairvoyance doesn't stretch to specifics. I couldn't tell you if it'll be Wright winning Flanders or Pidcock taking Roubaix. It might even be one of the Yates twins, standing proud on the top step of Lombardy after a crushing long-range attack.
All I'm certain of is that, 14 years on from Cavendish's San-Remo title, the curse will finally be lifted.
There won't be a solo winner of Paris-Roubaix Femmes - AB
The first two, long overdue, editions of Paris-Roubaix Femmes provided entertaining winners, both from Trek-Segafredo: Lizzie Deignan followed by Elisa Longo Borghini in 2022. However, both came from long solo breakaway efforts, something which is entertaining in the end, but doesn't provide intrigue throughout the race.
The reason for this is clear, Roubaix is a different beast to what the top female riders are used to, a far more attritional form of racing. The first edition was competed in the mud of October 2021, which just added to the mayhem.
However, with two events under their belts, the time has come for the solo Trek hegemony to end. With teams like SD Worx and Movistar coming into this race with numbers, it won't necessarily be more controlled, but I'm expecting a more dynamic, attacking race than we have previously seen.
Marianne Vos is the one to watch after she missed last year's edition through illness, and Roubaix is surely perfectly suited to her skillset, but riders like Lotte Kopecky and Emma Norsgaard should not be discounted either.
Instead of a solo win, it is surely the turn of a small group coming into the velodrome together, like we have seen so many times in the men's race. Once this happens, it is anyone's game, and a surprise winner could even emerge.
Lorena Wiebes will win half as many races in 2023 - TD
No rider lifted their arms in victory as often as Lorena Wiebes did last season. The Dutch sprinter managed an astonishing 23 victories in 2022, including the European Championships road race and two stages of the Tour de Frances Femmes avec Zwift.
Still, as Wiebes readies herself for her first outings with SD Worx, I'm predicting fewer race wins for the 23-year-old this calendar year. Half as many, to be exact.
This, to be clear, is not to say Wiebes is any weaker of a rider. In fact, given her trajectory with Team DSM, it seems she's only getting stronger. Only a fool would contest her status as the best sprinter in the women's peloton.
Now at SD Worx, Wiebes will form part of a more complete set-up. Her sprint interests will have to be juggled with Demi Vollering's GC bids and Lotte Kopecky's one-day ambitions. Gone will be the days of having a whole team at her disposal - the engine of Pfeiffer Georgi, the power of Charlotte Kool - all working tirelessly to deliver their sprinter to the line.
With Wiebes left to fend more for herself in bunch sprints, we might be in for some chaotic race finishes this year, from which any rider could win. It'll be unpredictable and harder for Wiebes to dominate. Either that, or she'll just continue to blow everyone's legs off.
Thank you for reading 20 articles this month* Join now for unlimited access
Enjoy your first month for just £1 / $1 / €1
*Read 5 free articles per month without a subscription
Join now for unlimited access
Try first month for just £1 / $1 / €1