Tao Geoghegan Hart dedicates Tour of the Alps stage win to his father
'It was my father's birthday yesterday, and I was really wanting to win for him' said the Ineos rider after receiving the first leaders jersey of the race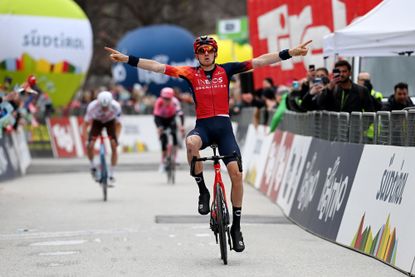 (Image credit: Getty Images)
Tao Geoghegan Hart dedicated his spectacular victory in Austria on stage one of Tour of the Alps for Ineos Grenadiers to his Dad.
The British rider timed his final kick to the line to perfection, passing Jack Haig of Bahrain Victorious and Hugh Carthy of EF Education-EasyPost to take control of the race on day one, exactly as Ineos DS Matteo Tosatto had pre-empted prior to the race getting underway.
After receiving the leader's jersey on the podium, Geoghegan Hart spoke to the media, and dedicated his stage win to his father as a belated birthday present.
"Today was really important, it was my father's birthday yesterday, and I was really wanting to win for him," Geoghegan Hart said. "We don't get to spend much time together these days, so it was really special for me to win today, and it was for him."

Ineos Grenadiers rode aggressively throughout the latter half of the opening stage, and thanks to stirling work from the likes of Ben Swift, Geraint Thomas and Laurens De Plus, Haig-a late attacker on the penultimate climb- was reeled back in just in time for Geoghegan Hart to launch his sprint.
"Of course when you sit there in the sixth or fifth wheel all day, and watch those guys pushing like they did and really flying all day, you also want to win for them too," he added. "We'll just look at each day now as it presents itself, and a few years ago I was in this same position from stage one, then we used our numbers and Pavel [Sivakov] won the GC."
"We've got a really nice group here, and we're all in for the goal of the team winning as much and as often as possible. We'll do whatever we can in the race to make that happen."
Prior to the Tour of the Alps beginning, a lot of riders had spoken about how they would look to use the race as key preparation for the fast-approaching Giro d'Italia. However, Geoghegan Hart explained that he believes it did a "disservice" to the race and that he disagreed with the characterisation of it as simply a "warm-up" event.
"Every race is very important," he said. "I've said that all year. Every time you pin on a number you have to respect that race. Nothing is preparation, and certainly not in this modern cycling of the last three to four years."

"For me personally, not speaking on behalf of anyone else, I'll look to do a good five days here. I don't turn up to races to prepare for something else."
Since winning the Giro in the pandemic-affected 2020 season, Geoghegan Hart has struggled for form with ilness and injury impacting him at various points last season.
Now, just a few months into the current campaign he's recorded a stage victory at the Volta a la Comunitat Valenciana, as well as his win in Austria this afternoon.
Despite recent results pointing to a rapid upward trajectory in form, the Londoner played down suggestions that he was back where he belonged.
"Everything is different, and every preparation is different. Certainly in these last six or seven months, I learned a lot about the best training for me," he said. "That was something that I always felt I'd missed, kind of like a recipe. I saw it with other riders, but I always felt like I hadn't really found that recipe.

"Of course, you don't follow it like for like every time, but you have confidence in a certain methodology. I've had six or seven coaches in the last seven or eight years, and this year getting a new coach was something I was really nervous about to be honest, but it was something that I wanted to take on."

Geoghegan Hart explained that he hoped he would continue to reap the rewards of the new training programme cooked up by Dajo Sanders throughout the remainder of the season.
"Certainly for me, but also something that I see with a lot of my colleagues, is that it's so easy to do too much training, and always to do more," he said. "I think just having this year a really clear plan with good communication with Dajo, and working super closely together."
"We've spent almost six weeks on the road together this year, my coach and I," he added. "These last three weeks, and also in January before Valencia we were everyday together. We've just always had a clear plan… I'm just really grateful to have his support."
'Domestically we have a big problem'
Geoghegan Hart also used the platform of his race win to elaborate on social media comments he had made in the aftermath of the demise of AT85 Pro Cycling, one of the last UCI Continental teams based in Britain, last month.
The Ineos rider explained that he had a personal connection to the team.

"I spoke a few weeks ago about a dear friend of mine's continental team that folded. It was quite emotive as he was someone I raced with," Geoghegan Hart said. "Since I first started, his father helped me a lot, and he's a dear friend of mine. Often when something hits really close to home, you stop a little bit more than you would do in another scenario."
The Londoner wrote a long Twitter thread lamenting the demise of the team and what it said about the state of pro cycling in Britain. But he received some criticism from some within the scene who pointed to the efforts of those within the sport's grass roots.
"I think some people took it very much to heart that I said cycling in the UK was dying. But it's not that I said it was dead," he said. "There's a big difference. It's the fact that one small stone falling down a hill overtime, or one snowflake rolling down a slope eventually adds up to a really big change. The erosion over time is a big problem."

"It's great to see a team like Trinity here. It's really amazing what Andrew McQuaid is doing for those riders, because I think without that team, it would be another step worse. Especially domestically in the UK.
"I was never saying that there aren't races, or there aren't people doing great things. But compared to when I first started cycling in about 2010/2011 domestically we have a big problem… the domestic scene in the UK is really struggling."
Thank you for reading 20 articles this month* Join now for unlimited access
Enjoy your first month for just £1 / $1 / €1
*Read 5 free articles per month without a subscription
Join now for unlimited access
Try first month for just £1 / $1 / €1