'What doesn't kill you only makes you stronger' - Michael Valgren on getting through injury and returning to racing
Danish rider lifts the lid on his long layoff, missing the Tour de France Grand Départ in Copenhagen and being inspired by Lizzie Deignan and Remco Evenepoel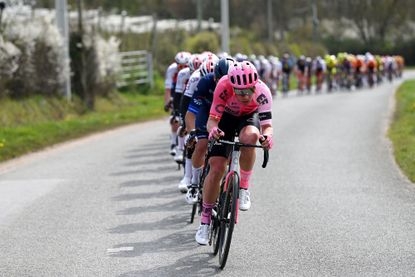 (Image credit: Getty Images)
On an early summer's evening in Monaco, Michael Valgren is bursting with optimism and positivity. After a long absence due to serious injury, the Danish rider is finally making a cautious return to training and competitive racing.
Following a serious crash last June at the Route d'Occitanie, Valgren spent several days in a hospital bed as he recovered from surgery, contemplating his future in the sport. He was also moved from EF Education-EasyPost's senior team to the EF Education-NIPPO development squad as he began his recovery.
Nearly ten months later - thanks to an extensive rehabilitation programme - the Danish rider pinned on race numbers once more at April's Region Pays de la Loire Tour, and is making solid progress on the long road back to the top.

Speaking to Cycling Weekly from the south of France, Valgren explained how much of a relief it was to be able to experience the buzz and excitement of a competitive race day with his teammates once more.

"When you take a step away from cycling and you're not part of it, you really find out how much you miss it," Valgren says. "It's not even just the racing part, but it's being away at a race, all the gossip and banter with your teammates. I really missed being a part of that lately."
Valgren's heavy crash on stage three of the 2022 Route d'Occitanie left him with a list of horrendous injuries. This included a fractured pelvis, dislocated hip, damage to his ACL and MCL ligaments in his knee as well as a shattered meniscus.

He underwent surgery in Nice to repair the damage to his hip and knee and says that in the immediate aftermath of the crash, he was extremely doubtful that a potential comeback was on the cards whatsoever.
Comeback in doubt
"Honestly it was just like a double blow," he says. "First of all the crash was obviously not ideal with the injuries I had and the outcome of that. Then I had to miss the Tour start in Denmark, something we'll probably never experience again."

"It was like not just one knife but two knives stabbed into me at the same time, it was a really horrible moment and experience to go through to be honest. At the start it was just completely miserable, I felt like there was nothing good to take away from it. Okay, I could maybe come back but I really wasn't sure."

"I was just in so much pain for the first month of it all," he adds. "I spent two weeks in the hospital before I got home. I stayed for three nights in Carcassonne and then ten days in Nice where I had my surgery before I then got back to Monaco."
Valgren says that he has now fully digested all of the emotions that came with nearly being forced to give up something he holds so dear.

"In the first place I thought right, I'm going to get back quick," he says. "I had an initial prognosis of maybe three months so I thought okay, that's the rest of this season gone. I'll work during the off season and get back ready for this year. As time moved on things just weren't getting better. Two months went past, then three and it was around September when I really started to doubt I could come back."

It was when the future of his cycling career seemed in question at the end of 2022 that things became difficult. "That's when I cracked the first time, I just started to cry and said to myself I'm not ready to stop, it's not how I want to stop, I want to stop when I feel like I don't want to continue, not like this."
Fighting back
"I just thought I'm not giving up so easily, I'm going to fight back and try and come back… I always kept believing, even though for the first six months I couldn't do a pedal stroke," Valgren continues.
"My knee was just not working with me. My hip was fine, just my knee wouldn't cooperate. I only had about 100 degrees of bending when I think you need 150 to do a pedal stroke. I just couldn't though, it was so painful for me."
A second knee operation would soon follow that would eventually enable the Dane to start to ride pain free. His first ride without discomfort came in December, a much welcome Christmas gift after many months of hard work and struggle.
"It's an old saying but what doesn't kill you can only make you stronger," he explains. "That 100% applies in this situation. I had to work way harder to get back to normal than what I did just to be a bike rider. I always tried to think 'ok, I've suffered a lot more than I am now' when I was starting back on the bike."
Back in the game
Highlighting his friends and family, teammates and physios, the Dane says he was lucky to be able to count on the support and encouragement from those closest to him.

"Throughout this bad moment I've had really good people behind me and I can only thank them for where I am today. It could have been a s****how, I could have sunk into depression or something like that, but I never went down that deep hole and that was thanks to those around me that's for sure."

Now with several race days ticked off, Valgren says he was pleased with the feeling in his legs at the recent Tour of Norway, but stresses the importance of continuing to take it slowly.
"It was only really March when I was able to train like I normally would have done before I had my first race… I had to remember to be realistic in that race with what I could achieve. I couldn't expect to win the first one, but I was in the game, I was part of it and not just a passenger which was super nice. Then the same thing happened again at the Tour of Norway."
Sky is the limit
As well as being motivated by his own steady progress, Valgren explains that he has been inspired during his comeback by two training rides with a former winner of Paris-Roubaix as he builds for further races in the coming weeks.

"Lizzie [Deignan] and I often see each other at the playground with our kids," he says. "We went out on the bike two days in a row, the first was absolutely pouring down… We've both been through the same with making a comeback after a long time away.
"Lizzie just came back from her pregnancy, her second race was Ride London and she was amazing. It's so nice to see that a fellow cyclist can be out for so long, but then can come back and be right at the top."

"It's people like her and people like Remco [Evenepoel] who had a bad crash that I can kind of look up to and say well if they can do it, I can do it too you know. The sky is only the limit for me."
Thank you for reading 20 articles this month* Join now for unlimited access
Enjoy your first month for just £1 / $1 / €1
*Read 5 free articles per month without a subscription
Join now for unlimited access
Try first month for just £1 / $1 / €1