Women's Tour fundraising campaign receives public backing from Alastair Campbell
Tony Blair's former comms director highlights major role played by race in growth of women's cycling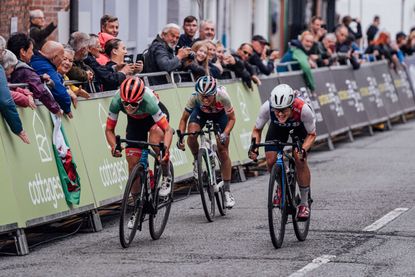 (Image credit: SWPix)
Alastair Campbell, a former spokesman for the Labour Party and Downing Street press secretary under Tony Blair, has publicly backed the GoFundMe campaign to save the Women's Tour highlighting its importance in the sporting calendar.

Campbell initially took to Twitter to share the GoFundMe page setup by the organiser, calling it sad that they had been forced to set it up, but also highlighting the importance of backing the campaign.

Speaking to Cycling Weekly, Campbell reiterated the significance of the race and the role it has played in the growth of women's cycling.

"Cycling has had such a renaissance in recent years, for men and women alike and there is no doubt that big high profile events have been a major part of that growth," Campbell said. "So it is sad to see that the women's tour has had to go to crowdfunding in order to ensure it goes ahead safely and professionally."

"In tough economic times, perhaps it is inevitable that sports sponsorship is harder to secure. But it is an important event in the sporting calendar and worthy of support," he added.
Sad that it takes crowdfunding for this to get the backing it needs. But worth supporting for sure https://t.co/Z06z5sTyfnMarch 21, 2023
See more
Race organiser SweetSpot is looking to raise £100,000 through the GoFundMe campaign which it says is to meet "ever-increasing organisational costs," as well as a "shortfall from sponsorship income".
By Wednesday lunchtime the campaign had raised just over £11,600.
Cycling Weekly understands that the campaign has led to new potential sponsors entering into conversations with SweetSpot, although there is no confirmation of anything as yet.

Last week, Lizzie Deignan highlighted the importance of the race and said it would be "a huge loss" if it did not take place.

"The way the race is run is extremely professional and it's probably been the most professional race we've had on the calendar," Deignan said.
"It will be a huge loss in terms of the opportunity for British teams to have a stage like that to race on, but also internationally it's a really important race because June doesn't have many stage races. It's brilliant preparation ahead of the national championships and the Tour de France."

Deignan, a former winner of Paris-Roubaix Femmes, is due to return to racing in May after having her second child and is aiming to hit form in time for the race. If it goes ahead, the Women's Tour will feature a Queen stage in her native Yorkshire.

"It is what's been in my mind during training rides," she added. "If it goes, I need to rethink my whole calendar."
Thank you for reading 10 articles this month* Join now for unlimited access
Enjoy your first month for just £1 / $1 / €1
*Read 5 free articles per month without a subscription
Join now for unlimited access
Try first month for just £1 / $1 / €1
Tom is a News and Features Writer at Cycling Weekly, and previously worked in communications at Oxford Brookes University. Alongside his day job, prior to starting with the team, he wrote a variety of different pieces as a contributor to a cycling website, Casquettes and Bidons, which included interviews with up and coming British riders.