Wout van Aert wins round 12 of the Men's Cyclocross World Cup in the Zonhoven sandpit
The early stages suggested it was going to be a battle between the top four, but Van Aert went clear and never looked back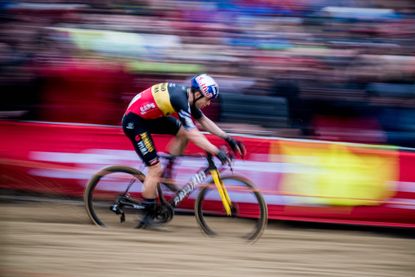 (Image credit: JASPER JACOBS/Belga/AFP via Getty Images)
Wout van Aert won the 12th round of the Cyclocross World Cup in the sandpit at Zonhoven, his second win in two days.
The early stages of the race had suggested that it was going to be a battle between the top four, but Van Aert went clear and never looked back.
Mathieu van der Poel, who had spoken of his long term back trouble before the race, did appear to be grimacing at times but kept the pressure on to finish second.
Third and fourth places were taken by World Cup leader Laurens Sweeck and European Champion Michael Vanthourenhout – who between them are battling for the overall World Cup win.
Men's Cyclocross World Cup, Round 12: How it happened
A frenetic start to the 12th round of the Men's Cyclocross World Cup saw the predictable move of Wout van Aert and Mathieu van der Poel to the front. The former had gone temporarily clear after the latter did a slow-mo crash on one of the sandy sections, before they came back together and had European Champion Michael Vanthourenhout in close attendance.
World Cup leader Laurens Sweeck was about to make it a lead quartet when Van Aert thundered down De Kuil quicker than anyone else and gapped his rivals. Van der Poel got back to the wheel of Van Aert, while behind Sweeck was pulling away from Vanthourenhout thanks to his abilities on the uphills: often staying on the bike when others were forced to run.
Van der Poel crashed, temporarily stalling Van Aert, but the Belgian dismounted and ran round his grounded rival to get ahead. Once he was ahead, he stayed ahead for the rest of the race. Behind, Vanthourenhout and Sweeck were back with Mathieu, chasing both the win on the day and the overall standings between the pair of them.
With four laps to go, Van Aert had pushed his advantage out to 36 seconds and looked the most comfortable on the course. Just one lap later he had over a minute on the chasing trio; he was descending the sandpit while they were crossing the finish line for the start of their next lap.
Van der Poel rallied, riding some sections better than anyone and dropping Vanthourenhout and Sweeck with relative ease. However, he was still 1:01 down on the lead and up ahead Van Aert was riding sections that he'd previously dismounted on.
In the late stages of the final lap, Van Aert even had time to wave to his adoring fans, raising cheers from an already vocal crowd.
Thank you for reading 20 articles this month* Join now for unlimited access
Enjoy your first month for just £1 / $1 / €1
*Read 5 free articles per month without a subscription
Join now for unlimited access
Try first month for just £1 / $1 / €1