Rudy Project Boost 01 helmet review
Engineered in collaboration with aerodynamic cycling pioneer and guru John Cobb, the Rudy Project Boost 01 helmet claims to reduce drag by as much as 12 per cent over a standard road helmet. We took one out for a spin to see how it delivers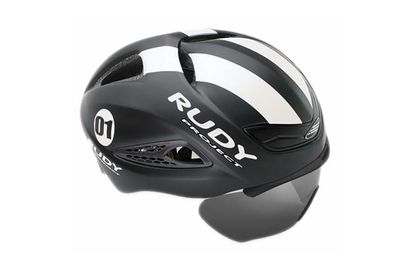 Designed in collaboration with aerodynamic guru John Cobb, the Rudy Project Boost 01 is the perfect aero helmet and could reduce your drag of up to 12 per cent over a standard road helmet according to Rudy Project's data, offers elements of customisation and a go-faster screen, but you've just got to make sure it fits you first.
Reasons to buy
+

Engineered by John Cobb

+

Integrated removable visor

+

Eyewear dock

+

Dial retention system

+

Venting customisation

+

Five colours

+
Reasons to avoid
-

Weight

-

Not a universal fit
You can trust Cycling Weekly. Our team of experts put in hard miles testing cycling tech and will always share honest, unbiased advice to help you choose. Find out more about how we test.
If you've been paying attention to Bahrain-Merida over the last season, you'll already have caught sight of the Rudy Project Boost 01 helmet, which was given the midas touch and lavishly wrapped fully in sparkling gold.
>>> Aero road helmets: can they make you faster?
Construction.
If the name John Cobb is familiar too you, then I'll hazard a guess that you've been a cycling fan since the days of Greg LeMond, with whom he worked closely on bike fitting, before bike fitting was even a thing. Cobb was the first guy to put a bike rider in a wind tunnel, so in terms of aerodynamics he's certainly has decades of experience so it's a canny move by Rudy Project to bring him in to oversee the development of the Boost 01 helmet.
http://www.youtube.com/watch?v=GSmpTY2s1-o
The Rudy Project Boost 01 incorporates several aerodynamic features, borrowing many from its own Wing57 time trial-specific helmet and, according to Cobb, could reduce your drag by up to 12 per cent over an average bike helmet.
Rudy Project, like Zipp and its 454 NSW wheels, has also been taking inspiration from aquatic creatures. This time it's sharks by way of a dorsal ridge. Rudy Project says it's a design concept that takes advantage of sideways forces and moves them into forward propulsion, and in the event of crosswinds it delivers all the advantages of a long-tailed helmet without the relative negative repercussions on the front.
Other aero design aspects of the Rudy Project Boost 01 helmet include the side vents that aid in the straightening of the air flow at the rear of the helmet. Called the Vortex Killer System, it aims to redirect airflow – the main cause of friction and instability – beyond the rear of the helmet.
The air is pushed out beyond the neck and shoulders at a different rate and volume compared to the air arriving in the opposite direction.
Aerodynamic qualities apart, the Boost 01's other main objective is to keep your head safe in the event of a head impact crash. A dial turn adjustment system that reaches around the temples and back of skull secures helmet to head, and Rudy Project says that the in-moulded EPS structure, the polycarbonate shell and exoskeleton absorb the energy in order to prevent it from being transferred to the head of the rider.
All of these aerodynamic and safety aspects of the he Rudy Project Boost 01 helmet are teamed with practical design aspects for the rider, such as the removable magnetic eye shield, known as Flipup, which as well as offering eye protection apparently also enhances the flow dynamics. For customisable airflow management for cooling there's a removeable cover for the helmet's front vent.
Rudy Project Boost 01 helmet: ride
According to my flexible tape measure, my head circumference measures approximately 55cm, putting me firmly in the Rudy Project Boost 01 helmet small/medium size camp.
However, it's not just the circumference measurement that's important when choosing a helmet – it's the fit. My go-to lid is the small Giro Aeon, which I find fits my head shape perfectly and which I would say is pretty round. But, putting the Boost 01 on for the first time I found it noticeably wider at the sides around the temple, big enough for my thumbs to fit in once tightened.
That's not to say the helmet was too big – the Rudy Project RSR 9 internal retention system secured the lid firmly on my head – but I just had pressure points more at the front and back as apposed to the sides. However, these were soon forgotten about once out and riding.
The other immediately noticeable is the weight. Coming in at 296g, it feels rather meaty when again compared to the Giro Aeon, which at 202g is nearly 100g lighter. Rudy does say it has distributed this weight to ensure more of it is towards the front, which should prevent annoying swivelling caused by side winds. To be fair I think Rudy Project has done a good job, as the weight or wind, even on a pretty blowy day, weren't an issue.
I was really grateful for the customisable airflow covers, choosing to opt for the full cover at this time of year, although I'm sure the mesh version will be very welcome in warmer climates.
Now, if there was one subject to create as much debate as tyre size, I'd say it's integrated visors on helmets. On track riders they look cool as, on testers less so, and if you're neither of the two then it's probably a no-go area.
That said, it performed and fitted well with no misting up when I was stopped at lights etc. I just felt too self-conscious, and found pairing with standard glasses was a much better option for me, especially as I really liked the eyewear dock in the side venting for when glasses were off, a neat and appreciated addition to the helmet.
Value
There's a lot to really like with the Rudy Project Boost 01 helmet: the aero qualities are always going to be hard to verify without a wind tunnel, so taking those claims at face value, and with John Cobb's name stamped on it, it would be hard to do otherwise, it could be the perfect addition to a time triallist or solo breakaway specialist's kit. There's a handful of colours to choose from, including the Bahrain Merida gold should you be so inclined and lots of add ons, even a rain cover. However, helmets are such a personal thing, not only in terms of fitting your head but also in bike riding style – so you've really got to make sure if it's right for you before splashing out £179.99.
Thank you for reading 20 articles this month* Join now for unlimited access
Enjoy your first month for just £1 / $1 / €1
*Read 5 free articles per month without a subscription
Join now for unlimited access
Try first month for just £1 / $1 / €1