Fibre Flare Bike Lights review
Side on visibility is often overlooked by cyclists, potentially increasing the risk of accidents in low light. Fibre flare lights aim to significantly improve side illumination.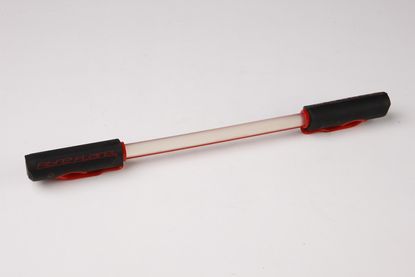 Easy to use and mount with good visibility, these lights offer a reliable solution to side on illumination at a reasonable price. However, not being USB rechargeable is a big disadvantage.
Reasons to buy
+

Easy to mount and use

+

Good visibility

+

Can also take them to raves
Why you can trust Cycling Weekly Our expert reviewers spend hours testing and comparing products and services so you can choose the best for you. Find out more about how we test.
Nearly 70% of all nighttime collisions between bikes and cars are due to inadequate side visibility. With most lights only visible from the front and rear, this is something often overlooked by cyclists, but Fibre Flare lights offer a solution.
These lights enable you to be seen, rather than see, in low light. They do a good job though and we were impressed with the visibility on our commutes. We tested the red flare and the green side light flare. Fibre Flare have a promotional video which demonstrates how they look.
https://www.youtube.com/watch?list=PL2A144FE1FD0DBB5A&v=6xlBMEwjw-o
We were impressed with the versatility of the mounting, with hooks, for clothing/bags and rubber straps for your frame. These are simple, work really well and a secure, confident fit was always achieved. Having to remove gloves to operate a button on a light can be annoying, especially during cold weather, but we found this wasn't necessary, the button being well designed.
The construction is of a rubbery plastic, which is ideal, because it can absorb impacts, such as dropping the lights or propping your bike against a wall. The rubbery polymer is also flexible which enables them to be mounted on curved objects.
The lights are powered by a pair of AAA 1.5V batteries which we feel is a big downside. Whilst battery life is decent, (claimed at 75 hours strobe and 24 hours constant) not being USB rechargeable represents a big disadvantage. Rechargeable lights save money, charging them at work and home ensures you always have power when you need it and they are more eco-friendly with respect to batteries.
For more information head over to Fibreflare.com
Thank you for reading 10 articles this month* Join now for unlimited access
Enjoy your first month for just £1 / $1 / €1
*Read 5 free articles per month without a subscription
Join now for unlimited access
Try first month for just £1 / $1 / €1
Oliver Bridgewood - no, Doctor Oliver Bridgewood - is a PhD Chemist who discovered a love of cycling. He enjoys racing time trials, hill climbs, road races and criteriums. During his time at Cycling Weekly, he worked predominantly within the tech team, also utilising his science background to produce insightful fitness articles, before moving to an entirely video-focused role heading up the Cycling Weekly YouTube channel, where his feature-length documentary 'Project 49' was his crowning glory.