Stages Power LR Shimano Ultegra review
Stages goes dual sided – but has it doubled its reliability and accuracy too?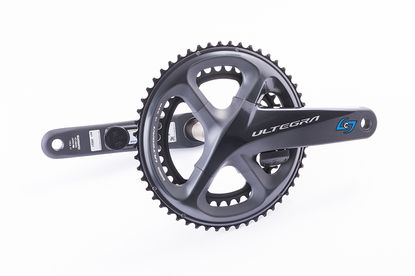 (Image credit: Cycling Studio)
I was always worried about the Stages' reliability whilst out in Majorca a few weeks back. With the problems with setup and the occasional errant reading I always question what numbers I saw on my computer screen. Although, to be fair, it did settle down and work reliably after initial doubts. Its accuracy on the other hand might be a little out.
Reasons to avoid
-

Accuracy

-

Reliability

-

Setup
Why you can trust Cycling Weekly Our expert reviewers spend hours testing and comparing products and services so you can choose the best for you. Find out more about how we test.
We're now on the third generation of the much-used Stages power meter and after a fairly long time out in the cycling world, mainly under the feet of Team Sky, you can purchase the dual-sided Stages Power LR power meter – which adds only grams to a standard chains – for a respectable £899.
>>> All you need to know about power meters
Previously, the Stages power meter has suffered from intermittent reliability problems, sealing problems and compatibility issues. On some occasions I've had no trouble whatsoever. But at other times, with different units, batteries have drained quickly, pairing has been hit and miss and I've had reading dropouts.
So what am I looking for here? Well, an improvement in accuracy and reliability first and foremost, but also general ease of use with easy firmware upgrades.
Stages Power LR setup
The best thing about the Stages Power LR is how easy it is to install. The new cranks come with the pods attached and with the Shimano Ultegra chainset version, swapping like for like was a doddle – quite literally two bolts and a plastic bung.
Initially I was worried that the new Stages Power LR might be same old same old. But after install both green lights came one, I checked firmware with the mobile phone app, calibrated it and things were looking fine.
However, I ran into problems in the first two rides in the UK. After 30 seconds to a minute the right side stopped reading and didn't come back on for the two hour-long rides I did. This in Stages' eyes shouldn't be a problem: if the left power meter doesn't get any information from the right it should become single sided and read normally. However, my balance remained 100 per cent left and the wattage underread by some margin.
Back to the drawing board before I jetted off to Majorca for a holiday, ahem, I mean training camp.
On the Stages app, which is one of the better bits of software I've seen out in the power meter market, both power meters were connecting fine via Bluetooth, battery life was shown as 'good', and so I couldn't understand why the power meter wasn't working correctly.
So just a precaution, I changed the batteries both sides. The right crank needs a mini screwdriver to get to the battery and the left just needs a coin to access the battery. (CR2032 both sides).
In theory you should get over 200 working hours. So far over the course of around 1,000km (a few hundred at home and 800km whilst I was away in Majorca) I haven't seen any drainage of the battery after the change – so far so good on this front. That's around 30 hours of use.
Via the app I updated the firmware and was able do a calibration too. This was straightforward, but when I updated, I expected to be brought back to the home screen. Instead, I needed to press back and was greeted with an error message, so wasn't really sure if I had updated or not. Turns out I had.
I was also able to link and unlink the left and right-side power meters in the app. I unlinked and linked them back together to ensure connection was made.
Note that when calibrating (I usually do this whilst rolling on the bike) you must have the cranks at 6 o'clock and 12 o'clock otherwise it'll fail.
Hurrah! When I landed in Majorca and went out for my first ride everything was working and connection to my Garmin 1030 (on loan from Rupert Radley, thanks mate) worked fine.
Despite it being the third generation you'll see no visual changes to the pods but they do include LED lights on both to indicate battery life and startup – a nice addition – and now they should actively adapt to temperature change. Stages say they've worked on the internals too.
Stages Power LR: ride
Out on the road the Stages LR is totally unobtrusive. You wouldn't know it was on the bike, which is nice.
Startup is quick enough and I never noticed a drop-off in wattage from my unit, though I did expeierence a fair bit of wildly off readings in my left/right balance.
Despite my initial problems mentioned above, I'd say that is an improvement over the previous generation. Looking back at the data I have seen a few skipped beats but nothing major. (pictures of screengrabs coming soon.)
On my head unit I used three seconds average wattage.
Left/right balance was an interesting one to view. The Stages gave a steady average over a number of rides of 54/46 per cent where as the Power P1 pedals regularly read 53/47 per cent on my rides. Though as I said above, looking at the data post-rides I have some spikes in left/right balance readings.
Power seemed constant at least, although readings seemed to be a little lower than I expected. By maybe around 10 or so watts. This isn't a problem as long as those readings are consistent and they seemed to remain so for me.
Despite smooth running for the rest of my time with the Stages Power LR, it still doesn't fill me with confidence that this is one of the best in terms of accuracy and reliablity. It has improved, no doubt about that, but I feel the likes of Quarq and its DZero power meter offer far superior data capture.
Thank you for reading 10 articles this month* Join now for unlimited access
Enjoy your first month for just £1 / $1 / €1
*Read 5 free articles per month without a subscription
Join now for unlimited access
Try first month for just £1 / $1 / €1
Symon Lewis joined Cycling Weekly as an Editorial Assistant in 2010, he went on to become a Tech Writer in 2014 before being promoted to Tech Editor in 2015 before taking on a role managing Video and Tech in 2019. Lewis discovered cycling via Herne Hill Velodrome, where he was renowned for his prolific performances, and spent two years as a coach at the South London velodrome.