Festka Scalatore review
Scalatore means climber in English – the new Festka Scalatore is the Czech brand's lightweight mountain machine. Does it hit the high notes?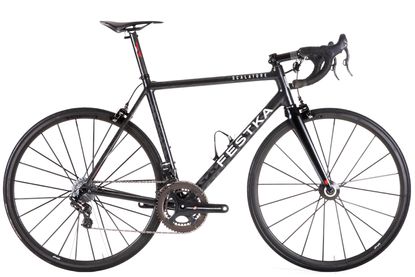 Yup, the price tag is scary, but honestly, this is one of the best bikes I have ever ridden. Incredibly lightweight while still providing oodles of stiffness along with precise handling for which I don't have enough compliments.
Reasons to buy
+

Lightweight

+

Super stiff

+

Great spec

+
Reasons to avoid
-

Tyre clearance just 23mm

-

Price

-
-
You can trust Cycling Weekly. Our team of experts put in hard miles testing cycling tech and will always share honest, unbiased advice to help you choose. Find out more about how we test.
Festka makes carbon, steel, titanium and carbon-titanium frames in the Czech Republic where it works closely with Compotech – one of the world leaders in carbon tube production. Each Festka frame is hand built to measure and can be custom painted. We have on test the Festka Scalatore, a lightweight, racing machine that should be a thrill to ride.
>>> Should your next bike be carbon, titanium, steel or aluminium?
I've been lucky enough to ride several of Festka's models including the carbon-titanium Doppler, the race oriented Spectre and now the Scalatore – the super-light and super-stiff climbing beast. And it really is a beast in every respect. Not just the frame but also the groupset, wheels, finishing kit and to be totally frank, the price.
You'll struggle to find anything more expensive to put on the bike component wise. Sure, you may prefer SRAM to Campagnolo or you might choose a different set of wheels but I'm sure you get my point – this bike is mega.
>>> Shimano, SRAM and Campagnolo road bike groupsets
Festka Scalatore frame
But let's start with the downside: this bike frame can only accommodate up to 23mm tyres at the front due to the lack of the clearance with the fork from 3T. This of course is a trend for aerodynamic bikes, you put a narrower tyre at the front and wider in the rear almost making it like a dragster. But there isn't anything else that is aerodynamic here...
You could squeeze a 25mm tyre on the front although that would need to be paired with a narrow rim – meaning you are not exactly getting a 25mm tyre.
Most modern wheelsets will have a wider 17mm-plus internal rim width, which broadens the tyre slightly.
With the bad news behind us, let's turn to the good news. A climbing bike should be light, right? Well this one is, with the size 54cm frame weighing a mere 760g (by comparison, the Cannondale SuperSix Evo Black Inc is 740g for size 56cm and the Trek Emonda is just 690g). The total weight of the test bike was just under 6kg.
Festka had to make changes to the tube design for this model by using stronger carbon filaments in its composition. This allowed it to reduce the number of layers in the tube wall, which led to a lighter tube without any loss of durability and stiffness according to Festka.
From afar this frame looks completely traditional – thin, round-diameter tubes, with a traditional horizontal top tube. It's just the wider head tube and the robust tapered down tube that eventually give away that the Festka Scalatore is a contemporary bike.
But still less robust in its appearance compared to some other top-end bikes such as the Cervelo R5 or the BMC Teammachine.
Even so, this frame is very stiff. I mean really, really stiff. Even considering its featherweight status, which is helped by the new carbon droupouts integral to the frame and the best components from Tune, Schmolke and 3T.
Beauty is obviously in the eye of the beholder, but for what it's worth I think this bike is absolutely gorgeous. The carbon layering is jaw dropping and the paint job – although minimalistic (this is one of Festka's Selection Designs) – is done with incredible attention to detail.
Alternatively, you can come up with any design you want and Festka will do it for £1,000.
Specification
To say that this particular Scalatore is well equipped would be an understatement. It's as if you were let loose in some magical bike-gear cave with an unlimited budget. The main components are Campagnolo Super Record EPS, Lightweight wheels, the best bits from 3T, Tune, Schmolke and Selle Italia.
Campagnolo Super Record EPS is the most expensive groupset you can buy. Having tried it, I do not believe it is the best choice you can make from a practical point of view.
It is more of a romantic choice. It is Italian, it is sexy, it is fantastic looking but it has its issues. I sometimes help myself out with automotive parables and I'll do it again: if Campagnolo is a Ferrari, top-end Shimano could be a Nissan GT-R. In most conditions the Nissan will be the better and faster car.
I was allowed to take a pick of wheels: Schmolke or Lightweight. I wanted a mega bike so I went for Lightweight. Not the best ones out there, though. Gipfelsturm is a fabulous wheelset but Lightweight also make the Meilenstein Obermeyer, which are even lighter and stiffer. So if you have the freedom to choose which Lightweight wheelset to buy, go for the Obermeyers. The Gipfelsturms were fitted with Tufo Elite 23 mm tubular clinchers which are a fast and fairly durable option but there are faster tyres on the market.
The brief for the Scalatore was to build a bike as light as possible, so we understand why the Selle Italia C59 saddle was picked. It is a saddle suitable perhaps for hill-climbs rather than the Haute Route – it isn't comfortable!
Ride
My, oh my! Riding the Festka Scalatore was beyond my expectations. Super-light bikes are often pretty specialist and not always practical. But even though this probably won't be your one and only bike, it actually could be.
In terms of comfort the Festka Scalatore is a little more comfortable than a Cannondale SuperSix Evo Hi-Mod, for example. Although, that doesn't mean it is buttery smooth and this is largely down to the narrow tyres supplied, but you can have a nice all-day ride without wincing in pain after a couple of hours. Sure, the saddle is almost like a torture instrument too, but again, less so than expected.
I was really impressed by the outstanding handling and the high level of stiffness. Thanks to those qualities the Scalatore is very lively and accelerates like nothing else I've experienced before.
The Festka Scalatore made me feel like I could achieve anything I wanted. It was as if it gave me a superpower.
You might put the great joy I got from this bike down to the fantastic components but I don't believe the Scalatore would be much diminished with cheaper components. Not everyone has got the budget for this build, but, I believe that fitting the Scalatore with Ultegra and some cheaper wheels would still make it an almost perfect bike for nearly half the price.
Value
Even though this frame is expensive, you should not be put off by it. For the price you pay, you will get a classic, almost timeless-looking frame made with genuine craftsmanship and phenomenal features. The frame will be built based on your body measurements and with your custom finish. So the price is not so bad after all. OK, it is bad, but such a lovely bike costs.
Thank you for reading 10 articles this month* Join now for unlimited access
Enjoy your first month for just £1 / $1 / €1
*Read 5 free articles per month without a subscription
Join now for unlimited access
Try first month for just £1 / $1 / €1