BMC Teammachine SLR01 Disc Team review
The result of 34,000 prototypes generated by a supercomputer the size of a room, the new BMC Teammachine SLR01 Disc was worth waiting for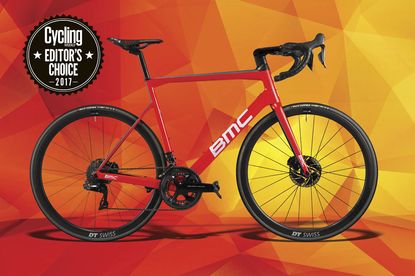 Having been ridden by the likes of Cadel Evans, Philippe Gilbert and Greg Van Avermaet, the BMC Teammachine has a palmarès that includes victory in the Tour de France, a World Championship, an Olympic road race, many Grand Tour stages and several Classics.
For the new version, BMC wanted to evolve and refine the Teammachine yet further by focussing several key design objectives, setting out to increase stiffness, reduce weight and improve compliance. The engineers also wanted to increase the levels of integration, and to incorporate disc brakes so that both rotor stoppers and rim versions could be released.
The Swiss-based designers accomplished all this and more – earning the Teammachine a place in the 2017 Cycling Weekly Editor's Choice hall of fame.
ACE Technology means an ace ride
To develop the new Teammachine, BMC employed its proprietary ACE Technology, which stands for Accelerated Composites Evolution.
This approach differs from that of many other bike brands and involves the use of a supercomputer to analyse a huge number of different frame shapes and carbon layups. BMC believes "this is what makes our Teammachine better than other race bikes", but why?
Utilising the immense processing power of a supercomputer enabled BMC's engineers to test a whopping 34,000 prototype iterations analysing over 247 different variables. These variables included different frame shapes, different types of carbon and resins and placement of those materials.
While some other brands may use intuition and tradition to design their frames, BMC has employed science and maths and the result is a geometric bike with an industrial aesthetic.
Once the supercomputer has identified the best frame designs, a small selection are rapidly prototyped in the IMPEC lab for real world testing, with input from jigs and pro riders (including Cadel Evans).
This process lead to the new BMC Teammachine SLR01 and SLR02 – resulting in an optimised but less expensive layup.
"Unyielding stiffness"
When riding the bike, we found the result of all this testing was an incredibly stiff bottom bracket area – notable after just a handful of pedal strokes out the saddle. We found a discernible increase in stiffness over the previous BMC Teammachine, which was already a very stiff bike.
BMC wanted to retain the handling of the previous version, as this was something the professionals really liked.
The chainstays had to be lengthened to 410mm to accommodate disc brakes while maintaining an optimum chainline, but this hasn't adversely affected handling.
Longer chainstays can result in a bike feeling sluggish in the rear but the BMC Teammachine accelerates very well, thanks in part to the unyielding stiffness of the BB.
The new BMC Teammachine shares a very similar geometry to the previous version, but with many new features.
The new integrated cockpit is the same as that found on the Roadmachine, which was launched last year. It has a modular design resulting in tidy, aero cable management, good adjustability and a clean look.
The split spacer design is useful as it allows you to adjust the stack height without disconnecting brake lines – particularly important with hydraulic brakes!
The seat tube is 'D' shaped in profile to improve compliance, a design feature retained from the previous Teammachine SLR. However, the seat tube clamp is significantly different. BMC has integrated it into the top tube and the bolt to tighten it is on the underside of the top tube. This creates a neater look, but also creates a longer effective seat tube, which BMC claims increases compliance.
Despite the stiffness of the fork and bottom bracket, we felt comfort was maintained thanks to the D-shaped seatpost. After 180km of riding in one day, our tester barely noticed road buzz or vibration.
BMC has managed to keep the weight of the disc-brake fork low through use of asymmetric design, to cope with the additional forces.
In addition to this BMC has created a 'Direct Frontal Flat Mount' for the calipers. Instead of the usual direct-mount standard, BMC's proprietary design bolts through the fork.
The result is a disc-brake-specific fork that weighs just 18g more than the non-disc version, which is impressive considering we have often seen disc-brake forks typically come out at 40-50g heavier.
The new BMC Teammachine SLR01 also makes use of a new thru-axle which has been machined down to save weight while still retaining strength. Similar to those used by DT-Swiss it is leverless, making the dropouts look much tidier.
Trying the disc brake version out in the mountains, we didn't feel at a disadvantage being on a disc-brake-equipped machine.
When descending, the BMC Teammachine shone: we found it well balanced front to rear and very torsionally stiff. Even deliberately braking very hard into several tight hairpins there was no shuddering or torque steer, with the bike holding up well to high braking forces.
The frame has also been designed with an asymmetric profile from the fork to the rear stays. Other neat touches include the mech hanger, which has been cleverly machined, shaped and engineered to retain strength yet reduce weight. It is also the first bike we are aware of to make use of Shimano's new direct-mount rear mech capability too.
The Di2 junction box is neatly concealed in the top tube for easy access and a clutter-free cockpit.
With regard to frame weight, according to BMC the disc brake frame hits the scales at 815g for a 56cm, while the non-disc is slightly lighter at 790g.
We rode a BMC Teammachine SLR01 Disc with an overall weight of 6.85kg including an SRM power meter in a full race build. That's impressively light for a disc machine, something due in part to Shimano's superb new Dura-Ace R9170. The bike pictured is sold as the BMC Teamxmachine SLR01 Disc Team and has a price of £10,000.
Overall, BMC has taken a great bike and made it better. If you were a fan of the previous version, you will love the update.
Thank you for reading 10 articles this month* Join now for unlimited access
Enjoy your first month for just £1 / $1 / €1
*Read 5 free articles per month without a subscription
Join now for unlimited access
Try first month for just £1 / $1 / €1
Oliver Bridgewood - no, Doctor Oliver Bridgewood - is a PhD Chemist who discovered a love of cycling. He enjoys racing time trials, hill climbs, road races and criteriums. During his time at Cycling Weekly, he worked predominantly within the tech team, also utilising his science background to produce insightful fitness articles, before moving to an entirely video-focused role heading up the Cycling Weekly YouTube channel, where his feature-length documentary 'Project 49' was his crowning glory.