Genesis Equilibrium 20 road bike review
Genesis Equilibrium 20 offers something for the traditionalist and the wallet watchers ...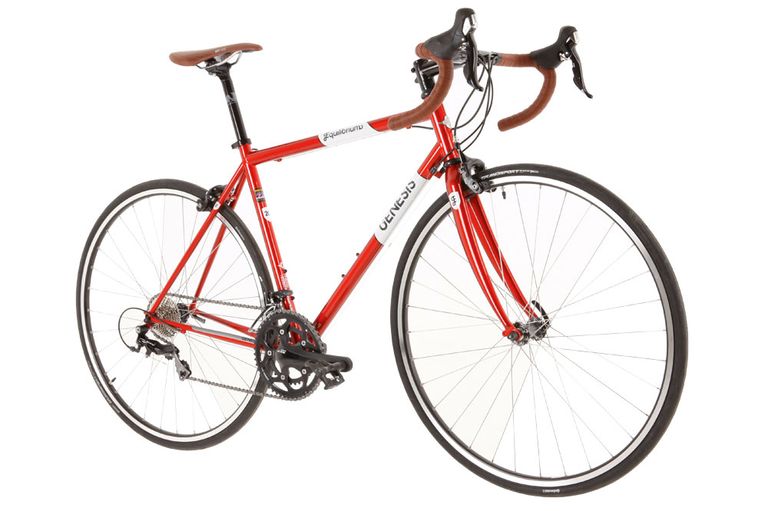 While the styling is unrepentantly retro, the handling is thoroughly modern. 'Neutral' is the word that perhaps best describes the 20's characteristics, with the steering plenty fast enough for fun on speedy switchback descents but with none of the twitchiness you might expect from a razor-sharp race bike. As a bike for all seasons, there are few to match the Genesis. Indeed, if you're after a 'bike for life', then the Equilibrium 20 should be on your shortlist.
For
+

Build quality, finish

+

Ride quality

+

Practicality
Against
-

Rattling cables — some well-positioned ties and rubbers would sort this.

-

Heavy wheelset
Bringing yet another frame material into the equation, the Genesis Equilibrium range offers something for the traditionalist.
With the exception of the titanium flagship, the Ti, the Equilbrium range of bikes are all built from steel, the famous Reynolds tubes blending an old school look with modern Shimano components.
As seems to be the default choice at this price point, the Equilibrium 20 uses Shimano's 10-speed 105 groupset throughout, the compact chainset and 12-28t cassette providing the perfect ratios for the keen sportive rider or commuter.
The only exception to the complete 105 package is the brake calipers. To allow for the fitment of mudguards and 25c tyres, in addition to eyelets on the fork and seatstays, non-series 57mm-drop calipers have been used to give sufficient clearance.
This extra length means extra flex and together with the budget one-piece blocks there is a compromise to braking performance. In the greater scheme of things it's a small one, and one that's massively outweighed by the fact that the Equilibrium is arguably one of the best all-rounders on the market.
Genesis and Reynolds have done a great job in keeping the weight relatively low.
Considering the bike's practical persuasion and old school construction, an all-up weight of under 21lb is more than respectable and, as any aficionado will tell you, those extra pounds are worth every ounce when it comes to the ride quality.
Sure, recent advances in the development of carbon-fibre have resulted in some incredibly comfortable bikes and even this bike uses the black stuff in its fork to help save weight and add compliance.
But when it comes to dealing with Surrey's battle-scarred roads, there's a springiness to the Reynolds 725 tubes that manages to damp down the bumps without doing too much to dampen the rider's efforts. There's no denying it, the 'feel of steel' is still unique.