Scott Addict RC review
At just 6.63kg the Scott Addict RC should be a climber's dream bike – we've found some hills to ride it up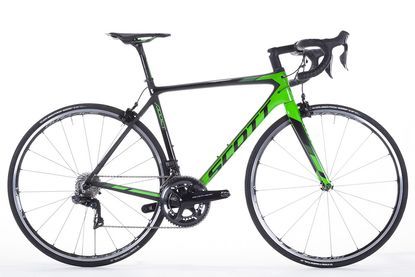 The Scott Addict RC is impressively light and responsive: you can fly up hills on it and feel confident pushing it on the descents. The new Shimano Dura-Ace Di2 groupset gives exceptional shifting performance, letting you make the most of the frame. It also gives you semi-automated shift options and hides the electronic gubbins out of sight and out of the wind.
Reasons to buy
+

Super-light

+

Shimano's top-spec groupset with the option for synchronised shifting

+

Bar-end junction box for a tidy finish

+

Good-quality wheelset with alloy brake track

+
Reasons to avoid
-

Firm, underpadded saddle

-

Expensive

-
Why you can trust Cycling Weekly Our expert reviewers spend hours testing and comparing products and services so you can choose the best for you. Find out more about how we test.
The preferred ride of the Yates twins, the Scott Addict RC is the Swiss brand's climbing bike. RC stands for Racing Concept – it's the next-to-top bike in the Addict line-up. There are four other Addicts below it and Scott makes a disc-brake version too.
Weighing 6.63kg or 14.6lb in size M/54, the Addict RC lives up to its lightweight climbing moniker.
Frame
The Scott Addict RC's frame is built from Scott's high-modulus carbon, with a claimed weight of 790g for the frame and another 300g for the fork. It's the same frame as used by the Orica-Scott team on climbing days and couples a wide down tube and bottom bracket with a more slender seat tube.
Scott describes the Addict's geometry as "race": it's quite long and low, without leaving you feeling too stretched out. The fork is a skinny tapered 1 ¼ to 1 1/8 inch, while Scott says that the down tube-bottom bracket junction is the widest of any road bike available.
The frame tubes are substantial in the bike's bottom half, but slender higher up and towards the rear, making for a comfortable ride despite the efficient power transfer. You also get full-carbon dropouts with a replaceable mech hanger should this get damaged.
Specification
Scott has kitted out the Addict RC with a dream specification, starting off with Shimano's new Dura-Ace Di2 R9150 groupset. You get the shifting quality you'd expect from Shimano's top-of-the-line system, plus the added option to configure synchronised or semi-synchronised shifting between the front and rear mechs. As a bonus, the ugly under-stem junction box of older Di2 groupsets has disappeared into the right bar end.
You also get Dura-Ace R9100 24mm deep alloy-carbon clinchers. With a claimed weight of under 1,400g, they fit well with the bike's climbing mandate and give you the descending and wet-weather confidence of an alloy brake track.
Bars, stem and seatpost are carbon too and come from Scott's Syncros brand, while the minimally padded saddle also sits on a carbon shell.
Scott Addict RC: ride
As you'd expect, the Scott Addict RC is very at home in hillier terrain. You can feel its lack of weight as soon as the road heads up and I recorded a series of personal bests on a number of Strava climbs. It also descends well, taking both twisty and flat-out downhills in its stride.
Scott's frame feels really efficient and there's not a hint of flex in the drivetrain or wheels. The synchronised or semi-synchronised shift options are also an advantage as the road heads up: shift to the small ring and the rear mech automatically shifts up the cassette to ensure that you're not spinning too low a gear and can keep your momentum.
Scott's saddle is narrow and firm. With a quality pair of shorts it's comfortable enough. But in any case you'll be wanting to search for out-of-the-saddle climbs on the Scott Addict RC to test your climbing mettle.
Value
You wouldn't expect a bike of this calibre to be a budget item. Scott has spared nothing on the spec and that's reflected in the price. But if you're looking for a super-light climbing bike with electronic shifting that's ready to race, the Addict RC's £7,599 price tag looks about what you'd expect to pay.
For the real weight weenie, another £1,200 buys you the Scott Addict SL with an even lighter frame, Zipp 202 wheels and SRAM Red eTap.
Thank you for reading 5 articles this month* Join now for unlimited access
Enjoy your first month for just £1 / $1 / €1
*Read 5 free articles per month without a subscription
Join now for unlimited access
Try first month for just £1 / $1 / €1