Shimano makes synchronised shifting available in Ultegra Di2 and older Dura-Ace Di2
New battery pack works with older systems and includes chip to handle synchronised shift patterns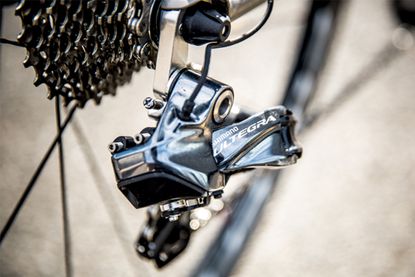 One of the standout new features of the latest Dura-Ace Di2 R9150 electronic road bike groupset is its ability to provide synchronised shifting. This means that when you make an upshift or a downshift, the mechanism determines whether a change between the larger and smaller chainring is needed too, or will be more effective, so that you end up with less cross-chaining and a more mechanically efficient chainline.
It also means that you can set both your left side shift levers to shift you down your gears and both your right side levers to shift you up, the system dealing with the required front and rear mech changes.
Now Shimano has introduced a new Di2 battery, the sexily named BT-DN110, which works with the older Dura-Ace Di2 R9000 and Ultegra Di2 R6800 to provide the same functionality. The battery pack contains a memory chip that provides the processing power to handle the required shift patterns and user customisation.
>>> Are electronic groupsets necessary?
Having installed the new battery, a firmware update to Shimano's E-tube control software, via a PC cable or Bluetooth connection, gives you access to the synchronised shifting functionality. You select the shifting mode via the button on the Di2 junction box.
Watch: Shimano Ultegra groupset review
As well as fully synchronised shifting, you have the semi-synchronised option already available in the new Dura-Ace Di2 R9150. In this case, you manually shift between chainrings and the Di2 mechanism shifts the rear mech automatically to put you in the correct rear sprocket to maintain your gear ratio.
>>> Dura-Ace Di2 v SRAM Red eTap: everything you need to know
Shimano's E-tube Project app or its website can be used to configure the shifting pattern to meet your personal requirements. It's a neat upgrade for those with Shimano's older electronic groupsets who may want access to the latest functions, without the expense of a wholesale change of their groupset.
Thank you for reading 5 articles this month* Join now for unlimited access
Enjoy your first month for just £1 / $1 / €1
*Read 5 free articles per month without a subscription
Join now for unlimited access
Try first month for just £1 / $1 / €1