Bontrager Montrose Elite saddle review
The Bontrager Montrose Elite saddle is designed as a do-it-all road and mountain bike saddle aimed at all types of rider. Its simple, elegant shape looks great on any bike.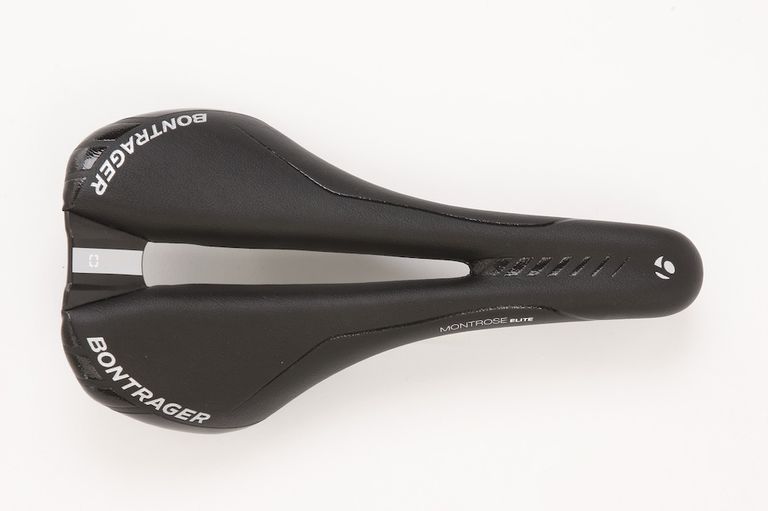 The Bontrager Montrose Elite saddle is one of those saddles that looks 'right'. A good balance of support and comfort coupled with easy setup means it is a good choice for most riders. The Bontrager 30 day satisfaction guarantee allows for experimentation.
For
+

Available in varying widths

+

Easy setup with long rails

+

Good looks

+

30 day satisfaction guarantee

+
Against
-

Nose can be obtrusive for some
Bontrager saddles have been improving year upon year and the new Bontrager Montrose Elite saddle is no exception. Primarily intended as a general purpose road saddle, suitable for everything from racing to long distance touring, it has a shape that looks comfortable even on the packaging.
Bontrager uses what they call inForm BioDynamics to design and create a saddle aimed at optimising your natural, on bike movement. This system hopes to provide a saddle that allows not only maximum comfort but to enable no restrictions on leg movement and thus power output.
>>> Buyer's guide to road bike saddles (video)
The Bontrager Montrose Elite saddle features hollow suspended titanium rails for vibration dampening plus a CRZ+ (Contour Relief Zone) cut out middle section to relieve soft tissue pressure. The base is made of a carbon composite that allows a certain amount of controlled flex.
Bontrager make the Montrose in several widths so it is important to get measured up before choosing, your local Trek dealer should be happy to help with choosing. Setup of the Montrose is relatively simple, with the flat middle section enabling you to set saddle angle quickly.
Watch: how to set your saddle height correctly
The Bontrager Montrose Elite saddle is one of those saddles that looks 'right' on the bike, racy but at the same time looking an invitingly comfortable perch. Initial rides concur with the first impression and it didn't disappoint. Its firm padding strikes a good balance between support and comfort and will appeal to riders used to a race oriented shape.
>>> Saddle height: how to get it right, and why it's so important (video)
My chosen width gave a good level of support around the centre of the sit bones and certainly placed the main areas of padding in the correct location. The slightly raised tail helped to locate my position when I occasionally slid backwards or when putting down the power. The flatter nose could be felt a little when transitioning to the drops but it certainly didn't feel too obtrusive once I got used to it.
From a fit perspective the Bontrager Montrose Elite saddle has very long rails, allowing more fore-aft adjustment of the saddle which is never a bad thing. It also worth noting that Bontrager offer a 30 day unconditional guarantee against the fit of the saddle, so if for any reason you don't get on with it you can take it back and try another.
For more details visit the Bontrager website (opens in new tab).
Thank you for reading 5 articles this month* Join now for unlimited access
Enjoy your first month for just £1 / $1 / €1
*Read 5 free articles per month without a subscription
Join now for unlimited access
Try first month for just £1 / $1 / €1
James Bracey's career has seen him move from geography teacher, to MBR writer, to Cycling Weekly's senior tech writer and video presenter. He possesses an in-depth knowledge of bicycle mechanics, as well as bike fit and coaching qualifications. Bracey enjoys all manner of cycling, from road to gravel and mountain biking.